November 30, 2020 – Real Estate Market Numbers
By Glen Bell   (510) 333-4460
Here's a quick summary of what's going on in the San Francisco East Bay real estate market as of September 30th.
I'd like to start out with a quick quote coming from Zillow and Rismedia:
"More sellers are making their way onto the market, but it's still not enough to offset a supply shortage as a frenzy of buyers look to take advantage of low interest rates. According to Zillow's most recent Weekly Market Report, buyer demand is still outpacing new supply."
Yes, sales are up. Pendings are up by 37.5% compared to last year. Inventory on the other hand is down. It's been flat over the last 5 months before taking a large 25.4% drop in Novemeber. This is 27.5% lower than what we saw last year in November. Based on normal seasonal influences, we typically see a steady increase from the beginning of the year through to the end of September followed by a decrease coming into the holidays. We have a 24 day supply of homes for sale today. Last year at this time, there was a 30 day supply.
Although there was a big "pause" in the market mid-March through mid-May due to COVID-19 Shelter in Place, we've bounced back, picking up where we left off early spring in what now looks like a strong sellers' market again.
You can see this based on the supply and demand ratio that I keep track of. We're at 1.98 indicating a "sellers' market." Last year at the end of November, we were 1.20. The year before that; .71.
We're starting to see a migration coming out of SF and South Peninsula. Some movement to the East Bay, some to the Central Valley and some even out of the state altogether. This is primarily due to being able to work at home, high cost of living, state & local taxes, smoke, traffic, housing affordability, job relocations, etc
We're also seeing a softening in some of those markets plus rents have been coming down.
Here are some highlights for the 39 East Bay Cities that I track: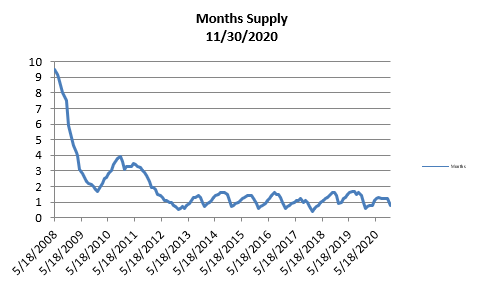 The month's supply for the combined 39 city area is 24 days. Historically, a 2 to 3 months' supply is considered normal in the San Francisco East Bay Area. As you can see from the graph above, this is normally a repetitive pattern over the past four years. Supply is less when compared to last year at this time, of 30 days.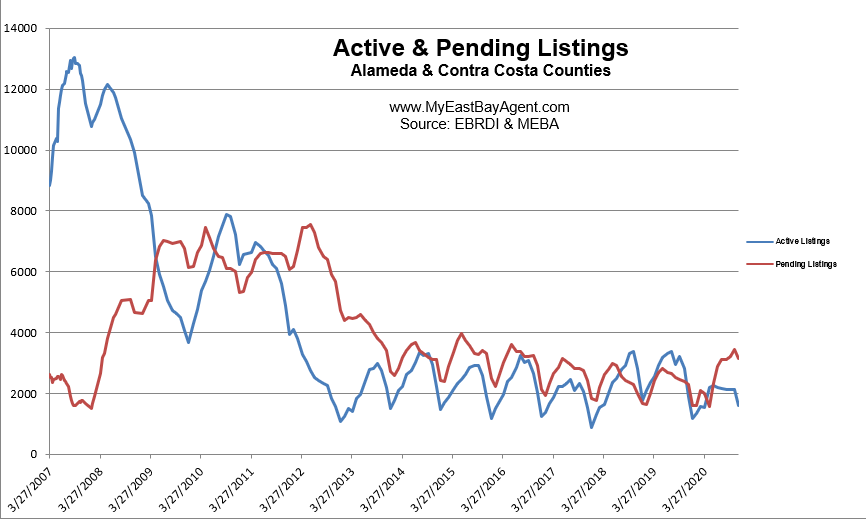 Our inventory for the East Bay (the 39 cities tracked) is now at 1,590 homes actively for sale. This is fewer than what we saw last year at this time, of 1,905. We're used to seeing between 3,000 and 6,000 homes in a "normal" market in the San Francisco East Bay Area. Pending sales decreased to 3,145, much higher than what we saw last year at this time of 2,287.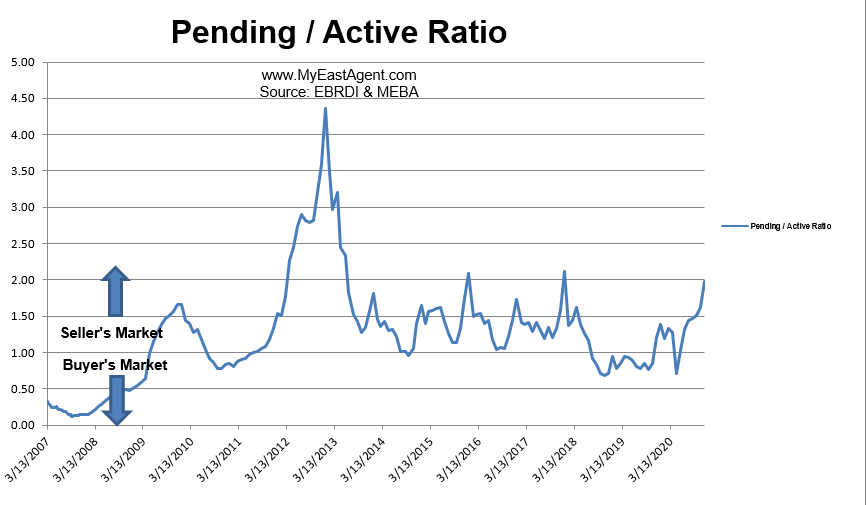 Our Pending/Active Ratio is 1.98. Last year at this time it was 1.20.
Sales over the last 3 months, on average, are 6.2% over the asking price for this area, Higher than what we saw last year at this time, of 2.1%.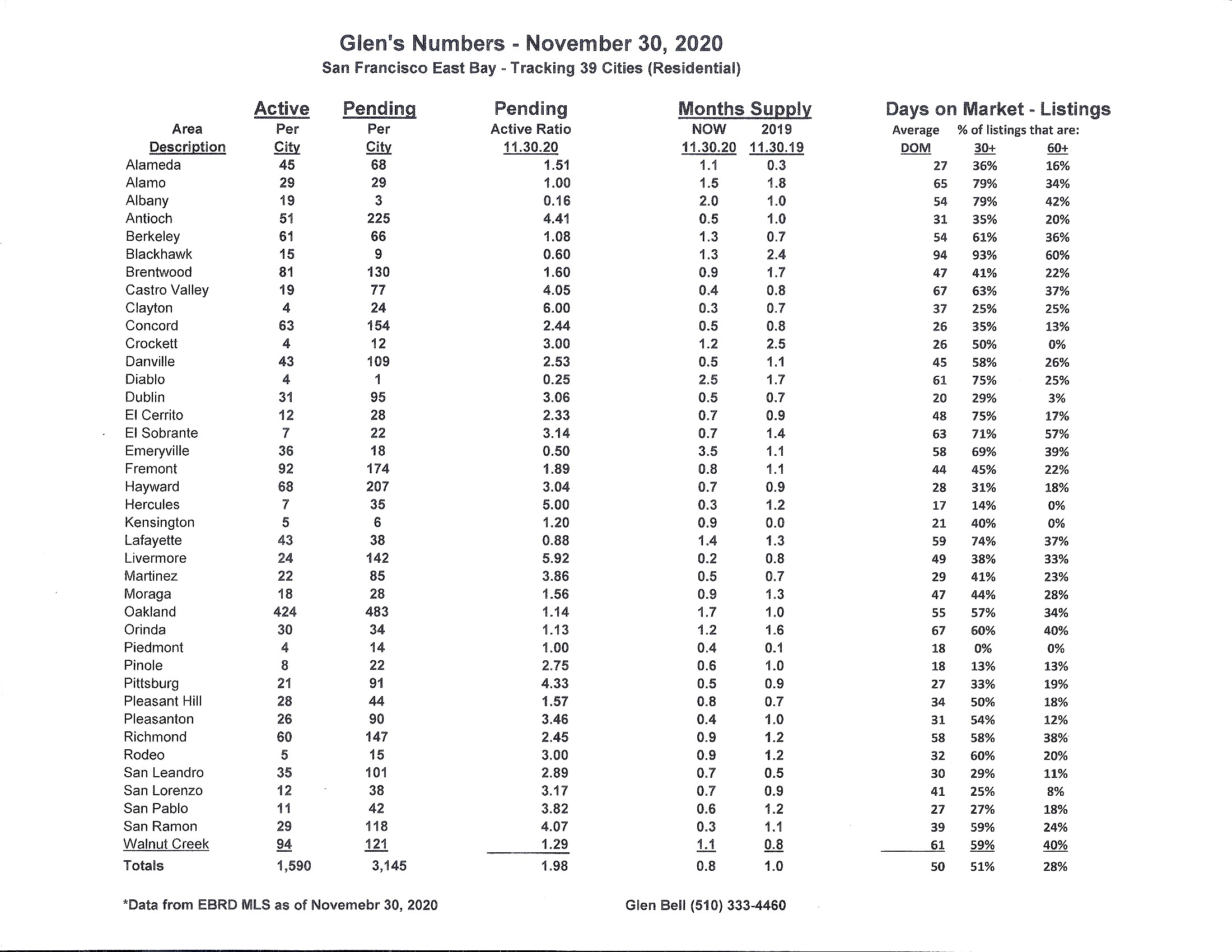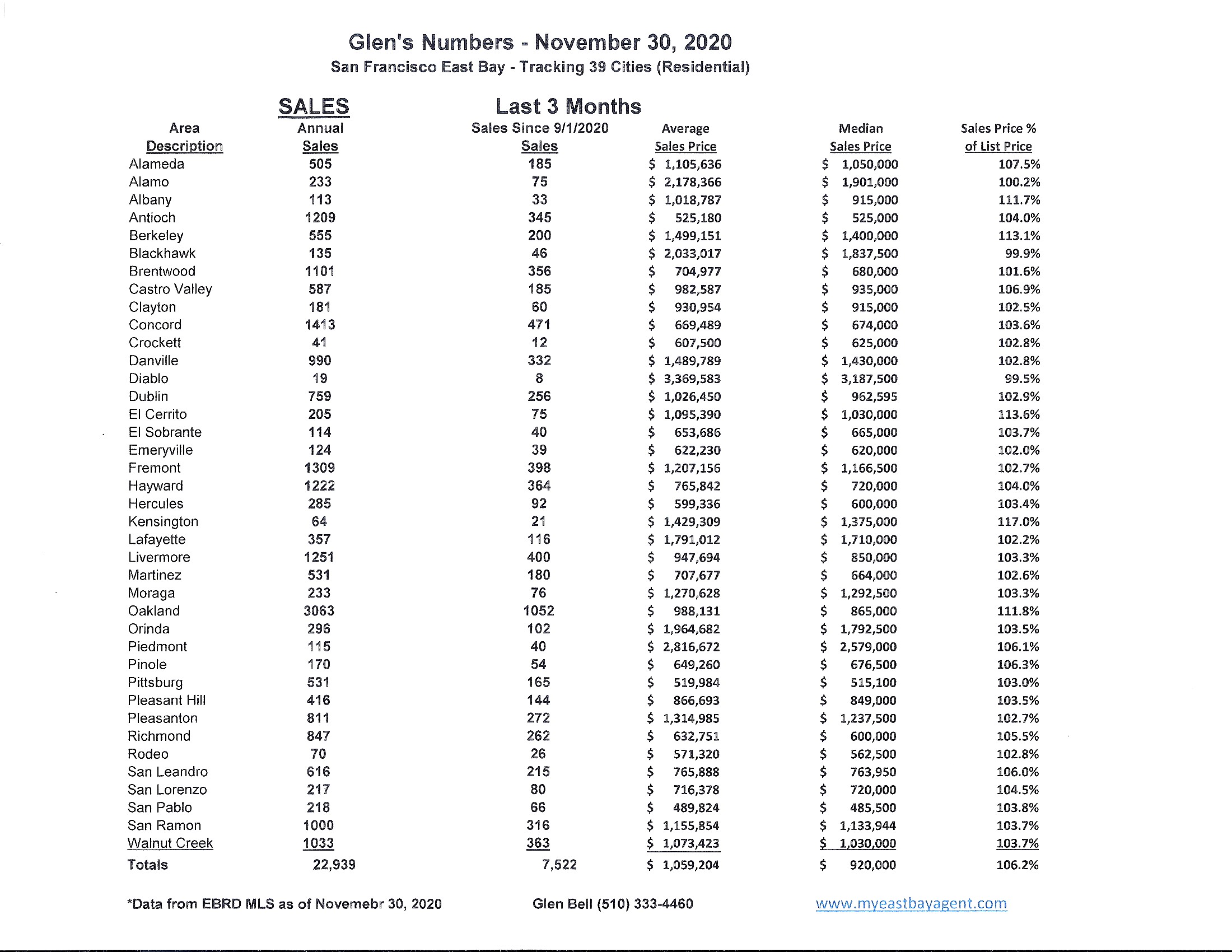 Next year will be a seller's market
By Daryl Fairweather, The Housing Wire, December 9, 2020
Even as the pandemic nears its end, its impact on the way we work and live will in many ways be permanent, and Americans will migrate to homes that fit their new lifestyles.
We already saw much of this movement in 2020, as home sales surged over 20% this fall, but many homeowners were nervous about listing during the pandemic and will be ready to sell in droves next year. This will send home sales to highs not seen since before the Great Recession of 2008.
In 2021, migration will continue to set records as more than 30% of homebuyers will look to leave their current metro area. The normalization of remote work means that Americans will continue to move to suburban and rural areas, or decide to move to cities that fit their personal preferences instead of just their careers.
The increase in movement will mean many more Americans will have new neighbors. A large majority of Americans are open-minded about moving to a place where their neighbors don't share their ethnic or religious background. Small towns could start attracting more residents with high-income tech jobs.
We could see more people moving in next door to neighbors who have different backgrounds or beliefs. I am actually part of this trend—I moved from highly liberal Seattle to a swing county in Wisconsin in the fall of this year.
As more Americans move across the country, they'll need to lean on technology more than ever to help them buy homes. We saw buyers get familiar with these tools during the pandemic. Views of 3D walkthroughs on Redfin have increased 560% since February.
Video tours, where an agent views a home while the buyer is on a video call, represented less than 1% of all tour requests on Redfin before the pandemic, but at the height of the initial stay-at-home orders in early spring surged to about a third of home tours. Since that initial surge, video tours have held steady through the summer and fall, representing about one in 10 home tours. By the end of spring, 45% of recent homebuyers reported they had made an offer on a home sight-unseen during their home-search process.
Making sight-unseen offers can be a winning strategy for buyers seeking out highly desirable homes in a competitive market, especially if they are moving in from out of town and don't have time to travel to visit homes. Virtual home tour technology coupled with increasing migration will cause more than half of homebuyers to make offers sight-unseen during their search for a home in 2021.
Throughout the pandemic, buyers have become more confident using the technology available to them, and in 2021, we'll see more home sales as a result.
People who may not have relied on technology before – like your grandparents, or friends with higher health risks – will explore a video tour and realize that it gives them plenty of information to make their buying decision. And since migration is going to drive much of the housing market in 2021, buyers will feel more willing to move out of the city and into a vacation town if they can virtually walk through the homes on the market in their new location and visualize what their new life will be like.
Overall, 2021 will still be a seller's market, with homes selling faster and more people buying homes than in 2020, but a growing number of buyers will find themselves in their dream homes in new corners of the country—especially those who partner with savvy agents who leverage technology to help them win.
By Veronica Bradley, DSNews, December 8, 2020
Shelter-at-home orders and other measures were put in place just before springtime this year, which is usually the best time of year for listing and selling homes. However, 2021 poses to be a much more stable year for real estate, according to Realtor.com.
Low inventory, a higher number of buyers than sellers, and historically low mortgage rates sent housing prices upwards quickly. It also made fall the hot time of year for sellers instead of the warmer months.
But 2021 should send things back to where they once were and continue pushing new trends that were emerging even before the pandemic.
Since mortgage rates of around 3% have become the norm, they don't feel as exceptional and won't entice buyers as they have in the recent past.
Realtor.com predicts home sales to come in at 7.0% above 2020, building momentum through the spring and continuing through the end of the year. Economic growth from coronavirus vaccines and more normal consumer spending will fuel this trend.
As for home prices, they're still going up, but they're slowing down. 2020 is looking to end 7.6% over 2019. But 2021 should only increase by around 5.7%. This will be aided by many millennials trading up and adding inventory to the market.
Speaking of inventory, 2020 saw half a million fewer homes on the market than the previous year. However, "newly listed homes" should be more numerous by the end of 2021. And we may even see an increase in inventory—a first since 2019.
The big trends to watch out for, however, are an increase in first-time buyers, people wanting at-home offices, and suburban migration.
Millennials make up the largest generation, and on their heels are the Gen-Zers who are entering their home-buying years. The older Millennials, those approaching 40, will be looking to trade up and purchase bigger homes to accommodate growing families. These two generations have been able to save money due to shelter-in-place orders and less going out in general, meaning they'll have more money for down payments.
Remote work was already a growing trend before the pandemic forced more white-collar workers to stay in their homes. And it looks like many will continue to primarily work away from the office, adding to the appeal of the suburbs. Look for an increase in listings mentioning home office space or even close-to-home remote-working options, like coffee shops.
Since commutes have changed, so has the need to be downtown. More people are comfortable with the idea of commuting further if they have to than before, according to a summer survey.
Sellers will continue to have the upper hand throughout the entire year due to an accelerated buying process—thank you, lower inventory. But all in all, 2021 should feel more normal and predictable than 2020.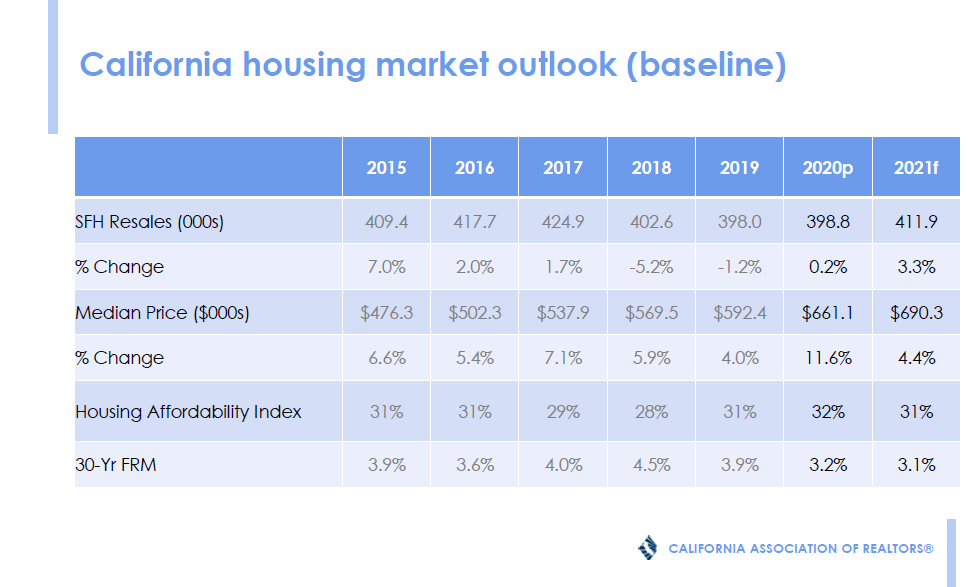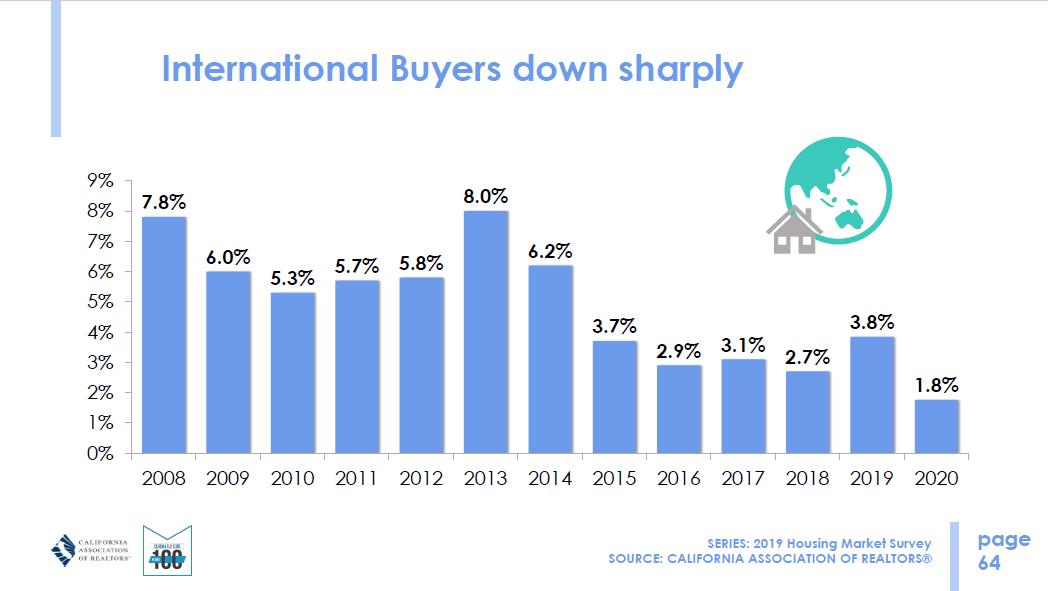 2021 National Housing Market Forecast and Predictions: Back to Normal
By Danielle Hale, Chief Economist for Realtor.com, December 2, 2020
To say 2020 was a year of surprises is an extreme understatement. What started off as a bright year for the housing market and the economy was soon derailed by a global pandemic and severe economic recession. As detailed by my colleague, George Ratiu, the economic rebound has been sharp, but is by no means complete and created distinct winners and losers among sectors in the economy. Read more detailed thoughts on the overall economic context and outlook, here. One of the big winners has been the housing market, which saw home sales and prices hit decade-plus highs following decade lows in the span of just a few months. We expect housing's winning streak to continue in 2021 as seasonal trends normalize and some of the frenzied momentum fades thanks to fresh affordability challenges. Below you'll find our forecast and housing market predictions on key trends that will shape the year ahead.
Realtor.com 2021 Forecast for Key Housing Indicators
| | | | | |
| --- | --- | --- | --- | --- |
| Housing Indicator | Realtor.com 2021 Forecast | | | |
| Mortgage Rates | Average 3.2% throughout the year, 3.4% by end of year | | | |
| Existing Home Median Sales Price Appreciation | Up 5.7% | | | |
| Existing Home Sales | Up 7.0% | | | |
| Single-Family Home Housing Starts | Up 9% | | | |
| Homeownership Rate | 65.9% | | | |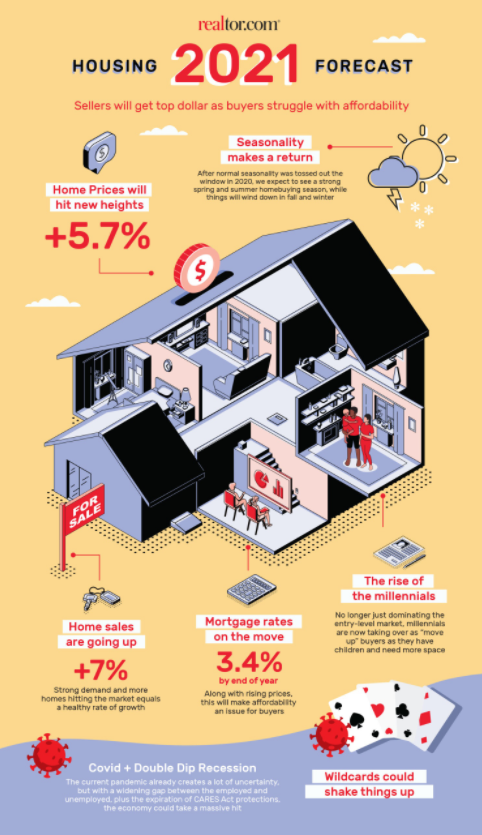 Seasonality and 2020 Context: The Baseline
In 2020, the seasonal pattern for home sales and other metrics was thrown out of whack by the timing of the coronavirus arrival as well as the shelter-at-home orders and other measures that were rolled out to arrest the spread of the virus. These measures were implemented just before what's normally the best time of year for sellers to list a home for sale, and housing inventory never fully made up the gap as buyers returned in earnest before sellers. This uneven return of buyers and sellers created a housing market frenzy that pushed the number of sales to decade highs while time on market dropped to new lows. This trend persisted well into the fall, a time when normal seasonal trends typically favor home buyers over sellers, thus buyers hoping for the usual break in 2020 were likely disappointed. Understanding this backdrop will be key to evaluating the data as it comes in for 2021 as we expect the housing market to settle into a much more normal pattern than the wild swings we saw in 2020. Year over year trends will need to be understood in the context of the unusual 2020 base year.
Home Sales
After whipsawing in tremendous fashion in early 2020, the housing market more than regained its early-year momentum to finish at new highs for home sales in the fall. For the year, we expect 2020 home sales to register slightly higher (0.9%) than the 2019 total thanks to the strong, if delayed, buying season. Going into 2021, we expect home sales activity to slow from those frenzied levels which represented underlying housing demand as well as make-up buying for a spring season many buyers missed out on plus a sense of urgency brought on by record low mortgage rates. As sub-3 percent mortgage rates start to feel less exceptional, buyers may not react with the same immediacy to take advantage of them, initially, though as rates start to rise in the second half of 2021, buyers may feel the need to hurry purchases along to lock in a low rate. Additionally, as make-up buying from the disruption of spring 2020 fades, home purchases will be propelled by underlying demand in 2021. This demand will come from a healthy share of Millennial and Gen-Z first-time buyers as well as trade-up buyers from the Millennial and older generations.
We expect home sales in 2021 to come in 7.0% above 2020 levels, following a more normal seasonal trend and building momentum through the spring and sustaining the pace in the second half of the year. While home sales are expected to lose some momentum over the last months of 2020, the shallower than normal seasonal slowdown creates a higher base of activity leading into 2021 that is roughly maintained for the first half of the year. As vaccines for the coronavirus become broadly available to the public, and economic growth reflects the resumption of more normal patterns of consumer spending, home sales gain even more in the second half of the year.
Home Prices
With the already limited inventory of homes for sale relative to buyers pushed further out of balance by the pandemic that brought out buyers in mass and kept many sellers pondering their options, home prices skyrocketed surging up more than 10 percent over year-ago levels by the late fall. We expect the momentum of home price growth to slow as more sellers come to market and mortgage rates settle into a sideways pattern and eventually begin to turn higher. The large number of buyers in the market, including many Gen-Zers looking to buy their first-home and Millennials who are both first-time and trade-up buyers will keep upward pressure on home prices, but rising numbers of home sellers will provide a better relief valve for that pressure.
We expect home prices in 2020 to end 7.6% above 2019, after a seeing near record high boost in the summer and early fall, but beginning to decelerate into the holidays. From there, we expect price gains to ease somewhat in 2021 and end 5.7% above 2020 levels, decelerating steadily through the spring and summer, and then gradually reaccelerating toward the end of the year.
Inventory
Although the housing market is healing and by many measures doing better than before the pandemic, inventory remains housing's long haul symptom. There were an insufficient number of homes for sale going into 2020 in large part due to an estimated shortfall of nearly 4 million newly constructed homes. Much to the surprise of many, the coronavirus and recession did not lead to a distressed seller driven inventory surge as we saw in the previous recession, but further reduced the number of homes available for sale. Starting in fall 2020 the housing market saw more than half a million fewer homes available for sale than the prior year. We expect to see an improvement in the pace of inventory declines starting just before the end of 2020 that will continue into Spring 2021, so that while the number of for-sale homes will be lower than one year ago, the size of those declines will drop. We expect a more normal seasonal pattern to emerge which will contrast with the unusual 2020 base and lead to odd year over year trends, but taken as a whole we expect inventories to improve and, by the end of 2021, we may see inventories finally register an increase for the first-time since 2019.
While total inventories will remain relatively low thanks to strong buyer demand, the number of new homes available for sale and existing home sellers, what we call "newly listed homes," will be more numerous which will help power the expected increases in home sales.
Key Housing Trends
2021 TRENDS: Millennials & Gen Z
The largest generation in history, millennials will continue to shape the housing market as they become an even larger player. The oldest millennials will turn 40 in 2021 while the younger end of the generation will turn 25. Older millennials will be trade-up buyers with many having owned their first homes long enough to see substantial equity gains, while the larger, younger segment of the generation age into key years for first-time homebuying. At the same time, Gen Z buyers, who are 24 and younger in 2021, will continue their early foray into the housing market.
In early 2020, younger generations, including Millennials and Gen Z, were putting down smaller downpayments and taking on larger debts to take advantage of low mortgage rates despite rising home prices. In fact, only a quarter of respondents to a summer survey reported lowering their monthly mortgage budget or not changing their home search criteria in response to lower mortgage rates. The other three-quarters said low rates would enable them to make a change to their home search, and the most commonly cited change was buying a larger home in a nicer neighborhood.
We expect these trends to persist as rising home prices require larger upfront down payments as well as a bigger ongoing monthly payment due to the end of mortgage rate declines. Early in the pandemic period, there was concern that temporary income losses could prove to be particularly disruptive to younger generations' plans for homeownership, as these were the groups expected to face income disruptions that might require dipping into savings which would otherwise be used for a down payment. Thus far, these disruptions have not had an effect on overall home sales, and some home shoppers report an ability to save more money for a downpayment as a result of sheltering at home, but we are still not completely through the pandemic-related economic disruption.
2021 TRENDS: Remote Work
As we discussed in early 2020, the ability to work from home is not new. In fact, as long ago as 2018, roughly one-quarter of workers worked at home, up from just 15 percent in 2001. More recently, a scan of real estate listings on realtor.com in early 2020 showed that in the ten metro markets where they are most common, as many as 1-in-5 to 1-in-3 home listings mentioned an "office." Remote working was already more common among home shoppers than the general working population, with more than one-third of home shoppers reporting that they worked remotely even before the coronavirus. Additionally, remote working has gained an unprecedented prominence in response to stay-at-home orders and continued measures to quell the spread of the coronavirus. Another 37 percent of home shoppers reported working remotely as a result of the coronavirus. While a majority of home shoppers reported a preference for working remotely, three-quarters of workers expect to return to the office at least part-time at some point in the future. However, the ability to work remotely was a factor prompting a majority of respondents to buy a home in 2020. This was the case even when most expected to return to offices sometime in 2020. As remote work extends into 2021 and in some cases employers grant employees the flexibility to continue remote work indefinitely, expect home listings to showcase features that support remote work such as home offices, zoom rooms, high-speed internet connections, quiet yards that facilitate outdoor office work, and proximity to coffee shops and other businesses that offer back-up internet and a break from being at home, which can feel monotonous to some, to become more prevalent
2021 TRENDS: Suburban Migration
With remote work becoming much more common, home shopping in suburban areas had a stronger post-COVID lockdown bounceback than shopping in urban areas, starting in the spring and continuing through the summer. These trends, which have been visible in rental data as well, suggest that city-dwellers—freed from the daily tether of a commute to the office and looking for affordable space to shelter, work, learn, and live—were finding the answer in the suburbs. In fact, a summer survey of home shoppers showed that while a majority of respondents reported no change in their willingness to commute, among those who did report a change, three of every four reported an increased willingness to commute or live further from the office.
Even before the pandemic, homebuyers looking for affordability were finding it in areas outside of urban cores. The pandemic has merely accelerated this previous trend by giving homebuyers additional reasons to move farther from downtown.
Housing Market Perspectives
What will 2021 be like for buyers?
The housing market in 2021 will be much more hospitable for buyers as an increased number of existing sellers and ramp up in new construction restore some bargaining power for buyers, especially in the second half of the year. Still-low mortgage rates help buyers afford home price increases that will be much more manageable than the price increases seen in 2020. With companies continuing to allow workers more flexibility, we see the inner as well as outer suburbs and smaller towns continuing to entice home buyers and builders. Areas that can ramp up affordable housing supply will benefit and see an influx of buyers.
While buyers will be able to visit homes in person, a strong preference for most shopping to buy, they will take advantage of the industry's acceleration toward technology to check out homes, explore neighborhoods, and research the purchase online, saving time and energy to focus on a more selectively curated list of homes to view in person.
Although the pace will slow from late 2020's frenzy, fast sales will remain the norm in many parts of the country which will be a challenge felt particularly for first-time buyers learning the ins and outs of making a major decision in a fast-moving environment. Buyers who prepare by honing in on the neighborhood and home characteristics that are must-haves vs. nice-to-haves and lining up financing including a pre-approval will have an edge.
What will 2021 be like for sellers?
Sellers will be in a good position in 2021. Home prices will hit new highs, even though the pace of growth slows. Buyers will remain plentiful and low mortgage rates keep purchasing power healthy, but monthly mortgage costs will rise as mortgage rates steady and home prices continue to rise. Sellers hoping to see further double-digit price gains will likely be disappointed, but those setting reasonable expectations can expect to see a timely sale and will want to focus on their next move.
By Clare Trapasso, Realtor.com | Dec 2, 2020
Few will be reluctant to say goodbye to 2020. With vaccines rolling out, the days of the deadly pandemic that bludgeoned the nation's economy seem to be numbered. Good riddance! But the soaring home prices that became a hallmark of the COVID-19 crisis may be here to stay.
Realtor.com®'s 2021 housing forecast predicts record-high prices will continue rising in 2021, delivering a blow to first-time buyers and those on a budget. Mortgage interest rates, which hit historic lows this year and helped fuel the go-go growth in U.S. housing markets, are also expected to tick up again, making monthly housing payments ever more expensive.
So folks shouldn't hold their breath for a bargain.
However, the pace of the wild price growth seen in 2020 will slow. Prices are expected to jump 5.7% next year as a result of more properties forecast to hit the market, particularly in the second half of next year. While still unwelcome news for buyers, the double-digit price hikes seen this year aren't expected to carry over into the new year.
"We expect affordability to become a bigger challenge. It's going to make [housing] more expensive," says realtor.com Chief Economist Danielle Hale. "[But] home prices will rise slower than this year, on the upper end of what we consider normal price growth."
The forecast anticipates mortgage rates will begin slowly going up toward the last half of 2021, reaching 3.4% by the end of the year. Mortgage rates are currently at an all-time low of just 2.72% for 30-year fixed-rate loans in the week ending Nov. 25, according to Freddie Mac. While a roughly 70 basis point rise isn't dramatic, it will make those monthly mortgage payments even pricier. This has the potential to price out some buyers or force others to purchase cheaper abodes in less desirable locations.
However, even higher prices, and therefore higher required down payments, aren't likely to keep the hordes of determined buyers at bay.
Sales of existing homes (i.e., previously lived in abodes) are projected to increase 7% in 2021. That's coming as folks stuck inside their homes for months on end are seeking larger residences or ones with different features. Younger millennials are competing with older members of Generation Z for starter homes, and baby boomers are downsizing. Many apartment dwellers are also seeking homes on their own.
Ironically, it's those high prices that are keeping prices from rising even further.
"Home prices can't outpace income growth indefinitely. The higher prices rise, the harder it is for more buyers to get into the market. That tends to dampen demand," says Hale. That means that with less competition, prices don't have as much room to rise.
Watch: Economic Update: Are We Making Progress Yet?
———
The bright spot for buyers is that more homes are likely to become available in the last six months of 2021. That should give folks more options to choose from and take away some of their urgency. With a larger selection, buyers may not be forced to make a decision in mere hours and will have more time to make up their minds.
The inventory bump is expected to be due to a combination of more sellers listing their properties as well as builders completing more abodes. Realtor.com predicts single-family housing starts, which are homes that have begun construction but aren't yet completed, will rise 9%. And it's sorely needed as there was an estimated shortfall of almost 4 million new homes heading into this year.
The new construction, while often more expensive than existing homes, are likely to appeal to move-up buyers looking for larger abodes with the latest amenities. Once those folks purchase these brand-new abodes, they typically list their existing homes, adding more inventory to the market.
"A lot of that new construction is not necessarily targeted at first-time buyers," says Hale. "But we have seen builders shift what they're building to better reach first-time home buyers."
While 2021 is expected to be another banner year for sellers, most are also buyers. And while they can use their home equity to help finance their new abode, they're still likely to be affected by the inventory shortage and loftier home prices and mortgage rates.
"Sellers are still expected to get top dollar for their home sales," says Hale. "The biggest challenge is finding their new home."
However, if 2020 has taught us anything, it's that everything can change in an instant. If the nation undergoes additional lockdowns due to COVID-19, then fewer homes may go up for sale and the market could slow. If everything goes well with the vaccines being rolled out early, then the housing market could benefit with additional inventory and sales.
Another wildcard is the possibility of sustained economic pain. The country could still fall into a double-dip recession if unemployment remains high and businesses continue to suffer. Most folks need jobs to afford home purchases. If the economy doesn't improve, it could put a dent in the market.
"The value of housing is tied to the economy," says Hale. "As long as the economy continues to rebound, I expect the housing market will do well."
By Mark Calvey, SF Business Times, November 24, 2020
The Bay Area exodus, which accelerated amid Covid, appears to be gaining more steam in the final months of 2020. Moving out of the state by year-end could help those leaving avoid being hit by a California income tax increase next year that might be retroactive to the start of 2021.
"I'm seeing an acceleration of clients — not to mention friends and neighbors — leaving California," Paul Bleeg, a partner with accounting firm EisnerAmper in San Francisco, told me Tuesday. "The destinations vary: Montana, Nevada, Tennessee, Florida, Texas, Utah and elsewhere."
Bleeg said factors fueling the acceleration include anticipation that California taxes will move higher in the year ahead and the shift to working from home amid the pandemic.
"The majority of those moving are people who've been working from home for several months or more and now realize they could pay less in taxes by working out of state," Bleeg said. "Once they get the OK from their employer to work remotely in another state, away they go."
California has a history of raising income taxes retroactively to the start of the year, as the state did in 2012, when taking the top tax rate to 13.3% — the nation's highest. This year, proposed legislation to raise the top rate to 16.3%, again retroactively, didn't pass. But many expect the state to consider a tax hike again in 2021.
Those who have left in recent weeks include Ron Suber, a prolific fintech investor who moved from San Francisco to Boulder, Colorado, in late September. Suber may be blazing a trail, given the reaction he's receiving from his decision to leave California.
"The number of calls, emails, inquiries and outreach over the past two months has been staggering," Suber told me Tuesday from his new hometown. "It's not about 'why' but about 'where.' Many are currently doing their due diligence on where they might go.
"It's not just to the warm and zero-state-income-tax states," Suber said, noting that some are considering moves to Arizona, Utah, Oregon and Colorado, among other destinations.
Others that have recently moved from the Golden State include Dropbox (NASDAQ: DBX) CEO Drew Houstonand Splunk (NASDAQ: SPLK) CEO Douglas Merritt, who both recently purchased homes in Austin, with plans to make the Texas capital their permanent home, The Information reported this week, noting that some Splunk employees are already asking executives whether they too should move to Austin. Palantir co-founder Joe Lonsdale is also moving from San Francisco to Austin, taking the headquarters of his venture firm, 8VC, with him. Palantir recently moved its headquarters from Palo Alto to Denver.
Keith Rabois, a veteran of Paypal, LinkedIn and Square, said this month that he too is moving, to Florida.
RECOMMENDED
The U.S. Census Bureau's state-to-state migration figures released this month showed that the exodus was roaring even before Covid struck. Texas was the most popular destination for those leaving the Golden State in 2019.
While the early migration to California was evident in wagon trains crossing the plains, today's exodus out of the state can be seen on a variety of social media.
Suber's post on LinkedIn announcing that he was heading to Boulder received more than 135,000 views, with more than 170 people weighing in on his decision.
"Sure you won't miss the fires, traffic, homelessness and high taxes, Ron Suber?" one person commented. "Congrats on yet another strong, strategic move."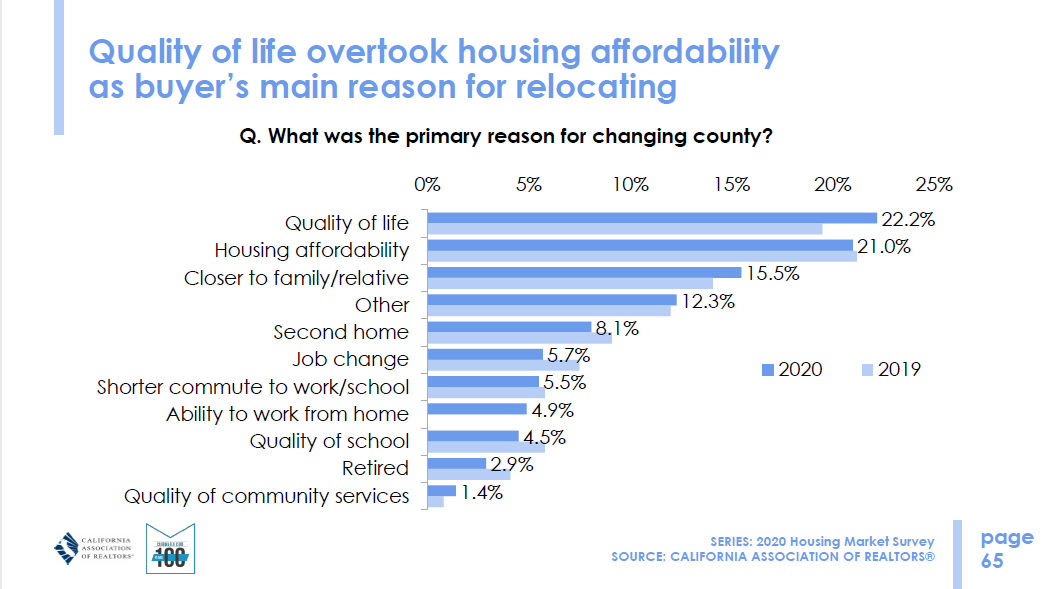 Glen Bell – (510) 333-4460   jazzlines@sbcglobal.net