SF East Bay Real Estate Market Update
May 31, 2020
By Glen Bell   (510) 333-4460
Everyone seems to be asking the question of how will the COVID-19 "shelter in place" mandate effect the real estate market and how will we come out of it later in the year. There's been so much speculation with a number of different opinions coming from a number of sources. Keep in mind that this is "unchartered territory" and we won't have definitive answers for quite some time. So much has changed. We as agents are very limited in what we can do during this period. A lot will be riding on how long it takes before we're able to really go back to work, how long it takes for the COVID-19 fears to subside, how will the economy fair and what will the jobs situation looks like by then.
As agents, the market has paused as our lives have. Preparing a home for market has been delayed, and fewer new listings are coming on, due to the many challenges of being able to properly market them. Brokerages temporarily closed their doors with agents primarily working remotely from their homes. There are no open house showings while physical individual showings are discouraged and have come to a crawl. COVID-19 has disrupted all of our lives. The uncertainty and concern for our health and well-being for not only ourselves, but our family and friends, is foremost in all of our minds.
That being said, let's take a look at how the market stands at the end of May. We haven't seen dramatic changes just yet. What we have seen is a "mixed" bag. However, I say that only by looking at the numbers up until May 31st. Everyone asks me to pull out your crystal ball and tell us what's going to happen.
For me, I've always been a firm believer in supply and demand concepts. For example, in real estate, the number of houses for sale always represented our supply, while the number of homes that have gone into contract, or pendings, represented our demand. What kind of a market, a buyers' or a sellers', is determined based on the relationship of these two numbers at any given time. During the REO days, there was a huge inventory, with few buyers, thus a buyers' market. For most of the past 6 years, markets experienced a strong sellers' market with very few listings and lots of buyers. For most of last year, we had moved back towards a more neutral or balanced market. When inventory "fell off the cliff" in November 2019, a month earlier than normal, it set up for a strong sellers' market again early spring and that's exactly what happened. Very little to look
at with lots buyers trying to take advantage of extremely low interest rates. We saw more competition and increased prices early on. Then COVID-19 hit.
What we've seen since COVID-19, is that if sellers did not already have their home listed for sale, many decided to delay or postpone coming onto the market until some of the uncertainty subsides. Many buyers have jumped back on the fence and are holding off. The uncertainty of their job being in jeopardy, a loss in income, health fears, or seeing a "big hit" in their stock portfolio has taken its toll.
The lack of inventory early this year had "flipped" our markets back into a sellers' market temporarily. However, it seems to be setting up for another big change to come by as early as this summer. There's a large number of sellers who took a wait and see attitude over COVID-19 who may come back onto the market then. This could come in waves with some wanting to see first how the market is doing before they put their home up for sale. There may even be more who took financial hits and feel that they now "must sell." So, we'll probably see a fairly large supply of homes come onto the market over the summer. Many buyers on the other hand have backed off and may not be in a financial position to purchase by then. So perhaps the strong demand that we're used to seeing in the Bay Area will begin to decrease. This will probably pull us back into a more neutral or balanced market, or possibly even into a buyers' market for the first time in years.
Here are some highlights for the 39 East Bay Cities that I track:
Sales are down slightly from last month, but 36.8% lower than last year's numbers. Prices have been up slightly through spring but are now beginning to flatten out as we enter into the summer months. More homes seem to be "sitting," taking longer to sell. We're seeing more price reductions and more transactions fall out. Fewer buyers are going into contract.
The seasonal drop in inventory followed our normal pattern during the holidays. We watched the number of homes decrease by nearly 60% over November and December. Last year was somewhat unusual because we saw a late season start and early season end. Inventory at the end of December was at its' 2nd lowest level since I began tracking these 39 cities in 2006, with only 1163 homes for sale at the end of December. Our expectations normally are that new home listings begin to appear on the market as early as mid-January with a steady increase of inventory every month through to September, traditionally our high point.
Inventory increased slightly in April by only 4% We normally expect to see more than that in May, typically one of our strongest selling m0nths of the year. That's still 29% lower than what we saw last year at this time. This represents a 39 day supply of homes, compared to a 48 day supply last year at the end of May. The number of pendings improved by a whopping 48.5%, a good sign signaling that we still have buyers. However, when we compare that number to last year, we're still 17% lower. In fact, this is the lowest number that I have recorded of pendings for a May since I began tracking statistics in 2007. This is primarily due to low inventories as well as the influence of the COVID-19 and the "shelter in place" mandate during the last two months.
The pending/active ratio reversed its trend, moving towards a more normal balanced market now at 1.02. This is higher when compared to last years' number of .88. We were at .72 last month. The pending/active ratio has been a benchmark that we've used as a measure of supply and demand to determine whether we're in a buyer's or a seller's market. Typically, a number well above 1, (less inventory with more pendings) favors sellers. A number below 1 favors buyers.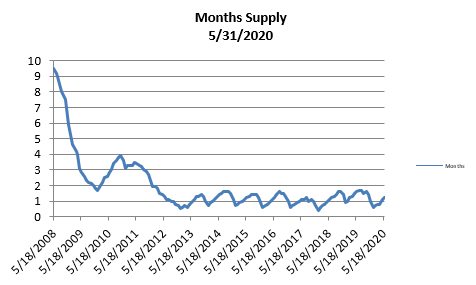 The month's supply for the combined 39 city area is 39 days. Historically, a 2 to 3 months' supply is considered normal in the San Francisco East Bay Area. As you can see from the graph above, this is normally a repetitive pattern over the past four years. Supply is less when compared to last year at this time, of 48 days.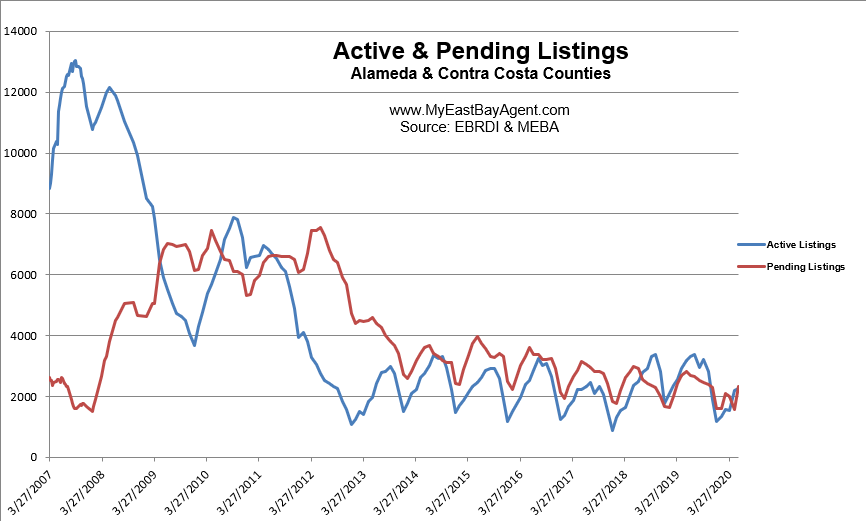 Our inventory for the East Bay (the 39 cities tracked) is now at 2,275 homes actively for sale. This is fewer than what we saw last year at this time, of 3,185. We're used to seeing between 3,000 and 6,000 homes in a "normal" market in the San Francisco East Bay Area. Pending sales decreased to 2327, much lower than what we saw last year at this time of 2,81
Our Pending/Active Ratio is 1.02. Last year at this time it was .88.
Sales over the last 3 months, on average, are 3.1% over the asking price for this area, slightly lower than what we saw last year at this time, of 3.4%.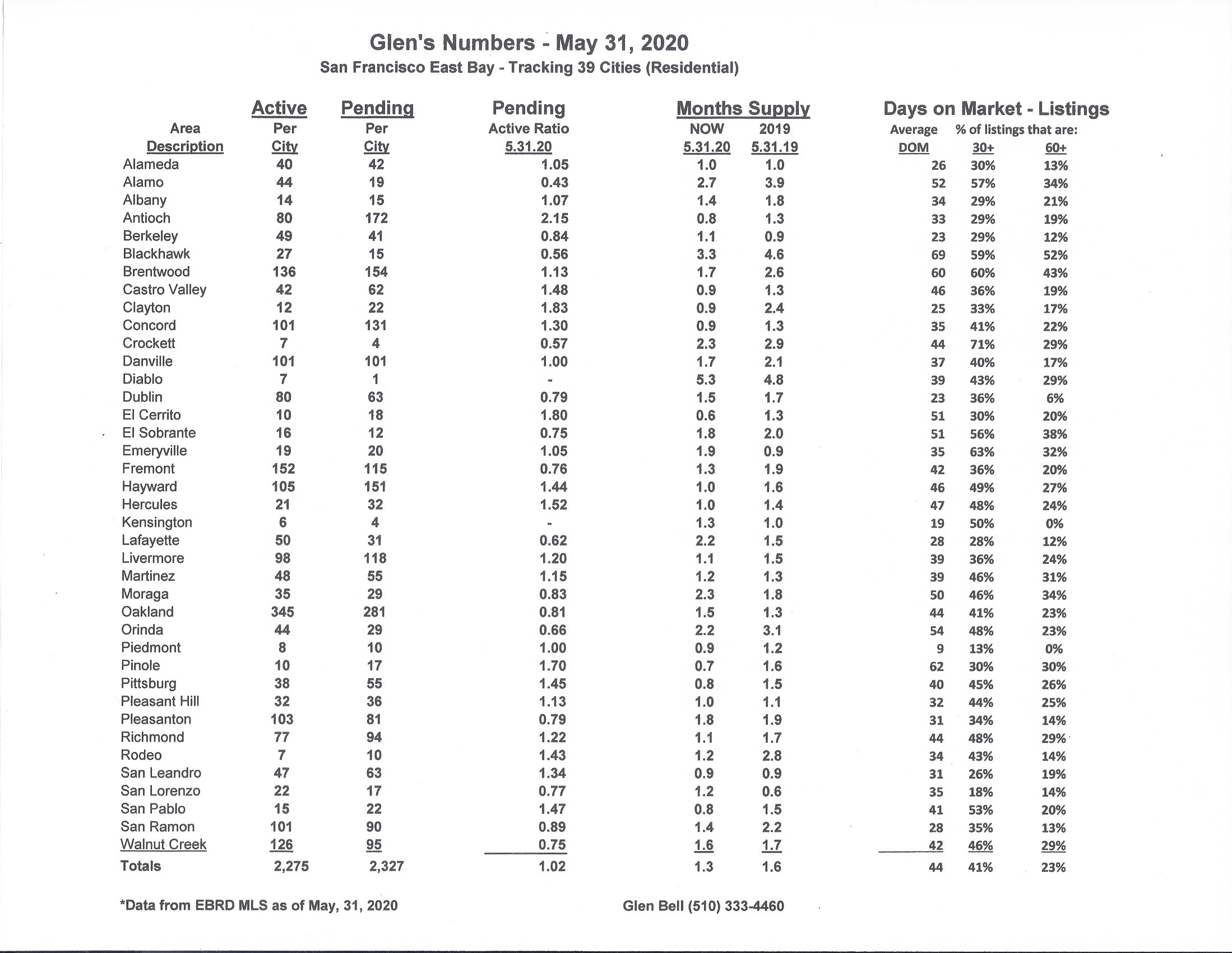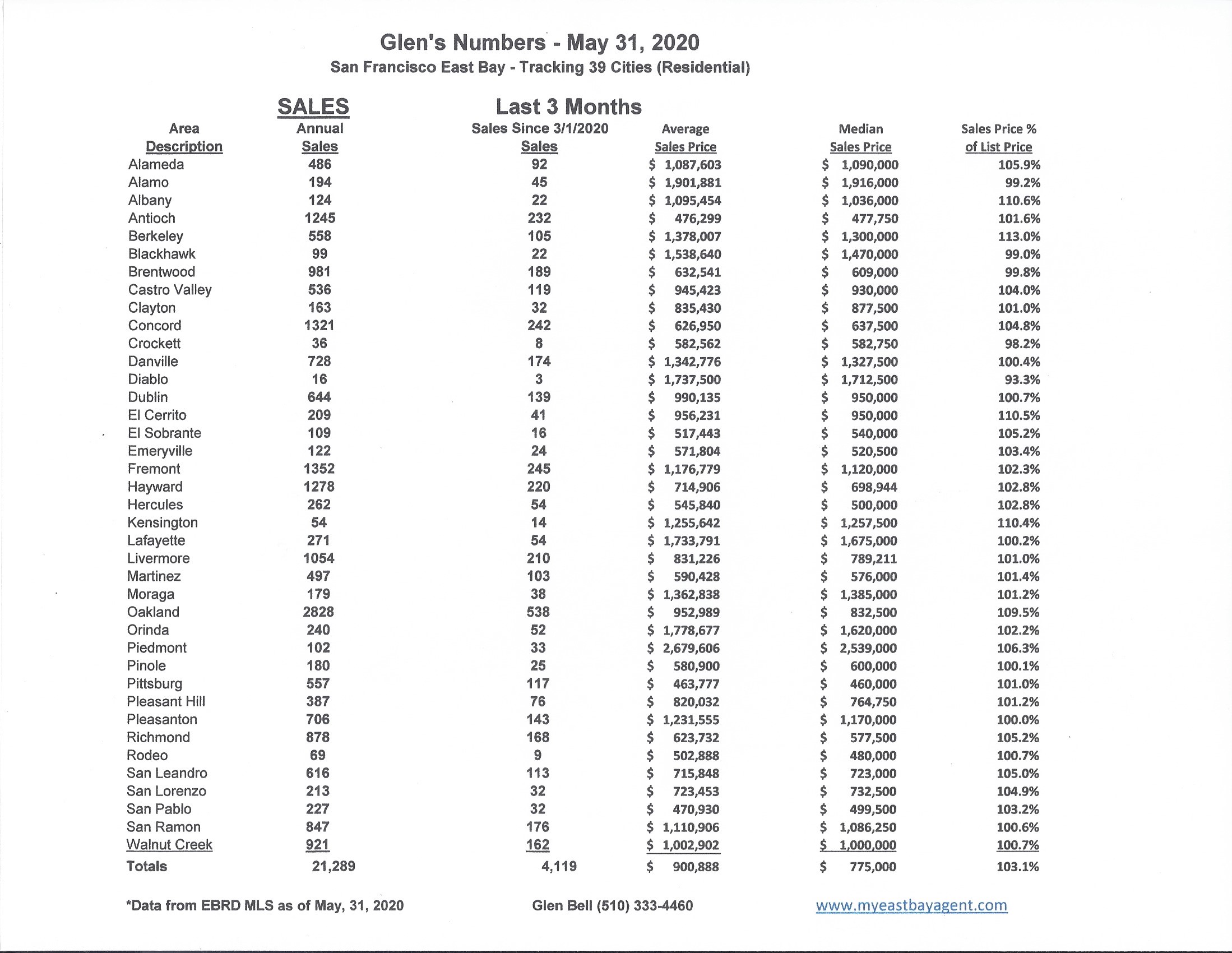 Recent News
By Kathleen Pender, SF Chronicle, June 16, 2020

The coronavirus pushed Bay Area home sales off a cliff in May.
The number of existing, single-family home sales that closed last month fell 51.1% compared with the same month last year and the median price dropped 2.5%, according to a report issued Tuesday by the California Association of Realtors.
Between April and May, sales fell 6.7% and the median price dropped 1.5% to $965,000, said the report, which excludes condominiums, newly built homes and homes that were not advertised on a Multiple Listing Service.
"May is going to be where you see the full brunt" of the COVID-19 crisis, said Jordan Levine, the association's deputy chief economist. Because it generally takes 30 to 60 days for a sale to close after an offer is accepted, a lot of May sales went into contract in April, when the Bay Area was still under a strict lockdown. Since then the rules have eased a bit, the stock market has rebounded and it's a little clearer which sectors of the economy are most affected.
Statewide, sales fell 41% year-over-year in May, following drops of 11.5% in March and 30.1% in April.
"It was the first time we saw three back-to-back months of double-digit declines," Levine said.
Pending sales — the number of homes going into a contract — is a more forward-looking indicator than sales. They rebounded 67% between April and May statewide, and by a similar percentage in the Bay Area.
"We saw the pit for pending sales in mid-April," Levine said. The sales rebound continued through the end of May but "the last couple weeks we have seen slower growth in pending sales."
Normally, sales peak in the spring and tail off in the summer but this year "our summer will be more like spring and summer combined, or two springs combined," said Brian Witchel, an agent with Corcoran Global Living in Marin.
Considering the drop in May sales, the 2.5% drop in prices year-over-year, which followed a 0.8% drop in April, seems fairly tame.
One reason prices haven't dropped more is that there are fewer fundamental problems in the housing market than there were during the financial crisis, which was fueled by shoddy mortgage underwriting. And most of the job losses this year have been in service industries, where employees are more likely to be renters than buyers in the expensive Bay Area, Levine said.
"On the inventory side, sellers took a much bigger step back than buyers," Levine said. So even though there are fewer buyers, they are competing for a much smaller number of homes.
Sellers who did not have to move have been reluctant to put their homes on the market during the pandemic.
In the Bay Area, open houses, for brokers and the public, are not allowed. One-on-one showings are allowed only if a virtual showing is not feasible, and then only by appointment with strict social distancing and health rules enforced. Before early May, agents could not even show a home unless the occupants had moved out. Now they generally can, but the occupants must be gone at the time of the showing. Even if their homes can be shown, many owners are reluctant to have strangers coming through.
Finally, low mortgage rates have made buyers eager to make a deal, perhaps more than sellers.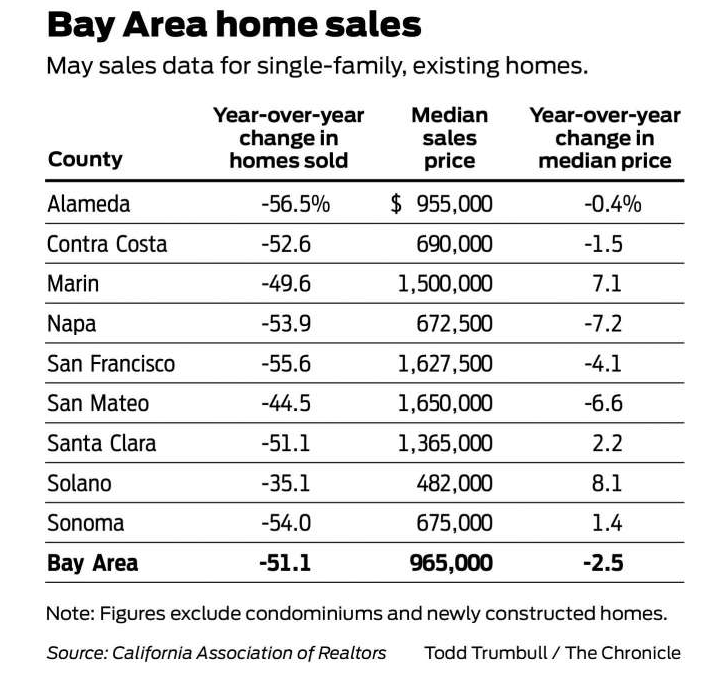 Among Bay Area counties, median prices rose the most year-over-year in Solano (8.1%) and Marin (7.1%). They fell the most in Napa (-7.2%) and San Mateo (-6.6%), according to the report.
Month to month, prices rose the most in Marin (9.9%) and Sonoma (2.6%) and dropped the most in Napa (-10.3%), Alameda (-7.3%) and San Francisco (-4.2%).
Anecdotally, agents in the Bay Area suburbs say they've had a surge of interest from potential buyers coming from San Francisco, as the coronavirus has made working from home at least part time a more viable option long-term. Many are looking for larger homes with space for one or two offices, a yard and — since they're spending more time at home — a pool.
"Every year a certain amount of people move from San Francisco to Lafayette, Moraga, Orinda. It's the natural flow, they get to their early 30s, have a child or aspirations of a child. This year we are getting this year's people and next year's," Compass agent Paddy Keohe said. "San Francisco is one of the most beautiful cities but between COVID and restaurants and bars closing down, that romantic feature is gone," he said. "Now (they're) working from home in a two-bedroom apartment and it's like, 'Get me out of here.'"
Nicole Allen and her husband have been looking to move from their one-bedroom apartment in San Francisco's Marina district to Berkeley, the Oakland hills or Rockridge.
"The biggest thing for us is how much more you can get for your money outside the city. We are looking for something with more space, a yard, flex room, something where you can raise a family and not feel completely crammed for a couple years," she said. "With companies updating their work-from-home policies, we are more excited about the prospect of being outside of the city. We wouldn't necessarily have to take BART every day."
Chris Meadors, a Compass agent in Napa, said, "The only phone calls we have received in the last three months" are from people wanting to move from San Francisco to someplace like Napa County. He and his partner "have put five deals in contract with that exact buyer at a couple different price points in the last month," he said. Second-home buyers are acting "with more urgency" than usual, he added. They want to know "How fast can I move in? I want to use the pool the July 4 weekend."
Paul O'Neil, a Corcoran agent in Marin, started working with three clients wanting to move from San Francisco since before the coronavirus hit.
"They were on the fence for a while, all of a sudden they are active," he said. All can work from home more than they used to. As a result, some are willing to look at homes farther from the city, for example in Fairfax rather than Mill Valley.
Tim Johnson, a Compass agent in San Francisco, said "it's a little early" to say whether this is more than a seasonal trend, since summer is when families with children often move from the city to suburbs before schools reopen. He said families are also looking for bigger homes within San Francisco, with room for offices and home schooling.
"That tends to drive people toward larger accommodations rather than out of the city," he said.
Paul Barbagelata of BarbCo Group in San Francisco has heard of people wanting a second home "in the Wine Country, Tahoe, or a place where … there is fresh air, some elbow room and they won't go crazy" sheltering in place, he said. But "I have not personally experienced any fallout yet" from people moving out of the city entirely. "By September or fall we will have a better understanding if there is a flight to the suburbs or not."
In a report earlier this month, Compass Chief Market Analyst Patrick Carlisle noted that San Francisco "was more deeply and more quickly affected by COVID-19 and shelter-in-place" than other local markets. It saw larger initial drops in activity. "Even with the remarkable rebound of buyer demand in May, its recovery is, so far, lagging other counties on a year-over-year basis."
In a chart, he plotted the number of homes going into contract last month compared with May 2019. Among Bay Area counties, the highest was Sonoma at 100%, which means Sonoma's activity was about the same as last year. The next highest were Solano (98%) and Marin (88%). The lowest were San Francisco (62%) and Alameda (68%).
But, he added, "one cannot come to conclusions in the middle of a crisis. In 1989, right after the earthquake, there was talk about turning the entire Marina district into a park. After 9/11, it was said in New York City that no one would want to live in condo penthouses anymore."
By Glenn Kelman, Redfin, June 12, 2020
Key Takeaways
Demand is 25% above pre-pandemic levels. Buyers haven't "batted an eyelash" over the possibility of a resurgent pandemic or now protests.
Bidding wars are "bananas" with homes "flying off the shelves." Sale prices are up 3.1%; asking prices are up 9.9%.
New listings are still 15% below last year's levels. More listings may hit the market soon, though sellers still have more health concerns than buyers. A buyer can decide how many homes to visit, but a seller has to "let an open-ended number of people walk through until the home is sold."
Many renters in the city are buying in more affordable outlying areas; home-ownership levels may meaningfully increase for the first time in 15 years.
But continued unemployment could pull first-time buyers out of the market; "Condos are tough to sell right now… The ball is going to drop and it will be interesting to see how it rolls down the hill."
Nothing Seems to Deter Homebuyers
It seems that nothing can deter homebuyers. Seasonally adjusted demand for the week of June 1 – June 7 is now 25% higher than it was pre-pandemic in January and February, marking the eighth straight week of rising demand.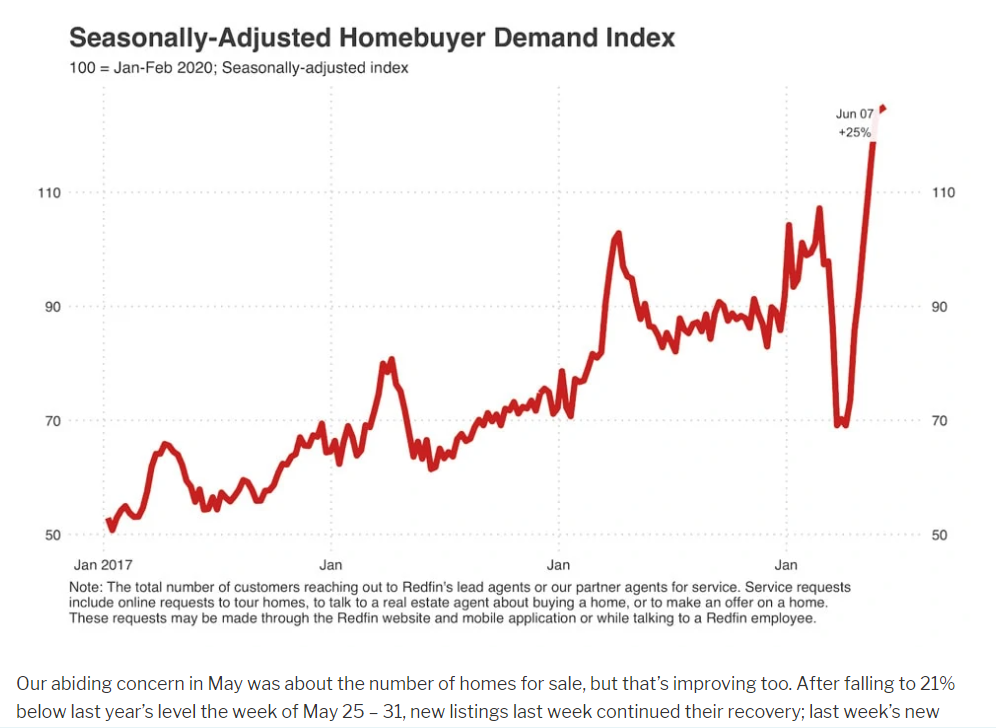 Our abiding concern in May was about the number of homes for sale, but that's improving too. After falling to 21% below last year's level the week of May 25 – 31, new listings last week continued their recovery; last week's new listings were 15% below last year's level.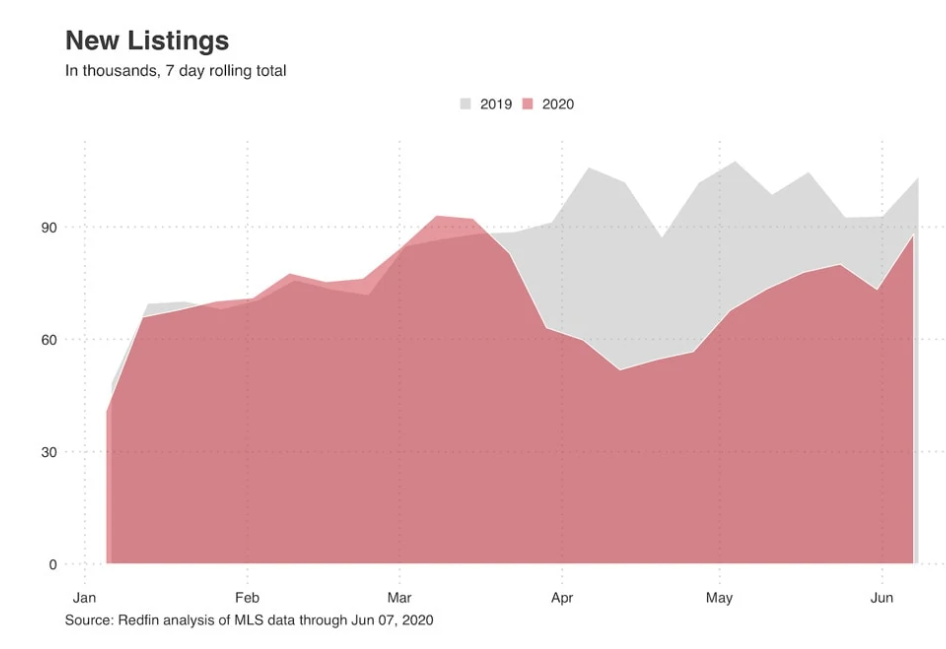 Listings accepting an offer improved as well. Two weeks ago, this number was down 11% year-over-year, but for the week of June 1 – June 7 it was 9%. With demand surging and supply recovering, we expect sales to strengthen; mortgage purchase applications were up 7% year-over-year in the last week of May and up even more, 13%, in the first week of June.
Buyers Unfazed by Protests and Pandemics
Agents from Seattle to LA to Philadelphia have been surprised that protests didn't deter more buyers. "It has been a speed bump," said Alec Traub, an LA-based team manager for Redfin. Hazel Shakur, Redfin Maryland agent, reports that "between the virus and now the protests, folks are not batting an eyelash." What's driving demand is low rates and, now, easing credit. According to Sarah Martin, a Redfin mortgage advisor in Washington DC, "credit has pretty much loosened up except for self-employed borrowers."
Sellers Re-Entering Market, Worried About Health Risks
And sellers, always more careful than buyers, are finally responding to increased demand. "A lot of what I'm listing are not new clients, but people I've met with over the past few weeks and months," said Seattle Redfin Agent David Palmer. "I'll be bringing on double-digit listings in the month of June and expect the same for July. Those people who were looking to get top dollar and wanted to wait to list until they could get the most buyer attention, they can definitely get that now."
It's also easier for buyers than sellers to accept the health risks of touring. "We've had a lot of clients who are going to list with us but they're just not ready yet," said Mr. Traub, the LA team manager. "Especially when you live in your house, it's more difficult to let an open-ended number of people walk through until the home is sold. When you're a buyer, you can control the number of listings you see in-person. I think a lot of people still don't feel comfortable with that and what that means for their own health." Adds Charles Davies, a Redfin agent in Philly, "If it's vacant, I can get those listings all day long."
Bidding Wars Common
Until supply catches up to demand, prices will rise. For the week of June 1 – 7, year-over-year growth in asking prices was up 9.9%, compared to 7.9% the week before, and 3.9% in January and February. Sales prices for the first week of June are up 3.1% year-over-year, an improvement from 1.3% in May, when offers from late March and April were still closing. The percentage of newly listed homes accepting an offer within 14 days of their debut increased from 42% in May to 47% in the first week of June.
The major theme of our conversations with agents across the country this past week has been about bidding wars. "It's just bananas, with so few listings and so many buyers," said Ms. Shakur, the Redfin agent in Maryland. "Having lived through the 2008 bubble, I just want to be cautious. Maybe it's nowhere near the same size as it was in '08, and maybe it'll turn out not to have been a bubble at all. But buyers are desperate. If a property is in a desirable neighborhood, buyers will overpay. Bidding wars, escalations, no inspections, agreement to pay over appraised value, all of that's becoming the norm." Adds Mr. Palmer, the Redfin agent in Seattle. "Anything I'm pricing correctly right now is flying off the shelf."
No one knows for sure how long this will keep up, but very tight credit in recent months has at least limited housing speculation; price increases have been the result of record-low mortgage rates and inventory. "One thing I've noticed on my listings are our seller dashboards," Mr. Palmer said. The seller dashboard shows Redfin listing clients and their agents how much online traffic a listing is getting, and how digital ad campaigns for that listing are performing. "The views are up definitely for what I would normally see for a week's worth of views compared to this time last year. Usually 1,000 – 1,500 views would be a solid week for your first week. I'm having listings hit that on the first day."
Buyers Prefer Three-Dimensional Scans to Video-Chat Tours
Online interest in listings now takes many forms. As shelter-in-place rules subside in parts of the country, much of the demand for virtual showings is from relocating homebuyers who want to avoid a long drive or a flight to tour a home. Fifteen percent of tours are happening via video-chat rather than in person. This is half of its April peak, but still 30 times higher than it was pre-pandemic.
The popularity of three-dimensional scans has been even more durable, with views of these scans on Redfin.com increasing 42% from April to May. In markets like Orange County and Seattle, a quarter of new listings include a scan, and we now believe this will be the most popular way to virtualize a showing, with buyers preferring to move through the home at their own pace, whenever they want.
People Are On the Move
Many of these relocating buyers are pursuing the suburbs, or smaller, more affordable cities. "It's odd, because I've got two different sellers moving to Oklahoma, both for jobs," said Ms. Shakur, the Redfin agent from Maryland. "That big migration we're all expecting, it's beginning to happen. People are now moving more to the interior of the country. I also have a lot of clients who are retiring and moving down south to more tax-favorable states."
"I think some sellers are now at the point where they don't want to be in the city anymore or keep paying high prices to stay here," said Mr. Traub, one of Redfin's LA team managers. "A lot of people relocate to LA for work, but now they realize they could go back home and their money would go further, especially when they can work remotely."
It has been a point of debate within Redfin whether the movements of people we're now seeing are mostly to the outlying areas of the same city, or to entirely different parts of the country. What we can be sure of now is that this latter group of cross-country movers is already increasing in size, albeit only modestly: in April and May of 2020, 27% of Redfin.com users searched outside their metropolitan area, compared to 25% in April and May of 2019.
We now speculate that the flexibility to work remotely, combined with low interest rates, will lead to higher levels of home ownership in the U.S., which have mostly been declining since 2004. "With interest rates so low, a lot of people want to buy who are currently renting in the city," said Redfin Boston Agent Elynn Chen. "They want to go somewhere for more space."
Long-Term, Still Clouds on the Horizon
But even though demand is strong now, no one can say for sure what the long-term outlook is. The whole reason we're reporting on demand every week instead of every month is because we have seen such a volatile real estate market. "A lot of jobs are not coming back," said Mr. Palmer, the Redfin Seattle agent. "Would-be first-time buyers are gonna say screw it. They are just thinking about how to pay rent and survive. We have a lot of band-aids with unemployment insurance right now, but those aren't going to last forever. Condos are tough [to sell] right now. The ball is going to drop and it will be interesting to see how it rolls down the hill."
By Crissinda Ponder, Lendingtree, 6/10/2020
The coronavirus pandemic — coupled with historically low mortgage rates — is motivating a majority of homebuyers to purchase a home in the coming year, according to results from LendingTree's latest survey.
To get a better handle on how the outbreak is impacting homebuyer behavior, LendingTree commissioned a survey of more than 1,000 prospective buyers about their plans to jump into the housing market — or not.
Key findings
53% of homebuyers are more likely to buy a home in the next year, due to the coronavirus outbreak.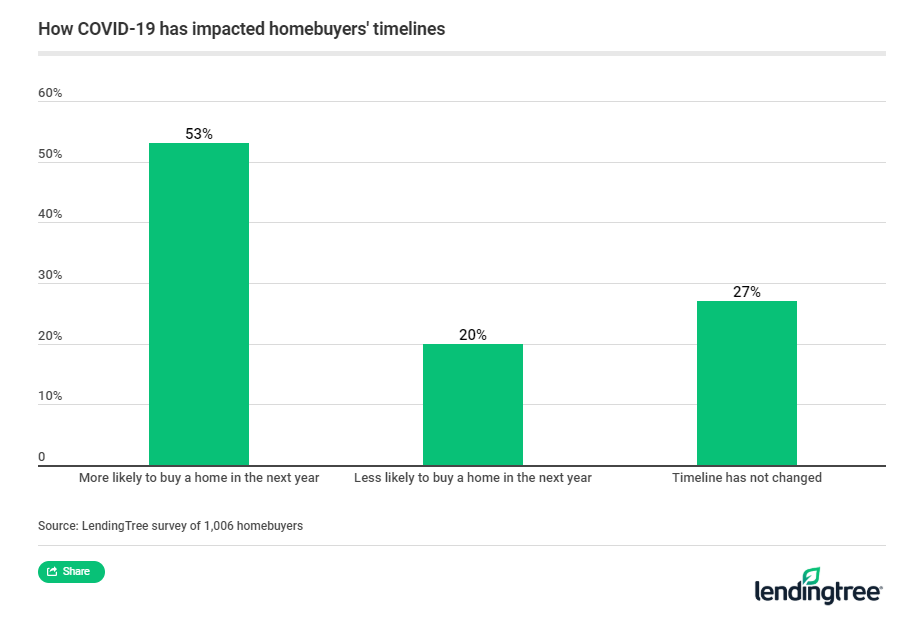 This is especially true for first-time homebuyers (73%) and millennials (66%). For all buyers who are planning to purchase in the next 12 months, their top two motivations are:
Taking advantage of record-low mortgage rates (67%).
Being able to save a larger down payment because of reduced spending (32%).

Nearly two-thirds (65%) say the coronavirus pandemic has impacted how much money they plan to spend on a new home.
Among this group of prospective homebuyers, 44% plan to buy a less expensive home and the remaining 21% want a more expensive home. Among the latter group, 28% of first-time buyers say they'll buy a pricier home, while just 17% of repeat buyers agree.
About 6 in 10 (61%) homebuyers have toured a house virtually over the last two months.
Another 33% of respondents said that although they haven't yet participated in a virtual tour, they plan to do so. Additionally, 3 in 10 buyers say they'd buy a home without physically touring it in person.
Buyer concerns about qualifying for a mortgage
More than 4 in 10 (44%) homebuyers are more worried about qualifying for a mortgage because of the pandemic. First-time buyers (58%) and millennials (52%) are especially anxious.
There's some cause for concern. Lenders are becoming less flexible with their minimum mortgage requirements. Access to mortgage credit fell by 12.2% in April, according to the Mortgage Credit Availability Index from the Mortgage Bankers Association.
Less credit access means lenders are likely to raise their minimum credit score and down payment requirements. They may also request additional documents during the mortgage underwriting process.
Other takeaways
Of the 1 in 5 homeowners across all ages who are less likely to buy a home because of the coronavirus outbreak, the most-cited reason was economic uncertainty (70%), followed by the inability to tour homes in person (42%) and loss of income (38%).

More than half (53%) of first-time buyers said they'd buy a house without an in-person tour; just 18% of repeat buyers would do the same. The percentages of buyers in each age group who would purchase a home based solely on a virtual tour are:
42% of millennials
31% of Gen Xers
10% of baby boomers
Additionally, 43% of men would skip an in-person tour before a home purchase. Only 16% of women agree.
By J.K. Dineen, SF Chronicle, June 9, 2020
The coronavirus pandemic is driving rents down in San Francisco and across the region, reshaping a housing market that for the past decade has generated enormous profits for residential developers while displacing tens of thousands of workers from the inner Bay Area.
Rents are down 9% from a year ago in San Francisco and over 15% in some tech hubs in the South Bay, according to a recent report by Zumper, a rental housing search engine. That trend will likely accelerate as layoffs mount and workers, newly liberated by work-from-home options, flee the Bay Area for cheaper cities, according to housing experts.
While it's too early to say whether the current health crisis will be a short-term dip or a longer-term correction in the cost of housing, it's clear that in the next few months, renters looking for housing in the Bay Area will get a lot more for their money than they did a year or two ago. Owners are increasingly scrambling to get tenants to sign leases, offering months of free rent, signing bonuses and other discounts. New market-rate housing development is likely to stop, as builders wait to see how far rents tumble.
"The balance of power has shifted to the tenants — there is no question about it," said Joe Tobener, an attorney who represents tenants.
Many landlords are proactively cutting rent — usually by 10% or 15% — as an incentive for tenants to stay, Tobener said. Other tenants are taking the matter into their own hands — reaching out to see if their current landlord will give them a better deal.
That was the case for Zenab Keita, who lives in the Landing, a 282-unit apartment complex in Oakland's Jack London Square. Keita signed her lease in June 2019 for $2,600 a month. While she has managed to hold onto her job managing corporate partnerships in sports and entertainment, 66% of her compensation is contingent on deals, and those have vanished during the pandemic.
With her lease set to expire in June, Keita approached her landlord, Essex Property Trust, to see if she could get $400 or $500 taken off her monthly rent.
"They came back and offered $67 off," she said. "I was like 'You should not have even written that email. That was a waste of everybody's time.'"
Meanwhile, as she started looking around for new places, she saw that her landlord was giving away eight free weeks of rent and a $1,000 signing bonus to folks willing to sign a year lease in her building. When she asked if she could get a similar deal, she was turned down. It wasn't until she told them she would be moving out that they offered her eight free weeks in addition to the $67 reduction, which averaged over a year means that she will be paying $2,111 a month.
She signed the lease. "It was a big lesson that closed mouths don't get fed," she said.
Essex Property Trust did not respond to a request for comment.
While Oakland saw so much rent appreciation in the first half of 2020 that it is still up 4.7% from June 2019, that will likely not last. Oakland, which has been furiously producing housing over the last two years, has about 10,000 units either under construction or recently completed. This includes 2,600 units being built around the Broadway-Valdez neighborhood.
John Pawlowski, a senior analyst covering the apartment market for Green Street Advisors, said that Oakland housing — most of it targeting high-wage earners — could take a long time to fill up with renters. And competition will be fierce with continued free rent incentives. He said demand for new condos will be "very, very thin as the impact of job losses spreads across industries."
By Skylar Olsen, Zillow, June 3, 2020
In a survey of 106 economists and real estate experts conducted by Pulsenomics and Zillow, 41% of panelists expect the U.S. recovery will follow a 'U' shape, with the recession lasting several quarters before returning to growth.
Once the pandemic begins to subside, experts agree, there will be an increase in demand for suburban and rural living.
On average, panelists expect home values to decrease 0.3% in 2020, a sharp decline from expected growth of 3.3% when surveyed three months before.
When coronavirus turned the economy upside down, anxiety and uncertainty about the future initially kept many homebuyers and sellers at bay. Inventory and sales have picked up over the past month, though, and a panel of housing experts and economists say the U.S. housing market hasn't lost those missing springtime transactions for good.
The Zillow Home Price Expectations Survey, sponsored by Zillow and conducted quarterly by Pulsenomics LLC, asks more than 100 economists, investment strategists and real estate experts for their predictions about the U.S. housing market. The Q2 survey focused on the impact of coronavirus on the market and expected recovery patterns, and also asked for predictions on how the pandemic will shape home-buying decisions in the future.
Coronavirus and subsequent stay-at-home orders resulted in lower-than-expected transaction volume during what was primed to be a busy spring home shopping season. While it was thought the spring buying season could shift to the fall, the pandemic effects are poised to continue into summer and only 10% of the survey panelists said they believe those transactions will materialize later in 2020. More than twice as many experts (22%) said they expect a "double up" during next spring's shopping season, and the vast majority predicted that recovery will be spread out over the next several years.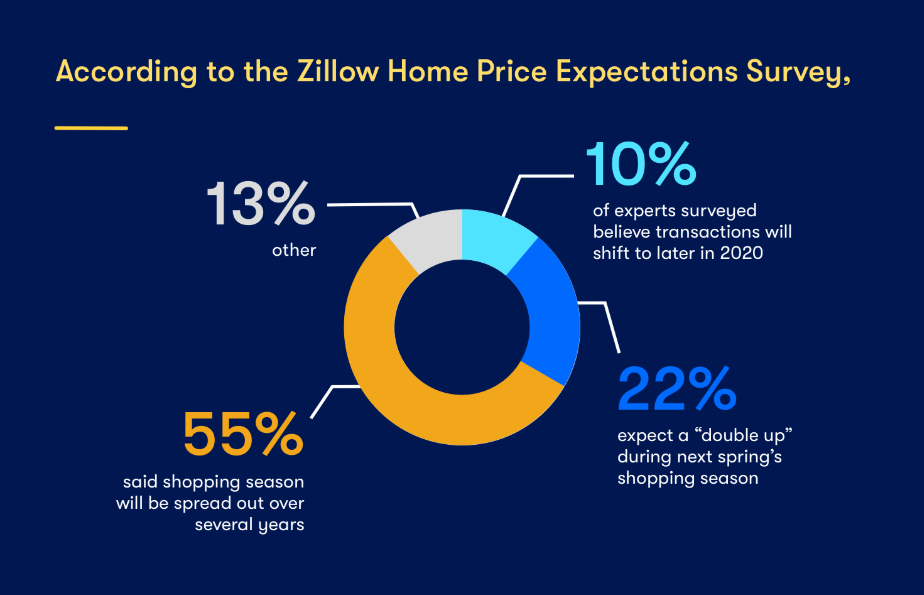 This prediction is in line with how the experts expect the U.S. economy to recover overall. Forty-one percent said they think economic recovery will follow a 'U' shape, and 33% say it will be a bumpy, multi-year return back to trend growth. Both patterns are characterized first by a sharp decline and then match how experts see transaction volume recovering, with the consensus generally being a more gradual journey back to normal.
Prices nationally are now projected to fall 0.3 percent this year according to the panel-wide average forecast — down from an expected increase of 3.3 percent just three months ago.
"This is the first time since 2012 that the panel-wide price outlook has turned negative, and the quarter-to-quarter swing in expectations is the largest we've seen in more than a decade," said Terry Loebs, founder of Pulsenomics. "Longer term, the outlook for home values nationwide is mixed — price projections for 2022 and beyond actually inched higher from levels recorded prior to the Covid-19 outbreak. However, nearly seven in ten experts now indicate that their five-year forecast has downside risk. Last quarter, fewer than four in ten panelists foresaw downside — of course, that was before the Covid-19 crisis, its economic devastation and unprecedented government response."
Zillow's own forecast calls for a 1.8% drop in home prices by October 2020, expecting home prices to return to Q4 2019 levels by the Q3 2021. While predictions on home prices continue to steepen, the outlook on pending home sales continues to become more optimistic, and Zillow now shows sales hit bottom in April with a 44% drop, and are on their way back up, compared to the original forecast of a 60% dip.
Experts' forecasts on the future of housing vary widely at this early stage of the recovery. Zillow's own forecast has become more optimistic as we ingest new data and watch pending sales pick up faster than expected. What does seem more consistent in this wisdom of crowds is that full recovery is a couple years away — much faster than in the last housing downturn — and remote work will eventually work its changes on the housing market.
Experts also said that where people choose to live will look a little different once the pandemic subsides. Panelists predict future homebuyers will show more interest in suburban and rural areas, at the expense of urban density. Previous Zillow research has indicated that a future that sees more people working from home could make the suburbs more appealing, and the panelists echoed the likelihood of this demand. Although panelists believe there will be a shift in location preference after coronavirus, they also say buyers will want larger homes equipped with home offices moving forward. Stay-at-home orders quickly emphasized the need for more space while stuck at home, and panelists think more space will be a determining feature for future home-buyers.
Even with lower sales volumes compared to 2019, the U.S. housing market has shown resilience during the pandemic and has already begun to rebound. Pending sales are up 40.8% in the past month, and new home sales in April were up 0.6% from March.
| | | |
| --- | --- | --- |
| Year      | Average Home Value Growth Expectations – Q1 2020 Survey | Average Home Value Growth Expectations – Q2 2020 Survey |
| 2020 | 3.3% | -0.3% |
| 2021 | 2.7% | 0.9% |
| 2022 | 2.7% | 2.9% |
| 2023 | 3.0% | 3.3% |
Glen Bell – (510) 333-4460   jazzlines@sbcglobal.net