SF East Bay Real Estate Market Update
March 31, 2020
By Glen Bell   (510) 333-4460
Everyone seems to be asking the question of how will the COVID-19 "shelter in place" mandate effect the real estate market and how will we come out of it later in the year. There's been so much speculation with a number of different opinions coming from a number of sources. Keep in mind that this is "unchartered territory" and we won't have definitive answers for quite some time. So much has changed. We as agents are very limited in what we can do during this period. A lot will be riding on how long it takes before we're able to really go back to work, how long it takes for the COVID-19 fears to subside, how will the economy fair and what will the jobs situation looks like by then.
As agents, the market has paused as our lives have. Preparing a home for market just isn't happening, nor are new listings coming on due to the many challenges of being able to properly market them. Brokerages have temporarily closed their doors and agents are primarily working remotely from their homes. There are no open house showings while physical individual showings are discouraged and have come to a crawl. COVID-19 has disrupted all of our lives. The uncertainty and concern for our health and well-being for not only ourselves, but our family and friends, is foremost in all of our minds.
That being said, let's take a look at how the market stands at the end of March. We haven't seen dramatic changes just yet. However, I say that only by looking at the numbers up until March 31st. That can be a bit misleading because most sales that closed in March were already in contract by the time that "shelter in place" came into play. The last few weeks will show its "teeth" in our April numbers.  I think it's safe to say it won't be pretty.
I've always been a strong believer in the supply and demand principals. What we have been seeing is that if sellers do not already have their home listed for sale, many will delay or postpone coming onto the market until some of the uncertainty subsides. Many buyers have jumped back on the fence and are holding off. The uncertainty of their job being in jeopardy, a loss in income, health fears, or seeing a "big hit" in their stock portfolio has taken its toll. The volatile mortgage market with a jump in rates, programs disappearing, and a secondary loan market pulling back has only made the few willing buyers hesitate and/or reluctant to "pull the trigger" on a new loan. This has also led to a number of transactions falling out of contract.
The lack of inventory early this year "flipped" our markets back into a sellers' market. However, it seems to be setting up for another big change to come by as early as this summer. There's a large number of sellers who took a wait and see attitude over COVID-19 who may come back onto the market then. This could come in waves with some wanting to see first how the market is doing before they put their home up for sale. There may even be more who took financial hits and feel that they now "must sell." So, we'll probably see a fairly large supply of homes come onto the market over the summer.  Many buyers on the other hand have backed off and may not be in a financial position to purchase by then. So perhaps the strong demand that we're used to seeing in the Bay Area will begin to decrease. This will probably pull us back into a more neutral or balanced market, or possibly even into a buyers' market for the first time in years.
Here are some highlights for the 39 East Bay Cities that I track:
The seasonal drop in inventory followed our normal pattern during the holidays. We watched the number of homes decrease by nearly 60% over November and December. Last year was somewhat unusual because we saw a late season start and early season end. Inventory at the end of December was at its' 2nd lowest level since I began tracking these 39 cities in 2006, with only 1163 homes for sale at the end of December. Our expectations normally are that new home listings begin to appear on the market as early as mid-January with a steady increase of inventory every month through to September, traditionally our high point.
We expected a healthy increase in inventory during the first quarter between January through March, especially since we didn't see the heavy rains like we did last year. What we saw was a modest increase, of 33.4%. This is 39.2% fewer homes than last year at this time. In fact, it is the lowest amount of homes listed for a March since I've been tracking numbers going back to 2007. This represents a 24 day supply of homes, compared to a 39 day supply last year at the end of March. Pendings decreased slightly by 5.8%, 17.7% lower than what we saw last year. This is also the lowest that I've seen for a March. This is primarily due to low inventories as well as the influence of the COVID-19 "shelter in place" mandate during the last two weeks in March.
The pending active ratio had been below 1 for 16 consecutive months beginning in the summer of 2018. That was when I signaled a market in transition, moving from a strong sellers' market to a more neutral one that even favored buyers slightly. We had that huge drop in inventory at the end of last November and since then the ratio has been over one now five months in a row, signaling a sellers' market. I thought back in December that it's setting up for a strong sellers' market early spring? Well it did just that and it's mostly a function of how many homes are listed. However, the COVID-19 "shelter in place" mandate is set to dramatically change all of this as I mentioned above.
The pending/active ratio decreased slightly to 1.28. This is still much higher when compared to last years' number of .95. The pending/active ratio has been a benchmark that we've used as a measure of supply and demand to determine whether we're in a buyer's or a seller's market. Typically, a number well above 1, (less inventory with more pendings) favors sellers. A number below 1 favors buyers. The last five months have been into positive territory with a ratio of over 1 for the first time since June 2018.
The "distressed" market, (foreclosures and short sales) are no longer a factor representing less than .05% of the market.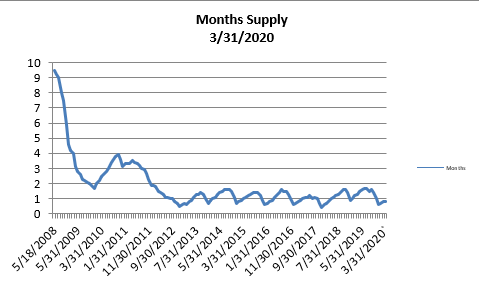 The month's supply for the combined 39 city area is 24 days. Historically, a 2 to 3 months' supply is considered normal in the San Francisco East Bay Area. As you can see from the graph above, this is normally a repetitive pattern over the past four years. Supply is less when compared to last year at this time, of 39 days.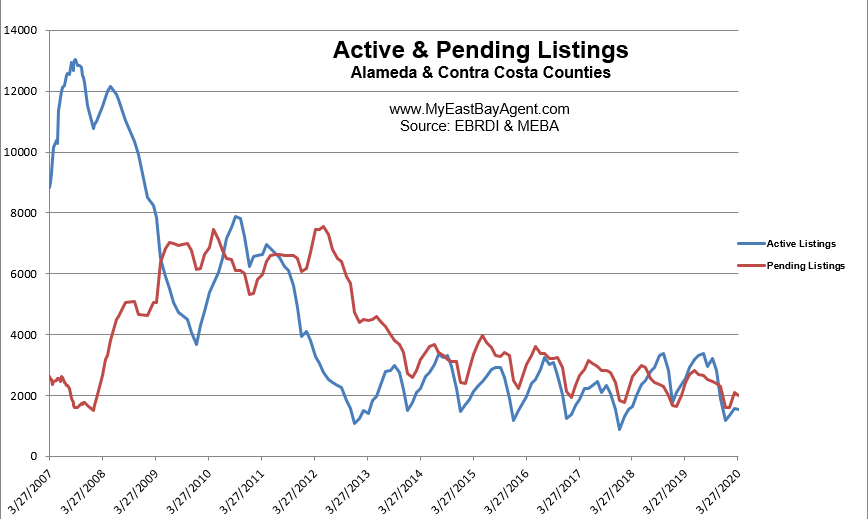 Our inventory for the East Bay (the 39 cities tracked) is now at 1,552 homes actively for sale. This is fewer than what we saw last year at this time, of 2,550. We're used to seeing between 3,000 and 6,000 homes in a "normal" market in the San Francisco East Bay Area. Pending sales decreased to 1,988, higher than what we saw last year at this time of 2,414.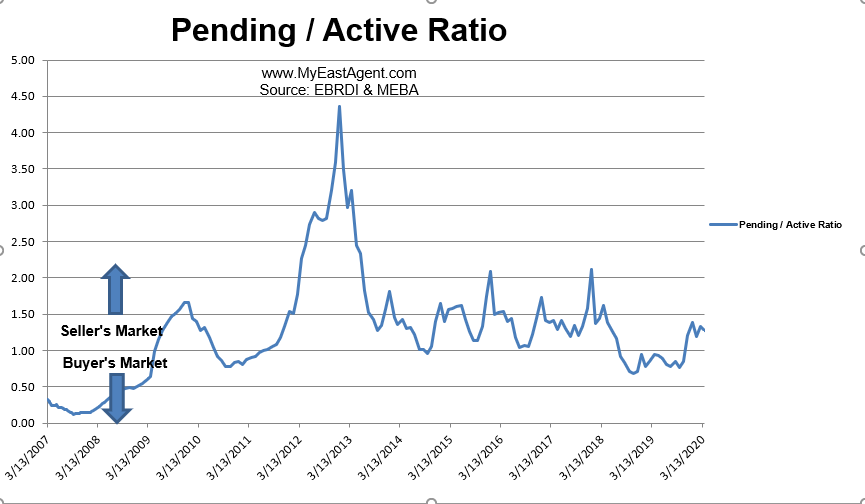 Our Pending/Active Ratio is 1.28. Last year at this time it was .95
Sales over the last 3 months, on average, are 2.6% over the asking price for this area, slightly higher than what we saw last year at this time, of 1.9%.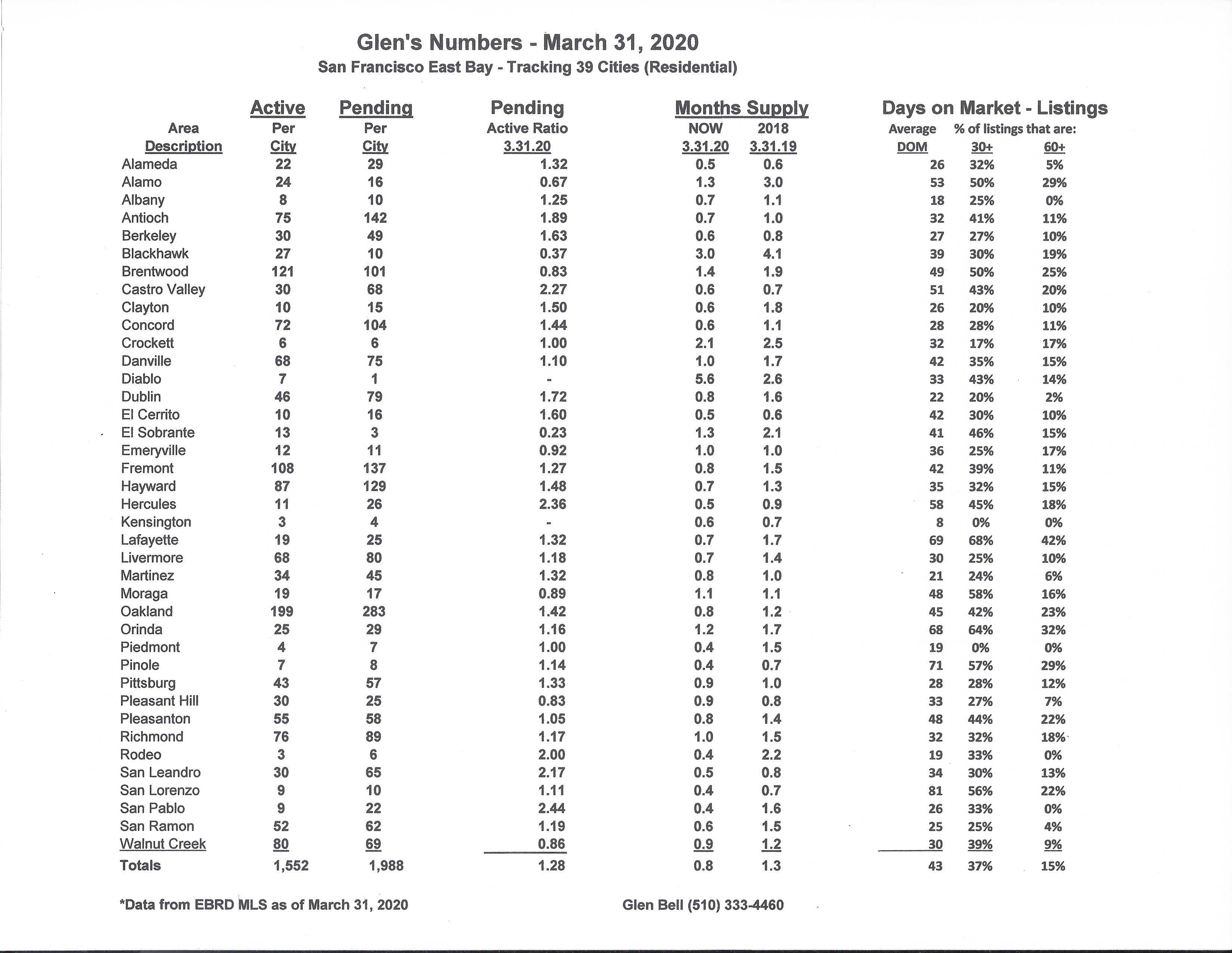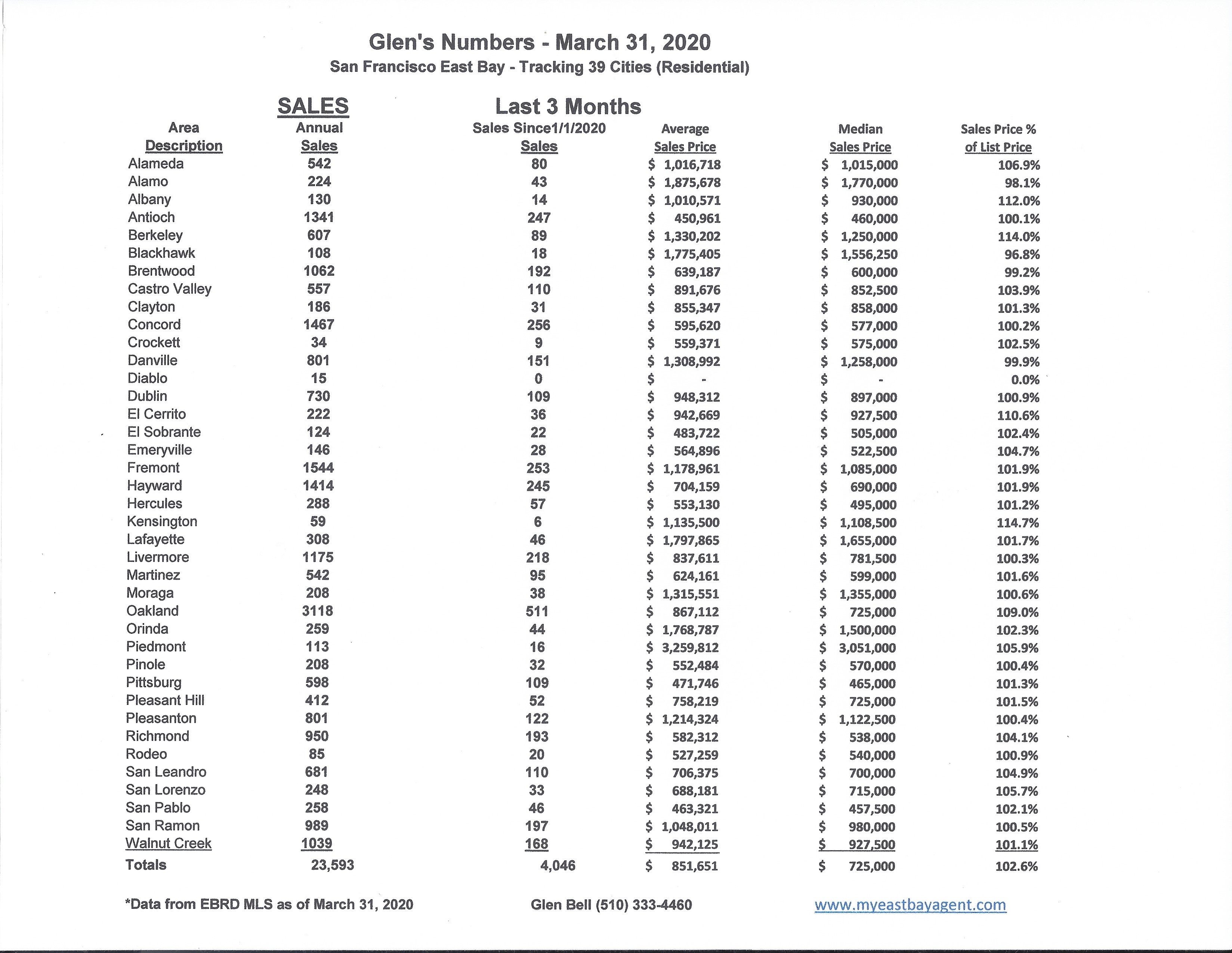 Recent News
By Jordan Levine, Chief Economist for C.A.R., April 1, 2020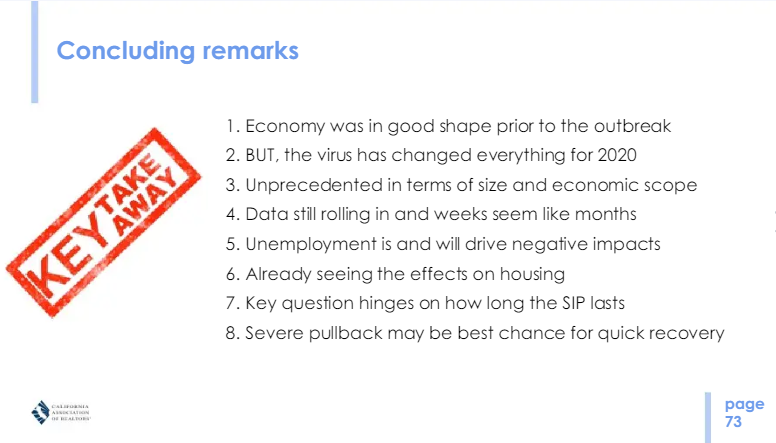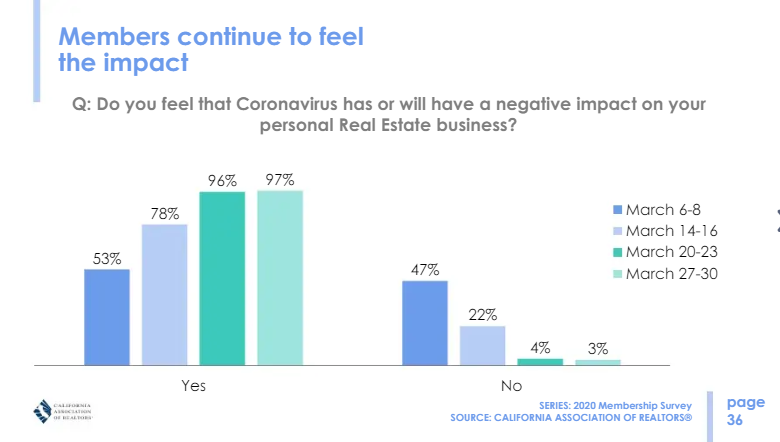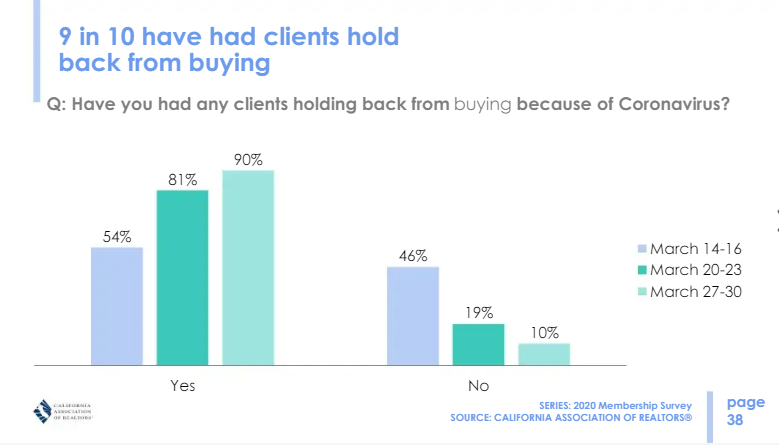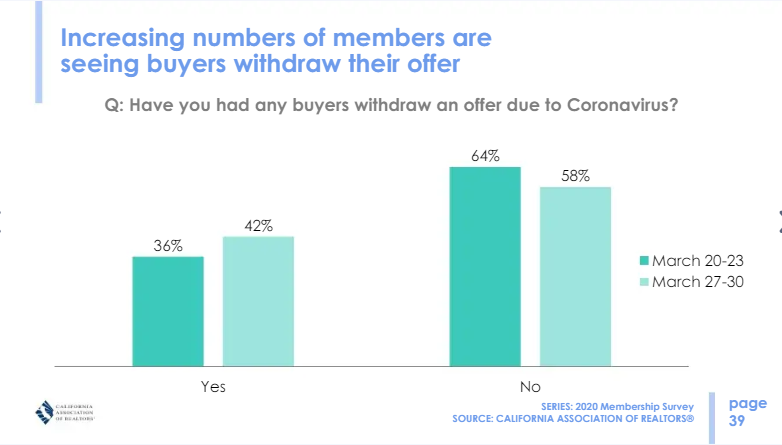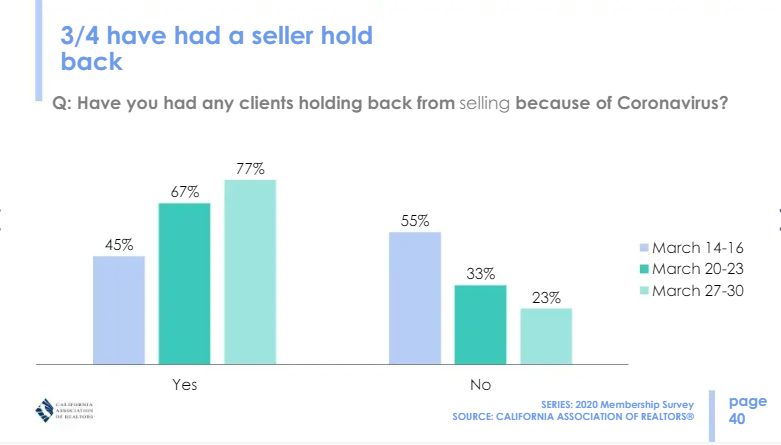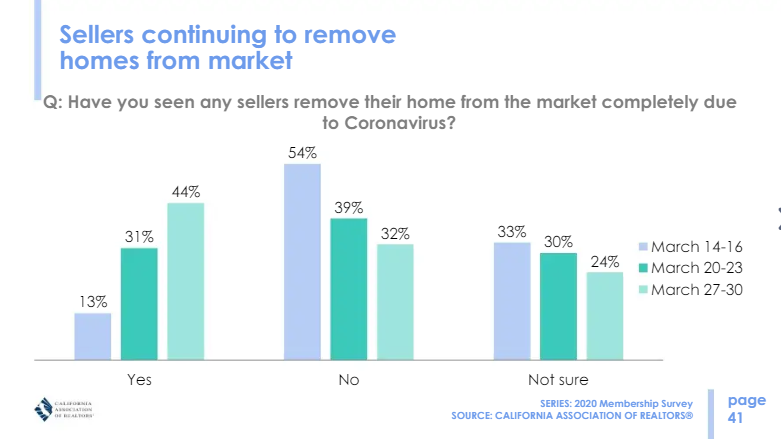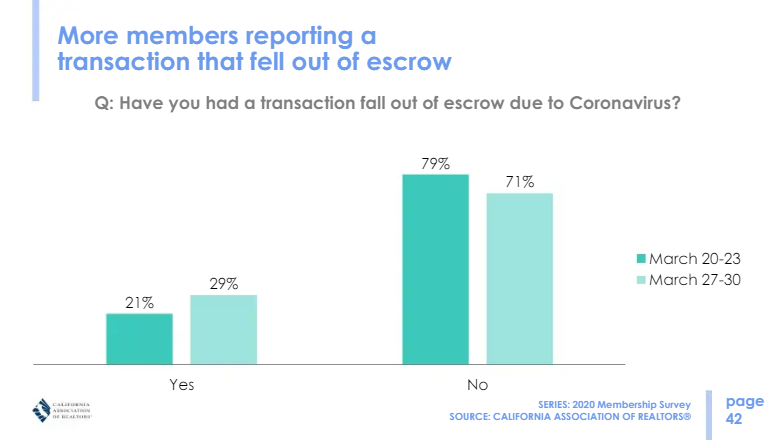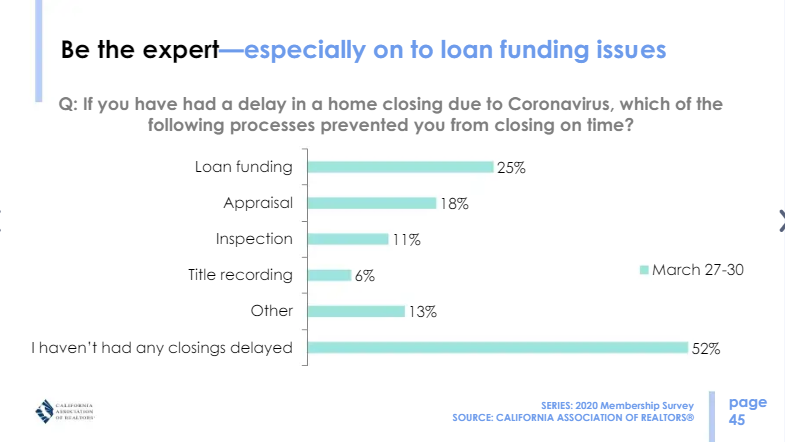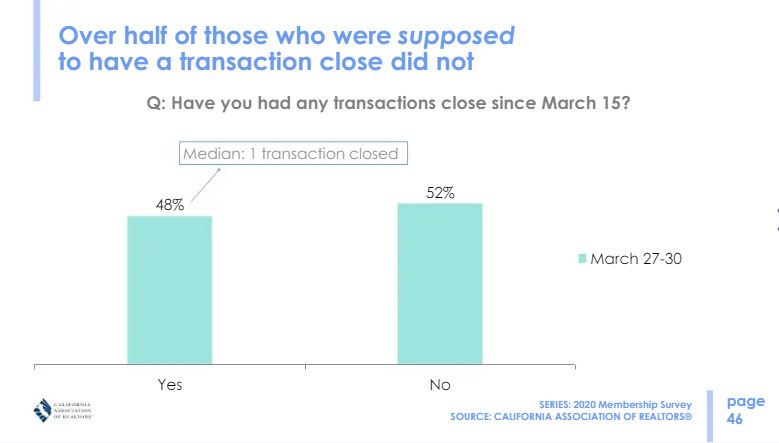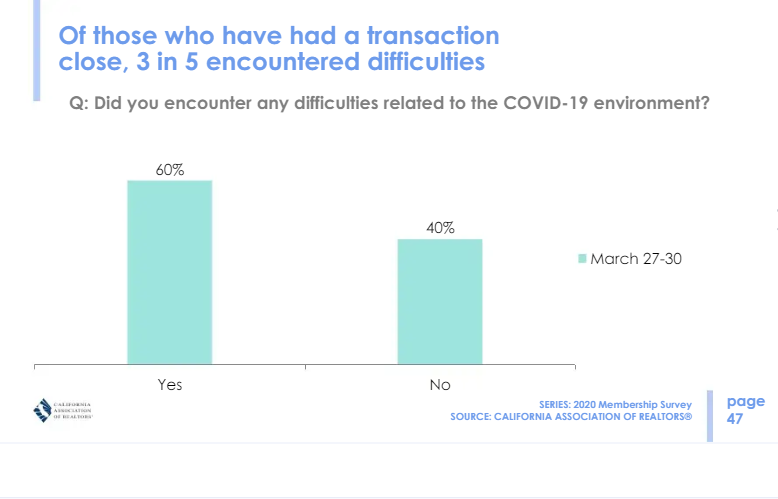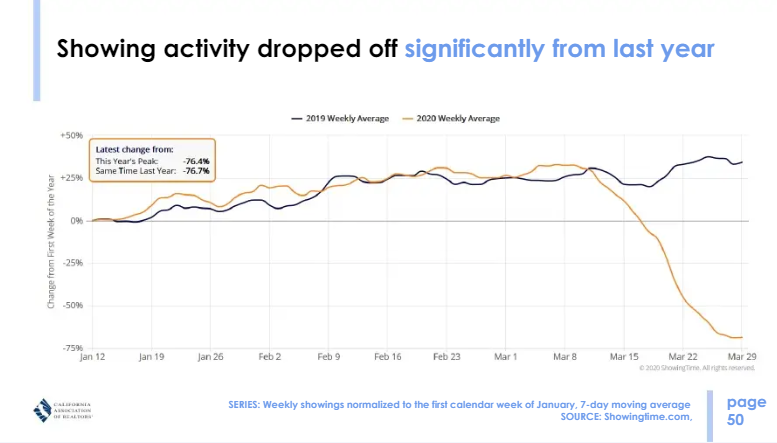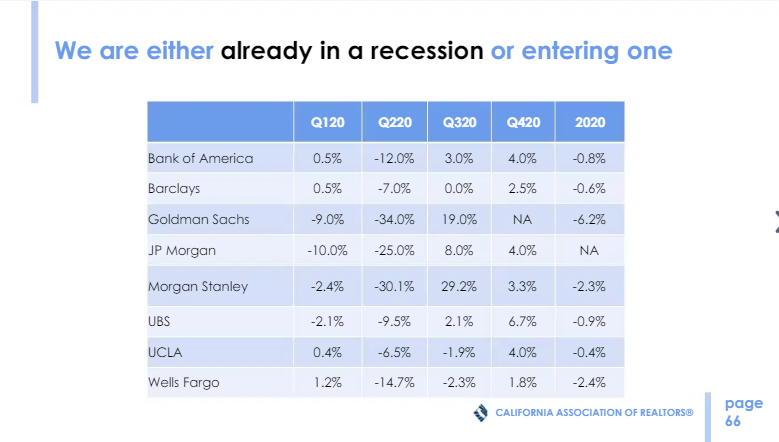 By: Marc Rapport, Contributor – Million Acres (the Motley Fool), Apr 02, 2020
Stay-at-home orders mean houses don't sell in a stressed economy and a country wracked by pandemic. But prices should hold steady while America waits.
Can drive-by appraisals and showings on Zoom (NASDAQ: ZM) survive social distancing and an imploding economy to save the spring buying season?
With 90% of Americans under stay-at-home orders, it's easy to understand the pessimism of observers like property economist Matthew Pointon of Capital Economics, whose U.K.-based firm predicted U.S. home sales could be down 35% this spring compared with the final quarter of 2019.
"Increasingly restrictive measures on people's movement, and an imminent surge in unemployment," are the key reasons, Pointon said.
Such a drop would yield annualized U.S. home sales of around 4 million for the first quarter, the lowest since 1991, Pointon's firm said. The dramatic sag comes after a strong beginning to the calendar year that included a February in which sales rose both year over year and from January, according to National Association of Realtors (NAR) figures released last week.
(More on that from Millionacres here:February Home Sales Were on the Rise, but March May Tell Another Tale)
Typically, more than half of U.S. home sales occur from March through June each year as families try to bridge the school year as they move up or out. This year, however, the pandemic has forced schools to close across the country, with no certainty about when they'll reopen.
As gloomy as that may sound, the NAR's chief economist Lawrence Yun says he thinks the market will spring back when the coast is clear.
"We are in uncertain times, but I do think that people who are staying at home right now, once the all-clear signal is given, will be going back into the market," Yun said in an article published Wednesday (April 1) on HousingWire.
He also said that in the meantime, he expected prices to remain steady because of the decline in listing activity as people stay home to wait out the pandemic, which came along during what already was a housing shortage in many markets across the country.
The NAR has alreadyreported slowing activity among its 1.4 million members, and all the market and the nation can do is wait to see if social distancing can help slow down the COVID-19 outbreak that is expected to get far worse before it gets better.
Meanwhile, the federal government has invested trillions in trying to stimulate an economy that has seen joblessness soar. That includessending out lifelines to businesses through the SBA, injecting liquidity into the mortgage bond market, and giving government-sponsored enterprises likeFannie Mae and Freddie Mac the leeway to ease underwriting and appraisal rules and give financially stressed homeownerssome breathing room on their mortgages.
Powerhouse market fell off a cliff in November—and it still hasn't landed
By Adam Brinklow  Curbed San Francisco, Apr 2, 2020
In the midst of the ongoing COVID-19 outbreak in the Bay Area, San Francisco's home sales inventory have nearly vanished.
In the weeks since Bay Area counties began following shelter-in-place orders, the number of new homes appearing on the multiple listing service (MLS) during what is typically one of the region's busiest periods is shockingly small, with a great number of once-listed properties disappearing around the same time. The market melted away in a matter of weeks or, by some metrics, days.
Compass Real Estate reports that the rate of new listings in San Francisco fell off a cliff in mid-March, dropping to less than 20 per week by the end of the month. The number of active listings nosedived from roughly 1,000 at the start of March down to just 550 three weeks later. And the number of listings pulled off the market increased more than tenfold in just a single week between March 9 and March 16.
Jeff Tucker, economist for the real estate listing site Zillow, tells Curbed SF that on March 16, the day that six Bay Area counties, including San Francisco announced shelter-in-place orders, SF-centric traffic on the site dropped by one-third. Since then it's risen slightly, but still down 20 percent year over year last weekend.
A similar trend can be found on the other side of the bay. Red Oak Realty CEO Vanessa Bergmark, who calls the last three weeks "grim," says that the East Bay saw only 55 new listings last week, a decline of 70 percent compared to mid-March. The East Bay (including Oakland, Berkeley, Alameda) showed 374 homes listed last week, down 37 percent year over year.
Lending markets are actually quite busy these days, but the biggest mover isn't mortgages but refinance requests. Finance site Lending Tree reports that refinances are up 417 percent year over year in SF, the highest rate in the country. San Jose came in third nationally with 394 percent.
Compass analyst Patrick Carlisle points out that early spring is usually the busy buying season, but the public health emergency has chopped it off seemingly at the roots.
"It is unknown what the ultimate effects will be over the longer term," he cautions, pointing out that longer-term benchmarks like median prices won't be affected for months. But right now there's essentially nothing by way of encouraging signs.
Nevertheless, some real estate agents are sticking with the principles of salesmanship and continuing to tout what they say is the strength of the SF home market, even as it contracts.
Marco Carvajal, a realtor with Vanguard SF, says that with inventory down 40 percent in three weeks and the stock market disintegrating, "In almost every other city this would lead to buyers climbing under the nearest rock."
Despite the downturn, he persists that the appeal of SF real estate remains a strong motivator, reporting anecdotally that more homes have shied away from the MLS and are instead trading hands privately. If a chance to buy the kind of home that only comes along every ten or 20 years pops up, "the time is now," he says.
Wilson Leung, owner of Own Real Estate, tells Curbed SF, "People do want to sell, in any market," and predicts that current declines represent uncertainty about shelter-in-place orders rather than loss of faith in real estate.
"I anticipate inventory will spike once the shelter is over," he adds.
Zillow's Jeff Tucker concurs, noting that a lot of missing listings are likely from people afraid of having a property linger on the market without buyers right now and hurting their long-term prospects, or of having a sale potentially fall apart because of economic uncertainty.
"It never looks good to have a sale fall through," says Tucker. Although the current circumstances could provide some charity about sales snafus, in the end "it's still adding some risk."
Questions about how strong SF's real estate market is right now might be moot, given that it's unclear whether Realtors are even allowed to perform basic tasks of selling homes. For weeks, shelter-in-place orders have precluded agents from giving tours, taking photos, or visiting listed properties.
Over the weekend, the federal Department of Homeland Security released an advisory designating both residential and commercial real estate as "essential businesses" during the public health crisis. California Gov. Gavin Newsom concurred.
However, local health ordinances, like the one in San Francisco, still do not permit real estate businesses to do anything except work from home, and it's unclear which set of orders takes precedent. As with all other things, uncertainty is very much the zeitgeist right now.
By Margaret Heidenry, Realtor.com,  Apr 6, 2020
Spring is upon us, which typically involves a big peak of home buyers checking out properties, negotiating, and closing on new places. But the coronavirus outbreak—with its quarantine measures and economic uncertainties—has many a real estate shopper wondering: Should I buy a home now, or wait?
We're here to help you navigate this confusing new normal with this series, "Home Buying in the Age of Coronavirus."
This first installment aims to help you figure out whether you can—and should—shop for a home right now, or hold off until this crisis blows over. Read on for some honest answers that will help you decide what to do.
The impact of the coronavirus on the housing market
So what state is the housing market in right now, anyway? While that depends on how bad an outbreak an area is suffering, most markets are feeling some sort of hit.
"The coronavirus is leading to fewer home buyers searching in the marketplace, as well as some listings being delayed," says Lawrence Yun, chief economist for the National Association of Realtors®.
The latest NAR Flash Survey: Economic Pulse, conducted on March 16 and 17, found that 48% of real estate agents have noticed a decrease in buyer interest attributable to the coronavirus outbreak.
However, nearly an equal number of members (45%) said that they believe lower-than-average mortgage rates are tempting buyers to shop around anyway, without any significant overall change in buyer behavior.
For those who are determined to buy a home, there is opportunity out there.
"This is the best buyer's market I have ever seen in my career," says Ryan Serhant of Nest Seekers and Bravo's "Million Dollar Listing New York."
"Sellers are nervous, there's excess supply, and interest rates have been hovering at historic lows. You can own a home for less per month than you can rent an equivalent property in most areas," he adds.
With fewer home buyers out there looking, you have less competition in your way.
"Unmotivated and uncommitted buyers have dropped off," adds Maggie Wells, a real estate professional in Lexington, KY. "Less competition is a huge leg up in this market."
The window of opportunity for buyers won't stay open wide forever. NAR data shows that there was a housing shortage prior to the outbreak.
"The temporary softening of the real estate market will likely be followed by a strong rebound, once the quarantine is lifted," says Yun.
This pent-up demand could eventually push home prices higher. That could mean that the time to strike for bargains is now.
Bottom line: If social distancing has made you realize you don't love the place where you're currently spending most of your time, it's a good time to consider buying.
How the housing industry has adapted to keep buyers safe
Although it's a scary time to be out and about checking out real estate, it is still possible to do so and stay relatively safe. The industry has rapidly adapted, introducing approaches that minimize exposure to the virus.
For instance, many agents are now working remotely and conducting most of their business virtually.
"Buyer and seller consultations have transitioned to virtual meetings with success," says Kate Ziegler, a real estate agent with Arborview Realty in Boston.
While open houses or showings may not be easy to arrange because of quarantine or other safety issues, real estate listings have stepped up to the plate by offering virtual tours.
"We can send clients videos of whatever properties they want to see, or we are happy to have our agents FaceTime from a property," says Leslie Turner of Maison Real Estate in Charleston, SC.
While those who are immunocompromised may want to stay home, if you're otherwise healthy, it is also still possible to see some homes in person in some parts of the country. You'll want to take some precautions before you go.
"Hand sanitizer at the door has become the norm, as well as shoe covers, even on sunny days," says Ziegler.
During the tour, it's also now customary for the listing agent to open all doors, so that home buyers can explore closets and other enclosed spaces without touching anything as they look.
If you do make an offer that's accepted and you head to the closing table, real estate agents and attorneys are also adapting to remote closings, to keep you out of a crowded conference room. (We'll provide more information about virtual tours and remote closings in later installments.)
How to weigh economic concerns
Coronavirus aside, anyone thinking about buying a home is also likely to be weighing whether it's a smart idea when the economy is in a downward spiral. But in the same way you can't easily time a stock purchase to make a profit, you can't easily time a home purchase, either.
"Recession or not, it's impossible to time the market, whether for buying stock or buying real estate," says Roger Ma, a New York–based financial planner and owner of lifelaidout.
Just keep in mind that while current market conditions offer an incredible opportunity for home buyers to lock in historically low interest rates for a mortgage, rates are actually going up quickly, because so many people are refinancing.
If you wait too long to buy, you may miss the money-saving boat. So make sure to read up on the latest mortgage rates first.
Besides mortgage rates, home buyers are probably wondering about the stability of their income, as fear of layoffs loom.
"We are entering uncharted territory," says Michael Zschunke, a real estate agent in Scottsdale, AZ.
On the flip side, putting a property under contract now and locking in a low interest rate gives a buyer some control at a time of relative uncertainty, adds Turner.
The takeaway from all this? It matters more than ever to get pre-approved for a mortgage, to calculate your home-buying budget accurately.
If you're worried about layoffs, you should buy a home well under budget so you have enough money left over for closing costs, home maintenance, and a rainy day fund. Now is the time to crunch your numbers more carefully than ever before. Below is what you need to consider.
Research ways to reduce your closing costs. For instance, many loans allow sellers to contribute up to 6% of the sale price to the buyer as a closing-cost credit.
Figure out how much you need to set aside for yearly home maintenance and repairs. A smart budget is to have between 1% and 4% of the purchase price of your home.
Be sure to put aside an emergency nest egg for unexpected repairs. On average, it's a good idea to sock away 1% to 3% of a home's value in cash reserves.
In our next installment, we'll explore all the ways to conduct a house hunt safely. Stay tuned! In the meantime, here's more on buying a home during a recession.
Glen Bell – (510) 333-4460   jazzlines@sbcglobal.net