SF East Bay Real Estate Market Update
February 29, 2020
Here are some highlights for the 39 East Bay Cities that I track:
The seasonal drop in inventory followed our normal pattern during the holidays. We watched the number of homes decrease by nearly 60% over November and December. Last year was somewhat unusual because we saw a late season start and early season end. Inventory at the end of December was at its' 2nd lowest level since I began tracking these 39 cities in 2006, with only 1163 homes for sale at the end of December. Our expectations normally are that new home listings begin to appear on the market as early as mid-January with a steady increase of inventory every month through to September, traditionally our high point.
We expected a healthy increase in inventory over January and February, especially since we didn't see the heavy rains like we did last year. What we saw was a modest increase, of 35.9%. This is 33.4% fewer homes than last year at this time, but more in line with what we experienced in 2018. This represents a 24 day supply of homes, compared to a 36 day supply last year at the end of February. Pendings increased by 30.8%, slightly higher than what we saw last year.
The pending active ratio had been below 1 for 16 consecutive months beginning in the summer of 2018. That was when I signaled a market in transition, moving from a strong sellers' market to a more neutral one that even favored buyers slightly. We had that huge drop in inventory at the end of last November and since then the ratio has been over one now four months in a row, signaling a sellers' market. I thought back in December that it's setting up for a strong sellers' market early spring? Well it did just that and it's mostly a function of how many homes are listed. Look at how low our key numbers are for Berkeley, Alameda, Albany, El Cerrito and Oakland. Agents are scrambling to find homes for their buyers and we're seeing a few more multiple offer scenarios. What's really striking is the huge drop in days on market everywhere. That's another signal that we have buyers just not enough to sell. We went from having 61% of homes sitting for 30 days or longer in January to 29% of homes sitting in February.
The pending/active ratio increased to 1.33. This is still much higher when compared to last years' number of .85. The pending/active ratio has been a benchmark that we've used as a measure of supply and demand to determine whether we're in a buyer's or a seller's market. Typically, a number well above 1, (less inventory with more pendings) favors sellers. A number below 1 favors buyers. The last four months have been into positive territory with a ratio of over 1 for the first time since June 2018.
The "distressed" market, (foreclosures and short sales) are no longer a factor representing less than .05% of the market.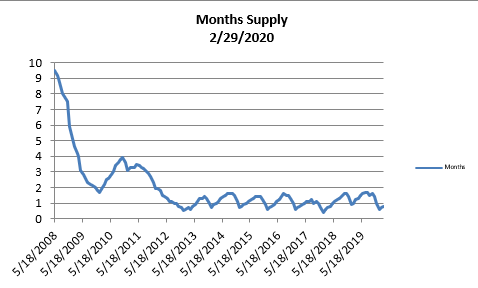 The month's supply for the combined 39 city area is 24 days. Historically, a 2 to 3 months' supply is considered normal in the San Francisco East Bay Area. As you can see from the graph above, this is normally a repetitive pattern over the past four years. Supply is less when compared to last year at this time, of 36 days.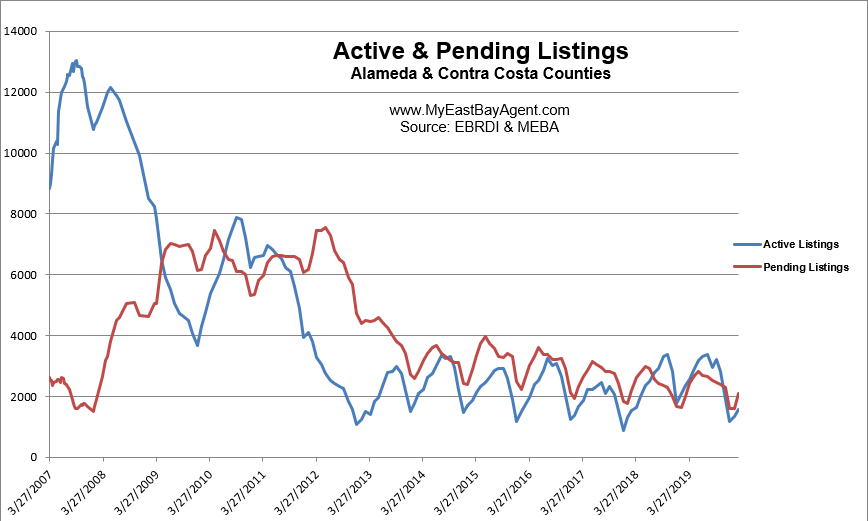 Our inventory for the East Bay (the 39 cities tracked) is now at 1,581 homes actively for sale. This is fewer than what we saw last year at this time, of 2,373. We're used to seeing between 3,000 and 6,000 homes in a "normal" market in the San Francisco East Bay Area. Pending sales increased to 2,110, higher than what we saw last year at this time of 2,006.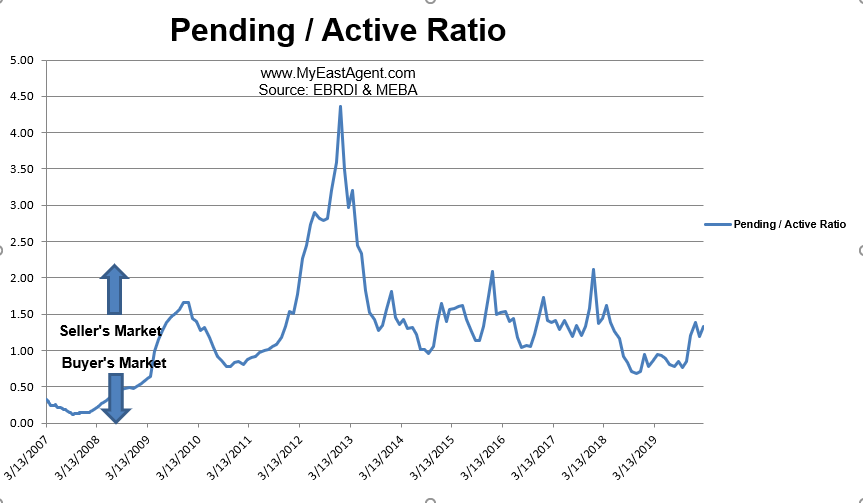 Our Pending/Active Ratio is 1.33. Last year at this time it was .85
Sales over the last 3 months, on average, are 1.6% over the asking price for this area, slightly higher than what we saw last year at this time, of 1.0%.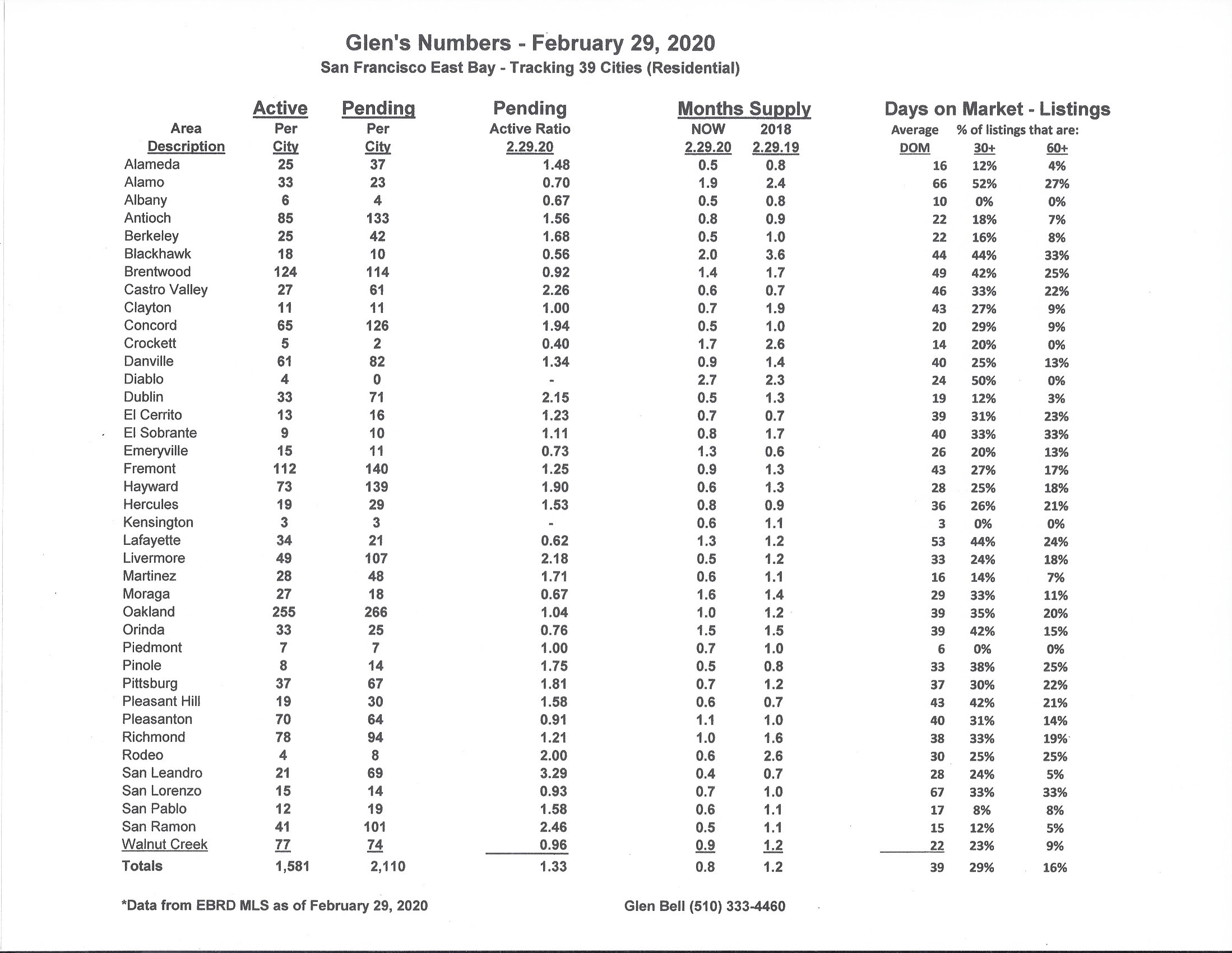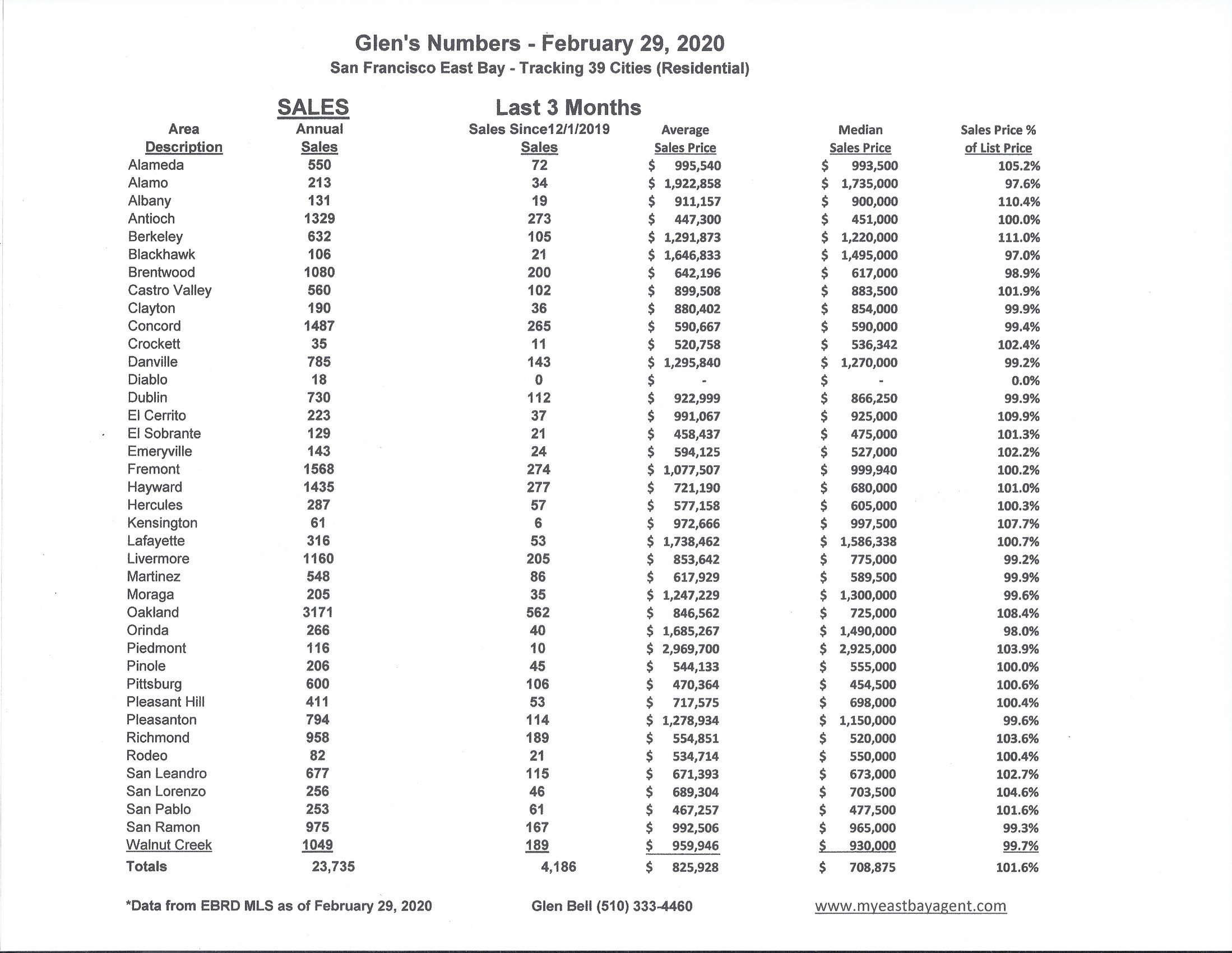 Recent News
By Jacob Passy, Market Watch, March 7, 2020
Unfortunately for home buyers, the drop in mortgage rates isn't likely to spur more people to put their homes up for sale.
Mortgage rates in the United States have fallen to the lowest level ever on the heels of concerns stemming from the coronavirus outbreak.
The 30-year fixed-rate mortgage dropped to 3.29% during the week ending March 5, a major decrease of 16 basis points from the previous week, Freddie Mac FMCC, -11.489% reported this week.
Previously, the 30-year fixed-rate mortgage hit an all-time low back in November 2012 in the wake of the recession, when the average rate fell to 3.31%.
The 15-year fixed-rate mortgage also fell 16 basis points to 2.79%, according to Freddie Mac. The 5/1 adjustable-rate mortgage dropped only two basis points to an average of 3.18%.
The decline in rates presents a major windfall for millions of homeowners across the country, who stand to save thousands of dollars in interest by refinancing. Furthermore, an estimated 44.7 million homeowners have $6.2 trillion in home equity that they could access through a cash-out refinance, according to real-estate data firm Black Knight, and now they have the chance to access that cash at a lower interest rate.
Mortgage rates have fallen throughout 2020 thus far, mainly in response to concerns related to the economic impact of the COVID-19 outbreak that began in China and has spread around the world. "Much remains unknown with this virus and its potential impact on human life and economic activity," said Zillow ZG, -8.122% economist Matthew Speakman. "COVID-19 is here, and it will continue to be the main driver of mortgage rate movements in the coming weeks."
Generally, mortgage rates track the yield on the 10-year Treasury TMUBMUSD10Y, 0.547% , which dropped below 1% for the first time ever this week after the Federal Reserve announced it was cutting its benchmark interest rate in reaction to the potential economic impact the illness outbreak will have.
CAR Research Highlights, March 5, 2020
The rapid growth of COVID-19 ("Coronavirus") cases continues to create turbulence in the global economy and in domestic financial markets. However, C.A.R. is not revising its current 2020 housing market forecast, but will continue to monitor the market for negative macroeconomic impacts on the demand for housing as well as the supply chain impacts that could adversely affect the cost of new home construction in the coming months and quarters. C.A.R. has created a list of the Top 10 potential impacts that could elicit questions from buyers and sellers over the near term.
Forecasts Have Been Downgraded, But Few Economists are Calling for Recession Yet:Last week, the International Monetary Fund (IMF) cut its forecast for global economic growth by 0.1%, but is still calling for an expansion in 2020, albeit at a slower pace. Similar orders of magnitude have been forecast for the domestic economy, with groups like Wells Fargo and others expecting GDP to grow by 10-20 basis points slower than their pre-Coronavirus forecast. Growth is expected to be slower, but the economy is still expected to grow.
Mortgage Rates Will Likely Remain Low, Or Even Fall Further As A Result of Coronavirus:The Federal Reserve issued an emergency 50 basis point cut to their target interest rates, and guidance suggests that the Fed may be open to future reductions in order to counteract the negative impacts to financial markets. This should help to reduce the cost of borrowing and make housing more affordable over the near term, which should help to offset some of the negative impacts to housing demand associated with rising uncertainty.
Domestic Buyers May Be Discouraged By Rising Uncertainty and Recession Risk, But Is It Still a Good Time to Buy?:This week, mortgage rates fell to an all-time low level of just 3.13%. That is down from 3.80% at the start of the year and represents significant cost savings over the life of a 30-year loan. For buyers who can afford their monthly payments, the economic uncertainty that is driving rates lower provides an opportunity to capitalize on significantly reduced borrowing costs that they will enjoy for years to come. Short-run risks to the economy exist but are arguably offset by long-run benefits of lower rates at the individual level.
Financial Market Volatility Could Reduce Demand For Luxury Homes, But Also Create Potential Opportunities for Luxury Home Buyers:The recent turbulence in financial markets has already impacted household wealth. This could reduce demand for luxury homes in California in particular. However, with less luxury buyers, there could be opportunities for price discounts for buyers who choose to remain in the market for high-end properties. Real estate may also act as a buffer against potentially larger declines in the financial markets.
Demand From Foreign Home Buyers Could Be Curtailed Over the Near Term:Reduced economic growth in China, specifically, could stifle demand for California real estate this year. However, foreign buyers represented just 3.9% of California's home sales last year, so the impacts statewide will be muted compared to 6 years ago, when foreign buyers represented 8.0% of the market. In addition, because domestic buyers typically finance their homes in much larger proportions to their foreign counterparts, low rates could stimulate more domestic demand that would help to offset the impact to foreign buyer demand.
Foreign Home Sellers May Face Closing Delays:Because the Embassy and many consulates are closed or may have limited hours in China, and elsewhere, there may be difficulty in providing a properly notarized deed to the property that escrow will accept and title will insure.Advise sellers to make efforts to obtain the deed early in the transaction. If sellers are currently in the U.S., make efforts to comply before returning to their foreign home country. If contract has not been accepted, foreign sellers might want to consider a contingency allowing a seller to cancel if they are unable to obtain notarized deed.
New Home Construction in California Could Slow Further, Exacerbating Already-Tight Supply:Many of the inputs to California's Building Industry are sourced from Asian countries including China. As the Coronavirus disrupts these supply chains, the cost of those materials may increase over the short run or become limited, which will increase the cost of construction and potentially reduce the pace of new residential development below its already-lackluster pace in 2020.
Low Rates and Fewer New Homes Constructed Should Place Upward Pressure on Home Prices:Improved affordability stemming from lower rates combined with fewer new homes being constructed as the construction supply chain is impacted could lead to more upward pressure on home prices in California. Unsold inventory is already at low levels, and reduced construction activity means that is likely to continue—especially if buyers respond to lower rates.
Offsetting Effects Leave C.A.R.'s Housing Market Outlook Unchanged, For Now:The situation remains fluid, and conditions could deteriorate beyond what is currently envisioned depending on the severity and duration of the outbreak, but if current economic forecasts of modest declines in GDP growth are realized, the effects of lower rates should help to offset the effects of a slower economy and increased economic uncertainty such that California would still achieve a modest improvement in both home sales and prices this year.
Eventual Rebound Will Take Longer Than It Did With SARS in 2000:At the turn of the century, the negative impact of the SARS virus began to fade within 6 months of the outbreak coming under control. However, unlike with the Coronavirus, SARS did not have significant impacts on either consumer spending or domestic financial markets. The size of the impacted population and the death toll is also much larger with Coronavirus, which suggests that the eventual recovery will play out over a longer period of time.
It's clear that the Coronavirus will have an impact on the economy and the housing market in 2020, but it is also clear that it is not time to panic. The effect of lower rates will help to offset some of the headwinds in the housing market, and forecasts of economic growth by C.A.R. and others have been revised down, but only by 10s of basis points—not hundreds. The situation remains fluid and the California Association of REALTORS® will be monitoring this situation closely and providing updates as information comes to the fore.
By LOUIS HANSEN, East Bay Times, February 24, 2020
Bay Area residents — despite being swept up in an unprecedented economic boom — are growing ever unhappier with the place they call home.
Nearly 3 in 4 residents think the quality of life in the Bay Area has gotten worse in the last five years, according to a new poll of registered voters conducted for this news organization and the Silicon Valley Leadership Group. That marks an astonishing 10-point jump in dissatisfaction from last year.
In another dramatic shift from last year, more residents are thinking about moving, 47 percent, than staying, 45 percent. Nearly 10 percent say they have definite plans to leave this year.
The survey unearths a remarkable paradox — high wages, an expanding economy, record growth in home values, coupled with natural wonders have failed to alleviate the crushing toll of longer commutes, spreading homeless encampments, and budget-breaking prices for houses, apartments, child care and date nights.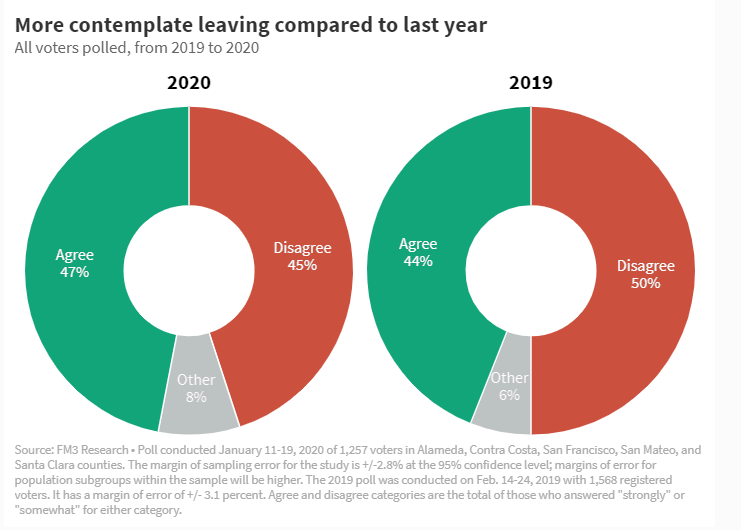 Sara Leslie, a Bay Area native living in Los Gatos, sees the mounting stress in her friends and family, made worse by rapidly changing neighborhoods and an eroding sense of community. "I know so many people moving," said Leslie, 46. "I don't see that the financial gain is worth the stress."
Dave Metz of FM3 Research, which conducted the poll, said the high levels of dissatisfaction are almost unprecedented given the region's strong economy. Last year, 44 percent of residents said they expected to leave in a few years, while half expected to stay. The new survey follows a trend of growing unrest found in 2016 and 2017 polls by the Bay Area Council, where residents saying they planned to move grew from about 33 to 40 percent.
"Nobody is really happy with the way things are going," Metz said.
The survey of 1,257 registered voters in five core Bay Area counties reflects deep misgivings across the social strata — wealthy, established homeowners, middle-class workers, poor people and younger residents in apartments all sense a decline in their quality of life:
Rich and poor:About 77 percent of respondents making less than $60,000 and 74 percent making more than $120,000 felt the region was getting worse;
Political affiliation:Republicans (81 percent) and Independents (80 percent) were more pessimistic than Democrats (70 percent)
Young and old:Roughly 76 percent of surveyed residents between the ages of 18 and 49 said the quality of life has declined, similar to those between 50 and 64 (73 percent) and over 65 (75 percent);
Homeowners and renters:And despite record gains in home values and personal wealth since 2012, homeowners (73 percent) agree with renters (76 percent) that Bay Area life has gotten worse.
Angst about the future also runs deep. About 65 percent of Bay Area residents surveyed say the region is headed in the wrong direction, up from 47 percent last year. Residents now are almost as worried about the region's future as the country's future, with 72 percent pessimistic about the direction of the United States.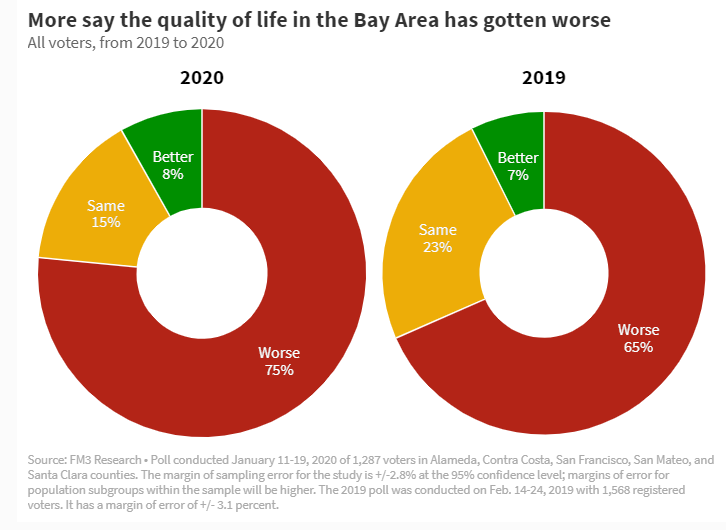 Residents say they've grown frustrated with the inability of state and local leaders to fix long-standing and obvious problems — homeless and RV camps popping up along city streets, rising housing costs sinking the working poor and middle class, and traffic and transit solutions running the bureaucratic gauntlet for years until comatose or dead.
The poll reflects a growing concern about homelessness. This year, nearly 9 in 10 residents called it an extremely or very serious problem, up from 8 in 10 last year. "That is about as bright a flashing red light as you can see," said Metz.
"It's the cumulative weight, like rock after rock placed on your chest, that's come to a breaking point for many of our neighbors, friends and family members," said Silicon Valley Leadership Group CEO Carl Guardino. "These challenges won't be solved overnight."
Guardino is concerned that nearly 10 percent of residents say they have concrete plans to move. They've decided other cities are better places to live and work than the Bay Area.
"The choice we have is, are we going to fight or flight?" said Guardino. "I still think our area is worth fighting for."
Richard Hallsted, 62, recently retired as an operations manager for a manufacturing company in the East Bay. He and his wife have lived in Palo Alto for more than 40 years and raised their two daughters in the city.
During a recent family walk through their neighborhood, he saw four homeless people pushing shopping carts along the streets. It was a new sight in their community.
"What do you do?" Hallsted asked and sighed. "I don't know. If you built a bunch of condos on El Camino (Real), they couldn't afford them."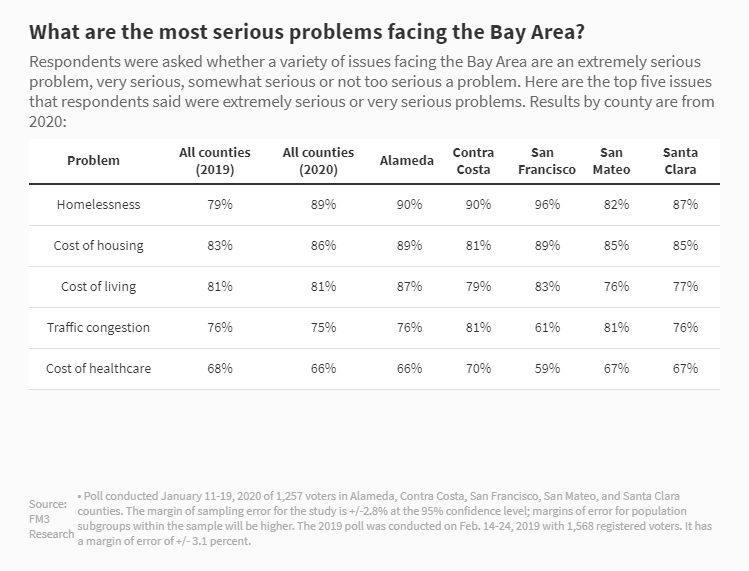 Hallsted feels the big issues — transit, infrastructure, fixing state pension obligations — have been ignored by politicians more interested in small battles and identity politics. "They need to get back to basics," he said.
But even the litany of daily annoyances fails to dislodge many long-term residents. Homeowners and those over 65 say they're likely to stay put.
Donald Prestosz, 71, a retired high school teacher and businessman living in Half Moon Bay, said the Bay Area he has called home since 1969 has become too liberal. He hates one-party, Democratic rule in Sacramento. "If you don't have diversity of thought," said Prestosz, a Republican, "you'll never get anywhere."
But Prestosz has no plans to leave his mobile home a short walk from the ocean. His doctors and favorite golf courses are all nearby. He's sliced his handicap to 12. "My quality of life," he said, "is great."
Irene Yen, 55, a public health professor at UC Merced, bought her home in north Oakland 20 years ago. The family raised their two sons and sent them to very good public schools, she said. But she's worried about public employees and other workers getting priced out.
Much has changed — once a predominantly black neighborhood, her community has gentrified as techies and other professionals priced out of San Francisco move in. Yen loves the energy and  plans to stay: "I have a lot of affection for Oakland."
For renters, the prospect of putting down roots in the Bay Area — even if they grew up here — seems bleak. Roughly 6 in 10 renters say they expect to move in the next few years.
Austin Rickli, 22, grew up in Antioch and Brentwood and expects to finish his computer science degree at Sonoma State in a few months. Despite good grades, low student debt and a marketable degree, his hopes of staying in the Bay Area after graduation are waning.
Most entry salaries at smaller tech companies range around $50,000 — a healthy paycheck at a glance, but one quickly eaten up by rent and loan payments, he said.
He could move back home, he said, but he might choose another city. "I want to do anything in my power to start my own life," Rickli said.
Many feel they're reaching the breaking point.
Robert Nueding and his wife, Kelly, arrived in the Bay Area a decade ago from central Ohio with optimism and career opportunities. But in the last few years, Nueding, 38, lost his job at Walmart and his wife, suffering from anxiety, left a well-paid position at Apple. They live in an old RV with a roommate along the streets of Fremont.
"It's just like being trapped in a corner," said Nueding, who holds a master's degree in literature.
They considered moving back to their hometown, but jobs are scarce and pay poorly. Nueding worries that a local school or university would not hire a homeless person to teach classes, even as a substitute. "Until I have an actual legal residence," he said, "I feel homeless."
Leslie, the Bay Area native in Los Gatos, lives with her husband in a farmhouse in the foothills. Each has more than an hour-long commute on good days.
Leslie has spent two decades in the tech industry and enjoys her job. Her mother and sister have already been priced out in the past few years. The Santa Cruz native would leave if other family members weren't still here.
She sees a dark side of Silicon Valley tech — U.S. engineers replaced by lower-cost H-1B visa holders. All workers suffer, she said: The system unfairly pushes down salaries, while foreign-born engineers remain heavily dependent on their employers.
Leslie said many of her friends, especially with young children, are over-stressed. She sees them trying to ease the anxiety with prescription medication and therapy just to navigate daily life.
Leslie rides her three horses or goes to the beach with her four dogs to cope. But she's not sure how much longer that therapy will work.
The poll of 1,257 registered voters in Alameda, Contra Costa, San Francisco, Santa Clara, and San Mateo counties, was conducted by FM3 Research for the Silicon Valley Leadership Group and Bay Area News Group. The poll, conducted Jan. 11-19, has a margin of error of +/- 2.8 percentage points.
By Sarah Ravani, SF Chronicle, Feb. 21, 2020
Berkeley's mayor proposed an ordinance Thursday that would give tenants the first right of refusal to purchase the home they live in if it goes up for sale.
The legislation is the third such proposal introduced in the East Bay and statewide in recent weeks.
Berkeley's "Tenant Opportunity to Purchase Act" would apply to all rental properties in the city except for owner-occupied, single-family homes and backyard or basement units known as accessory dwelling units, Mayor Jesse Arreguín said.
Oakland's proposal, still being finalized, is expected to give landlords an incentive to sell to tenants. And a statewide proposal from state Sen. Nancy Skinner, D-Berkeley would give tenants across California the first right of refusal to buy foreclosed properties.
The Berkeley City Council will vote on its policy on March 24, sooner than the two others, and Arreguín said approval can't happen soon enough.
"The severity of our housing crisis compels us to take bold and innovative action," he said at a news conference Thursday outside a home bought last summer by a nonprofit group on behalf of tenants. "TOPA is about leveling the playing field for tenants and affordable housing nonprofits."
Berkeley's ordinance would require landlords to offer to sell their property to their tenants before offering it to anyone else, and would allow affordable-housing developers to buy the property on behalf of the renter. If a tenant chose not to make an offer, then an affordable-housing developer could opt to buy the property before it was put on the market.
A coalition representing about 1,500 property owners in Berkeley expressed concern Thursday that such a law would cause property values to go down. A spokeswoman for the Berkeley Rental Housing Coalition said she might sue if the ordinance passes.
"At the end of the day, this legislation is about constraint of sale," said Krista Gulbransen, executive director of the coalition. "They say that the owner will be able to set the price, but the reality is that there will be a constraint of what that sales price is because it will never go out to the open market if the tenants want to purchase it."
The proposal comes nearly a month after Oakland proposed its measure, which will be heard in committee next month. Although its language is not yet finalized, the measure is expected to give landlords an incentive to offer tenants first right of refusal to buy the property they live in. It's also expected to include vacant properties. Berkeley's does not.
Berkeley's proposal also comes a day after Skinner introduced SB1079 in the state Senate. In addition to giving tenants the right of first refusal to buy foreclosed properties, Skinner's bill would allow cities and counties to fine corporations if their properties sit vacant for more than 90 days. Local governments could seize the properties and use them for affordable housing if left empty during that time period.
Berkeley's action comes in the wake of the overwhelming impact of Moms 4 Housing, a group of homeless mothers that in November took up residence in a vacant West Oakland home owned by a corporation that specializes in flipping houses. They said they moved in to highlight the state's housing crisis and the role of corporations that bought properties during the foreclosure crisis. Berkeley's ordinance has been in the works since 2015.
Dominique Walker, one of the mothers who lived in the West Oakland home, joined Arreguín Thursday and applauded the city's effort to create more tenant protections.
"It feels like this is the beginning of a movement, and it's going to continue," Walker said.
After sheriff's deputies evicted Walker and several other mothers from the West Oakland home, Walker moved to Berkeley.
She now lives at a home bought last summer by the nonprofit Northern California Land Trust, which specializes in buying homes for the purpose of helping tenants remain in them.
Arreguín applauded that arrangement and said that Bay Area homes are so expensive that even he, the mayor, can't afford to buy one.
"As a Millennial and as a lifelong renter, there is little hope for me to be able to afford a home here in Berkeley or in the Bay Area," Arreguín said. "TOPA will create an opportunity for not just people like me but many people in our city to become first-time homeowners and to be able to plant roots and stay in this community."
Glen Bell – (510) 333-4460   jazzlines@sbcglobal.net