April 30, 2019 – Real Estate Market Numbers
By Glen Bell   (510) 333-4460
Here are some highlights for the 38 East Bay Cities that I track:
Affordability, increasing inventory, reduced sales, considerations of moving out of the Bay Area, are all topics of interest in a market in transition. Properties are staying on the market longer, we're seeing fewer offers than before, more price reductions and some incentives now being offered, in effect, all favoring buyers. Yet indecision has many buyers on the fence with a wait and see attitude despite having more choices.
People really want to leave the Bay Area, claims every survey.
Although several reports indicate the housing market is projected to heat up this spring, recent data from Trulia suggests the industry is currently experiencing the early stages of a cyclical downturn.
Mortgage rates have dropped significantly as of late, with the 30-year fixed coming in at an average of 4.08% this week.
Here's where we stand as of the end of April. Typically, we see a dramatic drop in inventory during December followed by a modest steady increase in Spring. Inventory has increased by 65%, now sitting at a 45 day supply of homes for sale, (However, this is much higher in comparison to last year's end of April of a 30 day supply). Pendings increased with new inventory coming onto the market, but it still lags slightly behind last year by 3.4%. The pending/active ratio increased slightly to .92, still below our neutral mark. However, our ratio last year at the end of March was a very strong (seller's) 1.39. This is quite a difference. This is the 10th month in a row that the ratio has fallen below 1.00. The pending/active ratio has been a benchmark that we've used as a measure of supply and demand to determine whether we're in a buyer's or a seller's market. Typically, a number well above 1, (more inventory with fewer pendings) favors sellers. A number below 1 favors buyers. In short, we have moved from a strong seller's market since the beginning of last summer towards a more normal and balanced market, and in many cases, now favoring buyers.
The percentage of homes "sitting" has come down slightly to 35% of the homes listed now remaining active for 30 days or longer, while 17% have stayed on the market for 60 days or longer. This improvement is usually due to the number of New homes that were listed in Spring. Still there are more homes "sitting" this year as compared to last year, (with then 26% remaining active over 30 days and 13% remaining active over 60 days).
The "distressed" market, (foreclosures and short sales) are no longer a factor representing less than .05% of the market.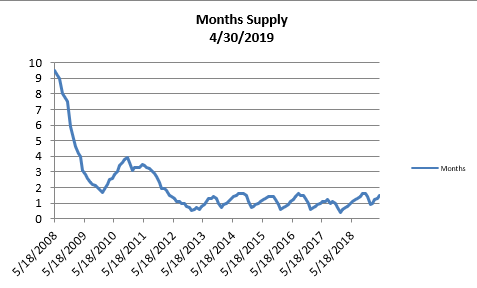 The month's supply for the combined 39 city area is 45 days. Historically, a 2 to 3 months' supply is considered normal in the San Francisco East Bay Area. As you can see from the graph above, this is normally a repetitive pattern over the past four years. We are higher when compared to last year at this time, of 30 days.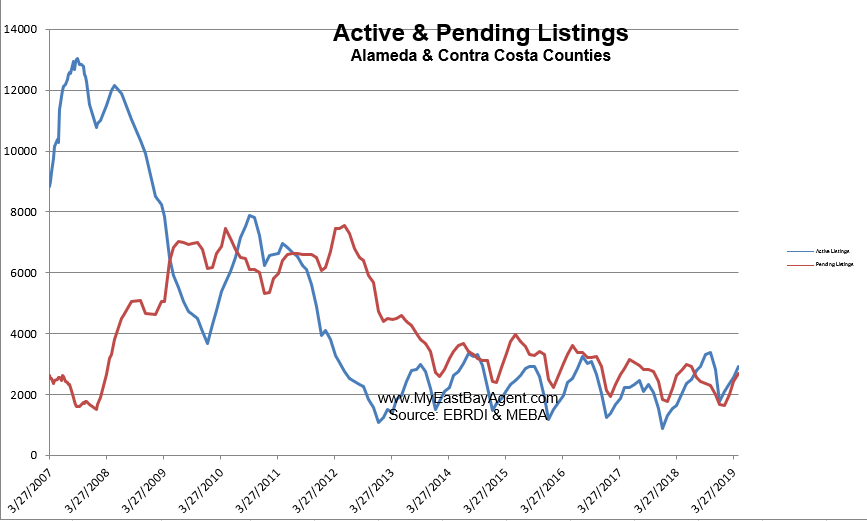 Our inventory for the East Bay (the 39 cities tracked) is now at 2,915 homes actively for sale. This is higher than last year at this time, of 2.013 or (44.8% higher). We're used to seeing between 3,000 and 6,000 homes in a "normal" market in the San Francisco East Bay Area. Pending sales increased to 2,695, less than what we saw last year at this time of 2,790, or 3.4% lower.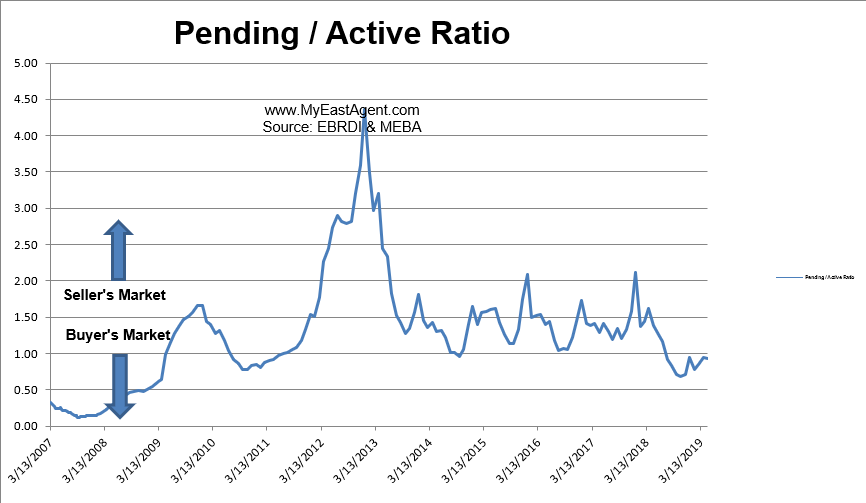 Our Pending/Active Ratio is .92. Last year at this time it was 1.39.
Sales over the last 3 months, on average, are 2.8% over the asking price for this area, lower than what we saw last year at this time, of 6.2%.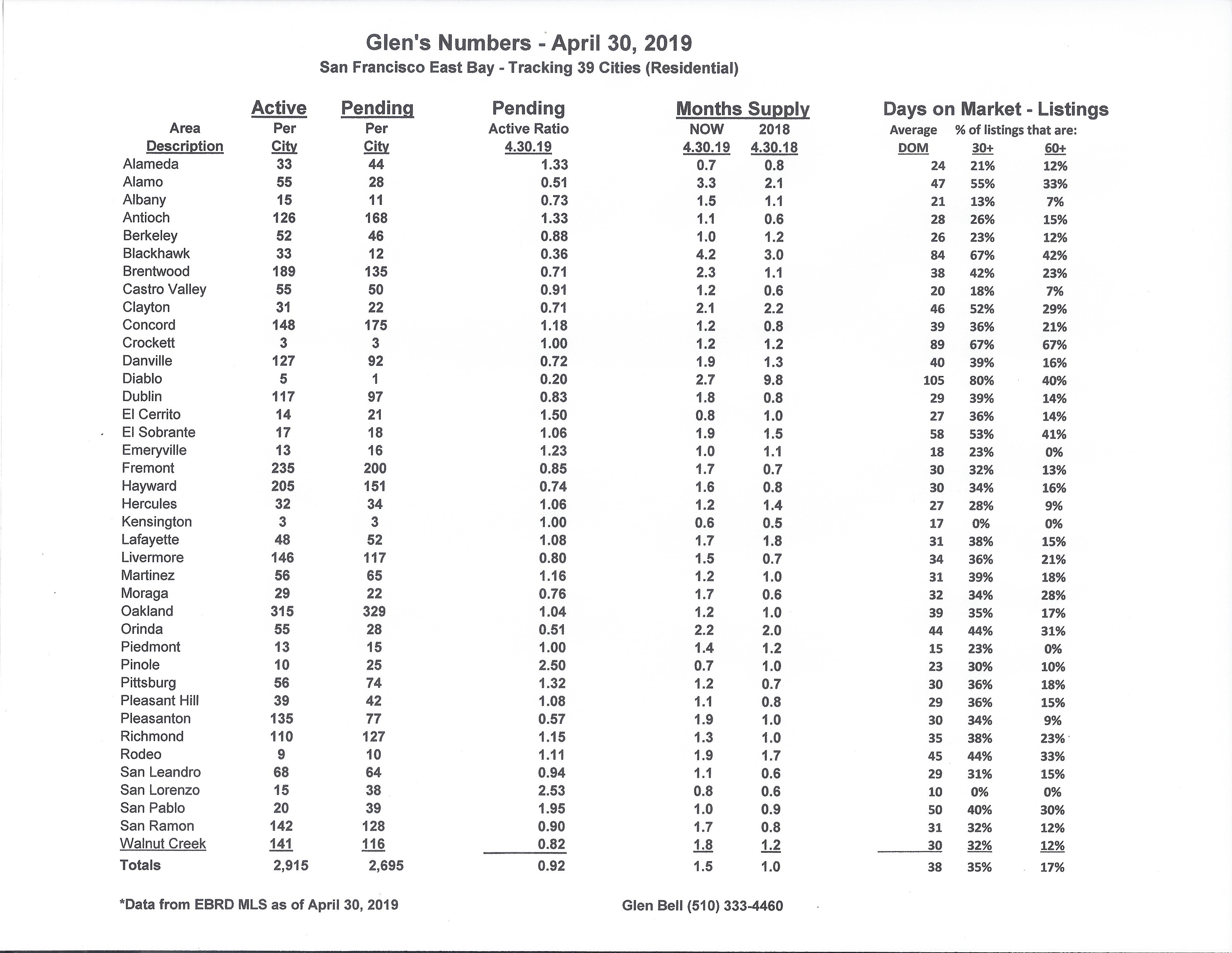 Recent News
California's soaring home values give some homeowners a million new reasons to join the Bay Area Exodus
By Mark Calvey,| SAN FRANCISCO BUSINESS TIMES, May 2 2019
Skyrocketing house prices have made millionaires out of many Bay Area homeowners. Now they want to start living like it.
They are selling properties here and moving to cities where typical homes can sell for up to $1 million less than in pricier parts of the Bay Area. A small but growing ecosystem of real estate professionals has sprung up to serve them.
San Ramon real estate agent Scott Fuller, who started a website, LeavingtheBayArea.com, last year, has helped homeowners depart to Florida, Reno and Henderson, Nev. and Boise, Idaho, in addition to traditional hotspots for exiting Californians such as Portland and Seattle.
"For families who bought at the right time, 2010 or 2011, they're now sitting on substantial equity. The equity has put them in a position so they have choices," Fuller said.
Indeed, the median value of a home in San Francisco has nearly doubled in the last decade, rising from $716,000 in January 2010 to $1.36 million in February, according to Zillow.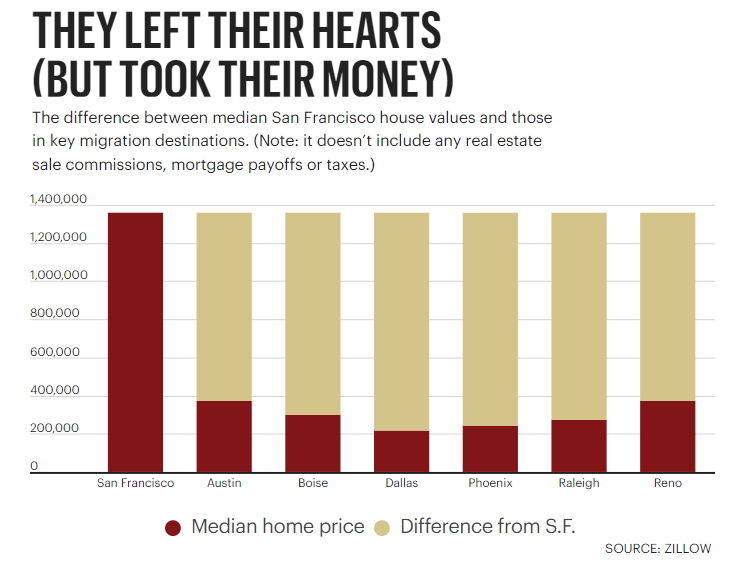 Median prices have surged to well above $1 million in much of the rest of the Bay Area as well, including the cities of San Jose and Berkeley, and the counties of San Mateo and Marin.
While that high cost of housing is blamed for forcing thousands of people out of the Bay Area, it's also created large paper gains for longtime owners — and an added incentive to cash out and go.
California has led the nation in outmigration, with departures exceeding arrivals by more than 100,000 each of the last three years.
To a large extent, this exodus is a story of shifting demographics as better-paid, well-educated relative newcomers take the place of those who head to lower-priced cities. Among those with college or graduate degrees, more are arriving in California than leaving it, census data shows.
Meanwhile, Bay Area home-buying demand is expected to get an additional boost as IPO proceeds at Uber, Lyft, Pinterest, Slack and other Bay Area growth companies start to flow into the housing market.
Still, those making their way to the exits say other byproducts of the Bay Area's success — such as traffic congestion and high taxes — have also spurred them to make the move.
Recent surveys by the Bay Area Council and Silicon Valley Leadership Group have found almost half those surveyed are thinking of leaving the Bay Area in the next few years. Among millennials, it's well above 50 percent.
It's a potent pitch for out-migration specialists like Fuller.
"You can go to places like Phoenix, Reno, Las Vegas and a lot of areas in Texas, primarily Austin and Dallas," Fuller said. "In those areas you can buy a nice home for $300,000 to $400,000."
A rally in Raleigh
Real estate agents in California and Raleigh say the North Carolina city is an increasingly popular destination.
"I'm seeing a lot of people from California looking to retire here," said Lynn Johnson, a broker at brokerage firm My Southern View, based in the Raleigh suburb of Garner.
Some are not just moving their homes, they are using their Bay Area gains to invest in other real estate as well.
Silicon Valley real estate investor and brokerage owner Myron Von Raesfeld is a case in point. The CEO of Santa Clara-based Windermere Silicon Valley said he recently sold a duplex in Santa Clara and bought several properties in the Raleigh area now worth about about $7.5 million.
"Raleigh-Durham reminds me of Silicon Valley in the 1970s and '80s," Von Raesfeld said. He points to the Raleigh area's three large universities anchoring the region's Research Triangle Park as big draws for both students and tech employers, including Cisco Systems, IBM and GlaxoSmithKline.
Von Raesfeld, who says Raleigh will become his primary residence this year, said he's helped sell so many properties in the Raleigh area to Californians that's he's among the region's top realtors.
He's also working on selling Raleigh to his six adult children as he tries to convince them to leave the Bay Area for North Carolina. He says he may shutter his property management company in Santa Clara if his 30-year-old son Jason, who runs the business, agrees to move to Raleigh and set up shop there.
Investor appetite in Raleigh has helped fuel a 6 percent gain in the median home price over the past year — but it's still only $272,800.
"Investors in Raleigh who once focused on homes selling for $130,000 to $150,000 are now buying properties for $225,000," said Johnson at My Southern View, which features beehives on the roof to attract visitors to the office.
Vanessa Bergmark, CEO of Oakland-based Red Oak Realty, expects a Bay Area exodus may just be getting started.
"There are some major issues in California that could put a dampening on the future of the state, where residents and opportunities and companies and innovation will leave. That's our biggest worry," Bergmark told a San Francisco business audience last fall. "Watch what you invest in because the opportunities that we think exist because they once did, may not be the ones happening here. They'll probably happen out of state."
Fuller said he spends part of his time fielding calls from Boise, Idaho, and other cities that see the Bay Area exodus as an economic development opportunity, especially when it comes to Californians moving in with pockets full of cash. (That could explain why Boise has enjoyed one of the highest rates of home price appreciation in the past year — 18 percent, according to Zillow.)
"A lot of people that work for the cities are trying to recruit people to move in," Fuller said, "They call to say, 'We'd love to talk to you about how we can help you tell people what it's like to live here.'
"I'm getting more and more of those calls," Fuller said. "These cities are actually very aggressive."
Kathleen Pender, San Francisco Chronicle, April 29, 2019 
Bay Area home prices fell last month on a year-over-year basis for the first time in seven years, according to a report Monday from research firm CoreLogic.
The median price paid for a new or existing home or condo in the nine counties was $830,000 in March, up 7.8 percent from February but down 0.1 percent from March of last year.
The last time prices fell year over year was in March 2012. After that, they rose for 83 consecutive months, often in the double digits for long stretches of time. In March of last year, the median price was up a whopping 16.2 percent over March 2016. After that, the appreciation rate slowed down, but was still positive through February.
"It's not that surprising that we hit the wall, at least in terms of a pause," said CoreLogic analyst Andrew LePage.
Home sales and prices typically pick up between February and March as buyers position themselves to move over the summer. And they did this year, "but not as strong as last year," said Glen Bell, a broker with Better Homes and Gardens Reliance Partners in the East Bay.
"It's not like the sky is falling," he said. "We are going through a gradual move from a hot seller's market to a more balanced market. There are fewer offers, properties are staying on the market longer, you see price reductions and sales have been coming down."
Santa Clara County saw the biggest year-over-year decline, falling 10 percent to $1.08 million. But it was also the hottest market in the Bay Area, if not the nation, in the first part of last year.
"We've definitely seen some softness and some slowing," said Michael Repka, chief executive and general counsel of DeLeon Realty in Palo Alto. One of the main reasons, he said, is the change in federal tax law.
Starting last year, the federal deduction for all state and local taxes combined was capped at $10,000. In Silicon Valley, many homeowners pay more than $10,000 in state income taxes alone, meaning they get no deduction for property taxes, which can reach into the tens of thousands of dollars on newly purchased homes.
That didn't seem to matter much in the first part of last year. "People didn't grasp how bad it was until they did their taxes," said Repka.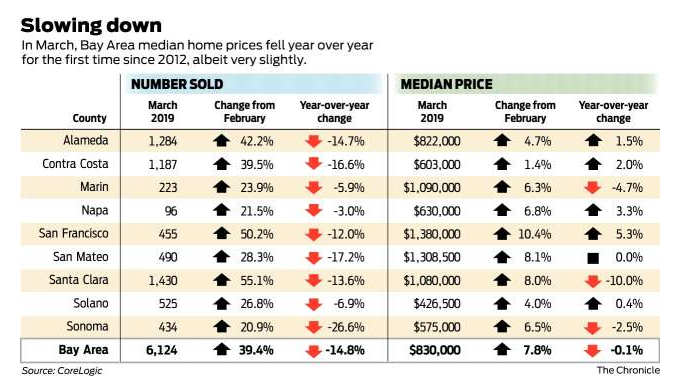 The number of homes sold in the Bay Area last month hit 6,124, up 39.4 percent from February, but down 14.8 percent year over year, CoreLogic reported.
The home sales and prices recorded in March "mainly reflect buyer purchasing decisions in February," LePage said in a press release. In February, the market was recovering from the partial government shutdown, the stock market was on the mend and mortgage rates were dropping.
Since the end of February, the stock market has gone even higher, mortgage rates have gone lower and a trio of big Bay Area companies — Lyft, Pinterest and Zoom Video Communications — have gone public, with more to come.
The next two months will likely clarify whether many buyers who stepped out of the market last year — when prices hit an all time high of $875,000 in May and June — can be lured back in with lower mortgage rates, lower prices and IPO cash — or whether something more fundamental is going on.
Census data released this month showed that the Bay Area's estimated population growth over the past two years slowed dramatically compared with the previous six, and the region's astronomical housing prices are at least partly to blame. In Sonoma, Napa and Marin counties, the population dropped over the past two years ending July 1, as the fires left many people homeless.
Jason Nelson, an agent with Alain Pinel/Compass in Mill Valley, said that in Southern Marin, "there might be some slowdown in the market especially on the higher end. For well-priced homes that have what people are looking for — finish level, location, uniqueness — they are still going for over asking with multiple offers in short on-market dates."
"The houses staying on the market are at prices that the marketplace just can't bear. People say this house went for $2 million so my house must go for $2 million, but it has different views, different amenities."
In Alameda and Contra Costa counties, the inventory of homes is almost twice what it was last year, Bell said. At the end of March, there was a 39-day supply of homes on the market, meaning that if homes sold at the same rate they'd been selling over the past 12 months, it would take 39 days to sell them all. At the same time last year, there was a 24-day supply. With that kind of supply increase, "you think there would be an increase in sales. We are not seeing that."
In cities still "fairly hot," such as Berkeley, Albany, El Cerrito, Alameda and parts of Oakland, many homes are still selling at prices above asking. "We're seeing more weakness in west and central Costa Costa County."
But in general, he said, most homes are selling for list price, or a little above or below. In other words, a more normal market.
By Lance Lambert | Realtor.com, Apr 15, 2019
When it comes to real estate, gentrification might just be the touchiest subject of all. In search of reasonable housing prices, short commutes, and the tantalizing prospect of a kick-ass return on investment, professionals are moving en masse into lower-income neighborhoods. But while these newcomers often rehab old and vacant homes and bring a rush of investment to the community, many long-term residents and business owners don't get to experience the booms—they get priced out of the very neighborhoods they helped build.
Still, the tsunami of gentrification, having utterly transformed some of the biggest cities on each coast (hello, New York and San Fransisco!), continues to wash over the nation, an inexorable force. Accelerated by sky-high rents and home prices as well as a wave of urban renewal, it's now hitting previously overlooked neighborhoods. For home buyers, it's an opportunity—and a challenge. Those who time it right and buy homes in places on the early cusp of gentrification can get in cheaply, and be assured of a big windfall down the road.
So the realtor.com® data team set out to find the fastest-gentrifying neighborhoods in the U.S. We wanted to identify the places on the upswing now.
"Neighborhoods that are well located, with public services and transportation that were originally built for the middle class, are the ones more likely to be gentrified," says Phillip Clay, professor emeritus at the Massachusetts Institute of Technology and author of "Neighborhood Renewal: Middle-Class Resettlement and Incumbent Upgrading in American Neighborhoods."
The neighborhoods gentrifying the fastest today are still in big cities, but they're mostly secondary markets with room to grow, packed with affordable historic homes, and usually located near overpriced urban hot spots.
Clay takes an unvarnished view of urban gentrification: "Vacant land is developed," he says. "That's an active gain for the city. And commercial activity increases." But with it comes higher prices all around.
"For longtime residents, the only people who are winners are those who are in a position of cashing out," he adds.
To find the fastest-gentrifying neighborhoods, we looked at lower-income ZIP codes in America's 100 largest cities. We excluded ZIPs that were more expensive than their city's median sale price back in 2012 as well as those with few home sales in the years we measured. Then we created our ranking based on the changes in the following metrics from 2012 to 2017:
Change in median household income
Change in median home sale price
Change in the share of residents over 25 with a bachelor's degree or higher
Change in the share of residents over 25 with a master's degree or higher
Change in median home listing price on realtor.com*
We limited the ranking to just one ZIP code per city. Got it? Let's take a tour of some places that are changing fast.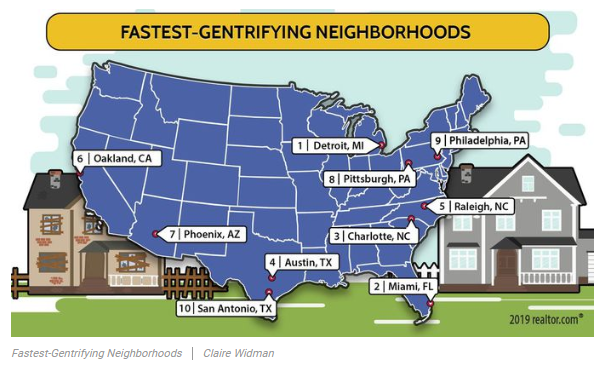 ZIP code: 94612
Median list price: $695,100
5-year median sale price change: +128.2%
5-year median household income change: +63%
5-year change in the share with bachelor's or higher degree: +26.3%
Even six-figure-income families can feel poor in San Francisco. That's why many are heading to across the bay to Oakland, the formerly crime-riddled community in the East Bay. In recent years the Uptown neighborhood has become the city's entertainment hub, anchored by the overhauled Paramount Theatre, an art deco building that's now home to Oakland East Bay Symphony, the Oakland Ballet, and dozens of other live performances each year.
"People start to ask themselves, 'Do I want to spend $3 million for a townhouse, or do I want to spend one-tenth of that and still be a commutable distance to my job?'" says Chunlei Liu, a real estate agent with Climb Real Estate.
In 2012, the median home price in Uptown was $315,000. Now, the cheapest abode on the market is a 600-square-feet, one-bedroom condo priced at $499,000.
"We have a lot of properties that were neglected for a long period of time. When developers or even investors come in and make upgrades on those properties and pay the property taxes, it makes the city better," says Liu. But "there's definitely community blowback. … People can't afford to live in the neighborhoods where they once were."
Glen Bell – (510) 333-4460   jazzlines@sbcglobal.net