March 31, 2019 – Real Estate Market Numbers
By Glen Bell   (510) 333-4460
Here are some highlights for the 38 East Bay Cities that I track:
Affordability, increasing inventory, reduced sales, considerations of moving out of the Bay Area, are all topics of interest in a market in transition. Properties are staying on the market longer, we're seeing fewer offers than before, more price reductions and some incentives now being offered, in effect, all favoring buyers. Yet indecision has many buyers on the fence with a wait and see attitude despite having more choices.
People really want to leave the Bay Area, claims every survey.
Although several reports indicate the housing market is projected to heat up this spring, recent data from Trulia suggests the industry is currently experiencing the early stages of a cyclical downturn.
Mortgage rates have dropped significantly as of late, with the 30-year fixed coming in at an average of 4.08% this week.
Here's where we stand as of the end of March. Typically, we see a dramatic drop in inventory during December followed by a modest steady increase in Spring. Inventory has increased by 44.5%, now sitting at a 39 day supply of homes for sale, (However, this is much higher in comparison to last year's end of March of a 24 day supply). Pendings increased with new inventory coming onto the market, but it still lags behind last year by 9.2%. The pending/active ratio increased slightly to .95, still below our neutral mark. However, our ratio last year at the end of March was a very strong (seller's) 1.62. This is quite a difference. This is the ninth month in a row that the ratio has fallen below 1.00. The pending/active ratio has been a benchmark that we've used as a measure of supply and demand to determine whether we're in a buyer's or a seller's market. Typically, a number well above 1, (more inventory with fewer pendings) favors sellers as has been the case now for quite some time. A number below 1 favors buyers. In short, we have moved from a strong seller's market since the beginning of last summer towards a more normal and balanced market, and in many cases, now favoring buyers.
The percentage of homes "sitting" has come down slightly to 38% of the homes listed now remaining active for 30 days or longer, while 17% have stayed on the market for 60 days or longer. This improvement is usually due to the number of New homes that were listed in Spring. Still there are more homes "sitting" this year as compared to last year, (with then 31% remaining active over 30 days and 14% remaining active over 60 days).
The "distressed" market, (foreclosures and short sales) are no longer a factor representing less than .05% of the market.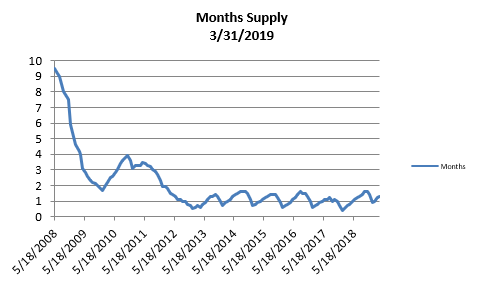 The month's supply for the combined 39 city area is 39 days. Historically, a 2 to 3 months' supply is considered normal in the San Francisco East Bay Area. As you can see from the graph above, this is normally a repetitive pattern over the past four years. We are higher when compared to last year at this time, of 24 days.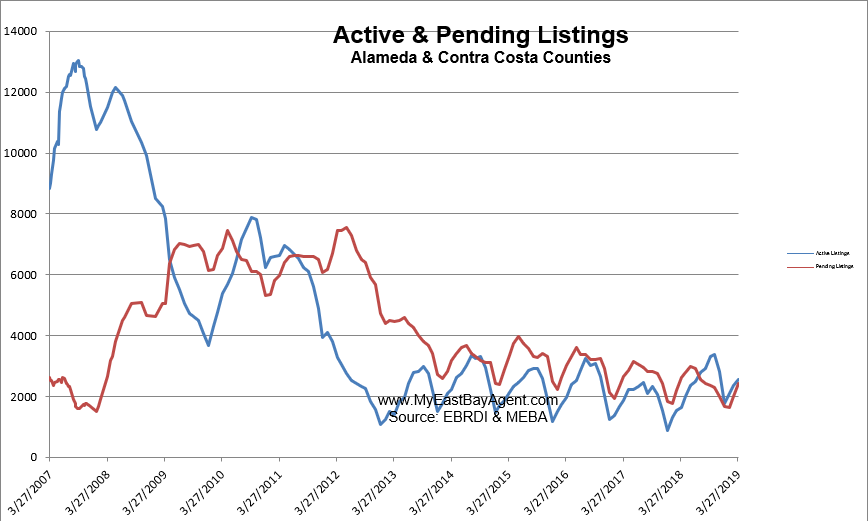 Our inventory for the East Bay (the 39 cities tracked) is now at 2,550 homes actively for sale. This is higher than last year at this time, of 1,1,623 or (57.1% higher). We're used to seeing between 3,000 and 6,000 homes in a "normal" market in the San Francisco East Bay Area. Pending sales increased to 2,414, less than what we saw last year at this time of 2,634, or 9.2% lower.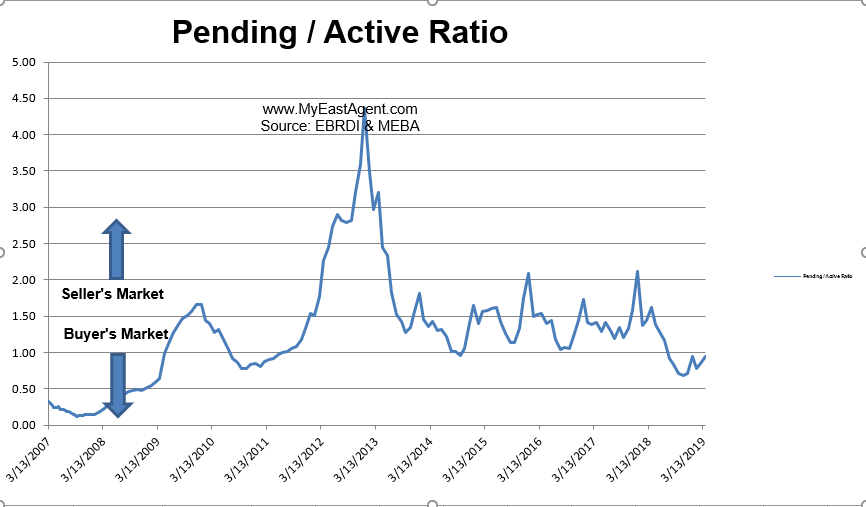 Our Pending/Active Ratio is .95. Last year at this time it was 1.62.
Sales over the last 3 months, on average, are 1.9% over the asking price for this area, lower than what we saw last year at this time, of 5.3%.
Recent News
Instead, the slowing economy will trample homebuyer confidence and home-price growth will fall
By Jessica Guerin, Housingwire, April 5, 2019
Mortgage rates have dropped significantly as of late, with the 30-year fixed coming in at an average of 4.08% this week.
The development has spurred activity in purchase mortgage applications as homebuyers act now to take advantage of the low rates while they're here.
But analysts at Capital Economics warn against getting too excited about the possibility that low rates will heat up the housing market.
"Mortgage interest rates have dropped sharply since the end of last year, and the 30-year fixed rate is set to fall to 4.2% by the end of 2019," analysts wrote. "But that won't spur a significant rise in housing market activity."
Why?
Blame the slowing economy.
"That will hit homebuyer confidence, and with inventory levels still low that implies existing home sales will do no more than tread water over the next year or so," the analysts wrote.
Tempered housing demand will cause home prices to continue to slow, the group said.
Prices slowed to 5% in 2018, and Capital Economics predicts they'll land around 2% by year's end and close out 2020 at 0%.
But things will look up from there.
"An improving economy, coupled with low interest rates, will lead to a resumption in growth 2021, and we expect a rise of around 3%."
The group also predicts that mortgage rates will end up around 4.2% by late 2019.
But as the economy's slowdown begins to right itself in 2020, mortgage rates will again creep upward, the analysists predicted, with the 30-year fixed landing around 4.7% at the end of 2021.
But while the housing market won't exactly see the flurry of activity some had hoped for, Capital Economics said that new home sales will find some support this year in the shift toward building cheaper starter homes, which are currently in short supply.
"Lower lumber prices will support a shift to cheaper homes and, alongside upbeat homebuilder sentiment and the relatively bright outlook for new home sales," the group wrote, "that should enable a decent rise in single-family housing starts over the next couple of years."
Trulia says the market is in the early stages of a cyclical downturn
By Alcynna Lloyd, Housingwire, April 3, 2019
Although several reports indicate the housing market is projected to heat up this spring, recent data from Trulia suggests the industry is currently experiencing the early stages of a cyclical downturn.
"Cyclical housing market downturns occur roughly every 10 years, and they typically don't happen overnight. Instead, they play out steadily over a few years, first showing up in sales volumes and later—usually a year or two later—in prices," Trulia writes. "The housing market currently appears to be in the early stages of such a downturn: declining sale volumes and other market indicators indicate that it is cooling off, gradually pivoting away from the heated sellers' market of recent years."
And Trulia is right, home prices have been steadily depreciating since early 2018.
In fact, a recent report from CoreLogic indicates that since peaking at 6.6% growth in April 2018, home-price growth has continued to slow down.
However, despite these concerns, Trulia believes the housing market still has the ability to come out on top.
"The downturn we're entering is inherently different from the previous one that saw home values plummet over 40%, and is likely to be mild," Trulia writes. "Declining sale volumes will probably be followed by small declines in prices or possibly just a prolonged period of flat-to-modest housing price growth."
As home prices continue to depreciate, Trulia predicts the housing market will shift in the favor of homebuyers.
"Sellers should expect price cuts to be more common, and properties will likely take longer to sell, causing inventory to build up," Trulia writes. "More inventory, in particular, will slowly ease the competition between buyers, allowing them to negotiate with this spring's sellers a shade more confidently."
So, how will the housing market fare overall this spring? Well, Trulia says – just fine.
"There almost certainly won't be a steep drop-off in home values like the one that occurred a decade ago, though the unfolding slowdown will be more palpable in some pricey markets," Trulia writes. "Instead, any cooling in appreciation is likely to be moderate and happen gradually – likely showing up as either an extended period of flatter home price growth, or as a modest price decrease in the next couple of years.
For years, pollsters have said San Franciscans are spoiling to leave—and it's all starting to sound the same
By Adam Brinklow, Curbed, Mar 27, 2019
It happened again.
The Silicon Valley Leadership Group and Bay Area News Group released the results of a new survey of Bay Area voters this week. Among its findings: many residents say they want to leave the area in the near future.
This corresponds to roughly several years of similar public polling results, which detail discontent among the broad Bay Area public.
In fact, results like this have become so common since the start of the second tech boom and the beginning of the housing crisis that it has almost achieved meme-like levels, with each new survey bringing a distinct sense of deja vu.
To help keep it all straight, here's what polling numbers published since 2018 say:
And that's just in the past year; polling stretching back through previous years shows a persistent trend toward pessimism, housing anxiety, and speculation about abandoning San Francisco, the Bay Area, and the entire state of California.
Despite denizens' desires to vacate the area, San Francisco's population continues to grow, although growth has slowed significantly in recent years.
By ERIN BALDASSARI, Bay Area News Group, April 4, 2019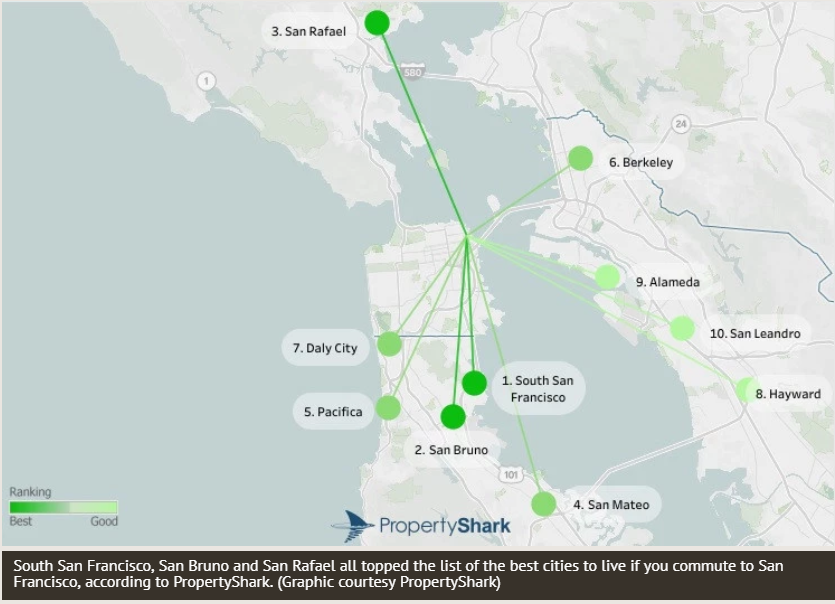 Do you work in San Francisco but can't afford to live there? If so, you're like more than 250,000 other people who schlep into the city and back five days a week.
But where to schlep from? A new study by PropertyShark factored in travel times, median home prices, school quality and crime rate and came up with a list of the 10 best places to live if you commute into the region's biggest job center.
South San Francisco, the study found, topped the list, followed by San Bruno and San Rafael.
The study only considered cities with 30,000 or more residents that were located within a 20-mile radius of San Francisco. Commute times were given the most weight in the analysis — 40 percent of the total score — followed by median home prices at 30 percent, and school ratings and crime statistics at 15 percent each, said Patrick McGregor, the lead researcher on the study for PropertyShark.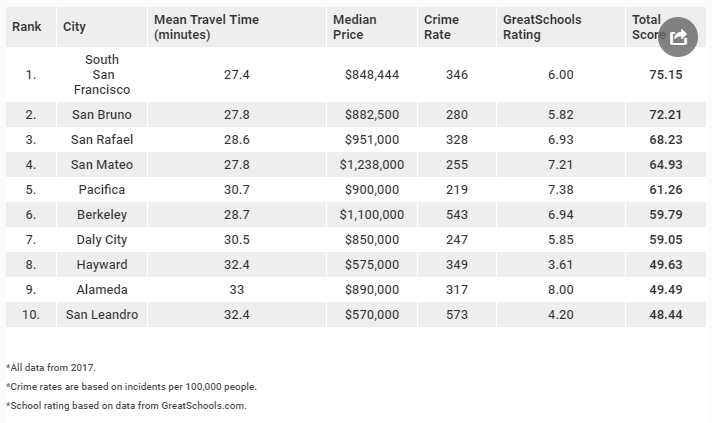 To evaluate commute times, the researchers used averages from the 2017 American Community Survey, part of the U.S. Census, as well as the driving time from each city to San Francisco as calculated by online tools like Google Maps.
Other factors that might influence where people purchase homes, such as the availability of single-family homes or the prevalence of public transit, were not included, McGregor said.
Balancing commute times and home prices, however, led to some surprising results, like San Leandro coming in at No. 10 on the list, McGregor said. Of the cities included in the study, San Leandro was one of the furthest from San Francisco, he said, but lower average home prices helped pull it up in the rankings.
For McGregor, whose employer is based in New York, there was something else surprising about the disparities among Bay Area cities.
"We knew San Francisco was going to be more expensive than the rest of the region," he said. "We didn't expect to see how much more expensive it was."
But we didn't need an East Coaster to tell us that.
By Matt Levin, CALMatters, April 4, 2019
California lawmakers have pitched dozens of bold, high-profile solutions to California's affordable housing shortage: billion dollar affordable-housing bonds, revamping the state's signature environmental protection law, suing NIMBY-inclined cities into permitting more development.
But for all the big-picture housing legislation that has actually become law over the past few years, the solution that's proved most immediately effective at providing new housing has been rather small in size: Accessory Dwelling Units, colloquially known as in-law units or granny flats.
Primarily as a result of new state laws that make it easier and cheaper to convert garages into living spaces or to build a backyard "casita," these units have exploded in popularity in many California cities. Los Angeles received 25 times as many applications to build them in 2017 than it did the previous two years; Oakland, San Francisco and San Jose also have seen major jumps. The backyard units, which are typically around 500 square feet and have a bathroom and kitchen, are especially popular among older California families looking to downsize and rent out their main property. Estimates for the cost of constructing the units vary from builder to builder and city to city, but one survey found an average cost of $156,000 for builders of Accessory Dwelling Units in the Pacific Northwest.
"Now we're finding dad has died, mom's there by herself, and all the kids are gone, and they don't need that big a house," said state Sen. Bob  Wieckowski, Democrat from Fremont, who co-authored legislation in 2016 and 2017 to ease the costs and regulatory hurdles to building such units. Wieckowsi is at it again this year, and predicts that the state could create up to a million new homes with these accessory units, assuming some important regulatory tweaks.
On this episode of "Gimme Shelter: The California Housing Crisis Podcast," CALmatters' Matt Levin and the Los Angeles Times' Liam Dillon discuss the promise of in-law units as a solution to the state's housing crisis. They interview Sen. Wieckowski and builder Stan Acton of Acton ADU.
Glen Bell – (510) 333-4460   jazzlines@sbcglobal.net