December 31, 2021 – Real Estate Market Numbers
By Glen Bell   (510) 333-4460
This is always the time of year where we reflect on where we've been and where we're headed.
"The housing market has been breaking new records across multiple fronts throughout 2021, leaving home shoppers wondering if they should buy now or wait in the hope that more homes become available, and at more affordable prices in 2022."
The Historical Median Price graph below, demonstrates just how much homes have appreciated over our last two years; For the East Bay, (Alameda and Contra Costa Counties), we've seen an average increase of 27%.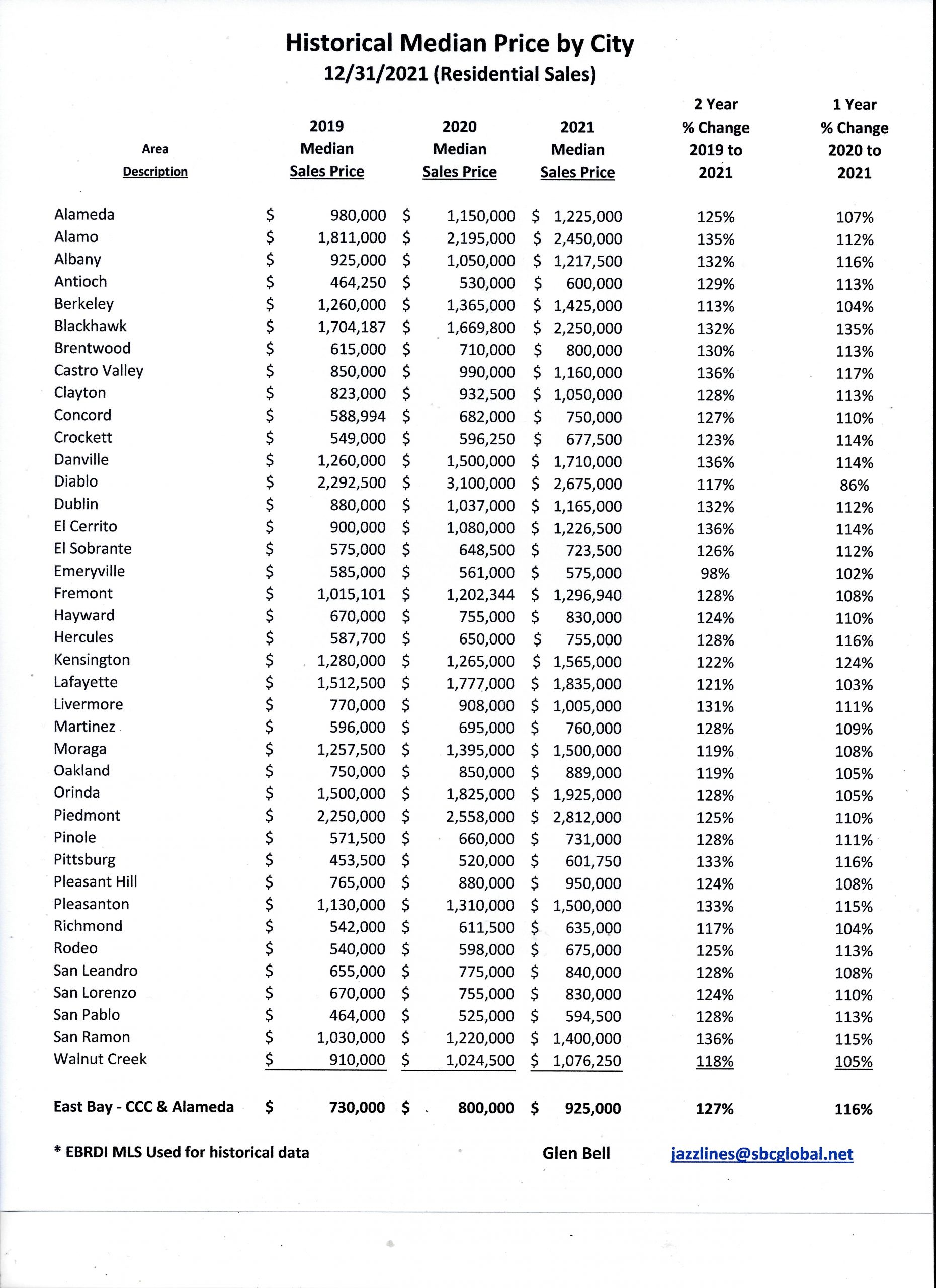 At the same time, the number of houses for sale has dropped, creating even greater pressure on home prices. Last year at this time we experienced a 55% drop in November and December of 2020. Seasonality has always been a huge factor, but this was more than normal. This year we saw an even greater reduction, a 70% reduction of inventory for November and December of 2021. As of December 31, 2021, there were only 598 homes listed for sale in the 39 cities that I track. Approximately 55% of those listings are homes that have been sitting for 30 days or longer. I've been tracking statistics since 2007, and this is the lowest number of homes for sale that I've ever seen. This leaves us with only a 6 day supply of homes, compared to a 15 day supply last year.
Our supply and demand ratio, (or pending over actives) has jumped up to 2.88, it's highest level since March of 2013. I rarely see this ratio go over 2, indicating a "strong Sellers" market.
The pending/active ratio has been a benchmark that we've used as a measure of supply and demand to determine whether we're in a buyer's or a seller's market. Typically, a number well above 1, (more inventory, or supply, with fewer pending sales, or demand) favors sellers.
Asked "Will home prices fall?
"The question on the minds of sellers, buyers, homeowners, and just about everyone else is whether prices might actually fall. Sorry, buyers, that likely won't happen anytime soon."
"You've still got a lot of young people who have still not bought a home but who would like to," says Realtor.com Chief Economist Danielle Hale. "Anytime the market starts to cool, you've got people on the sidelines waiting for their chance to get in. That keeps both home sales and home prices from declining too much."
I expect more homes to hit the market this spring, but doubt it will be enough to resolve the problem of demand.
You can read what some of the experts are predicting for 2022 in the articles shared below.
Here are some highlights for the 39 East Bay Cities that I track: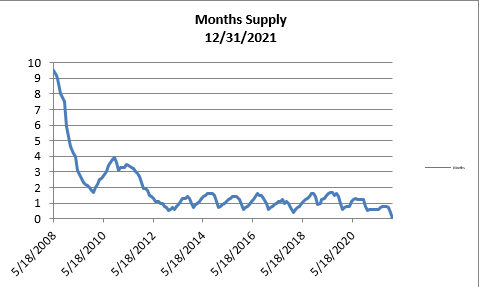 The month's supply for the combined 39 city area is only 6 days. Historically, a 2 to 3 months' supply is considered normal in the San Francisco East Bay Area. As you can see from the graph above, this is normally a repetitive pattern over the past four years. Last year we saw a 15 day supply at this time.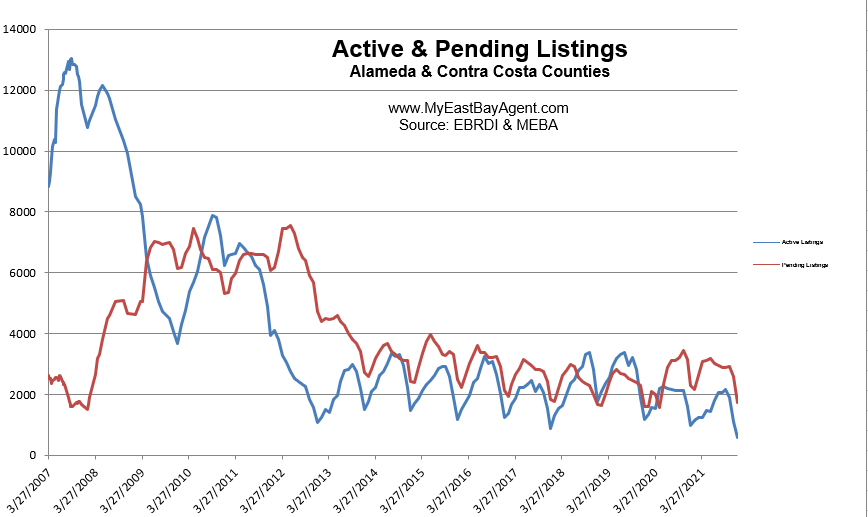 Our inventory for the East Bay (the 39 cities tracked) is now at 598 homes actively for sale. This is lower than what we saw last year at this time, of 971. We're used to seeing between 3,000 and 6,000 homes in a "normal" market in the San Francisco East Bay Area. Pending sales decreased to 1,724, also lower than what we saw last year at this time of 2,293.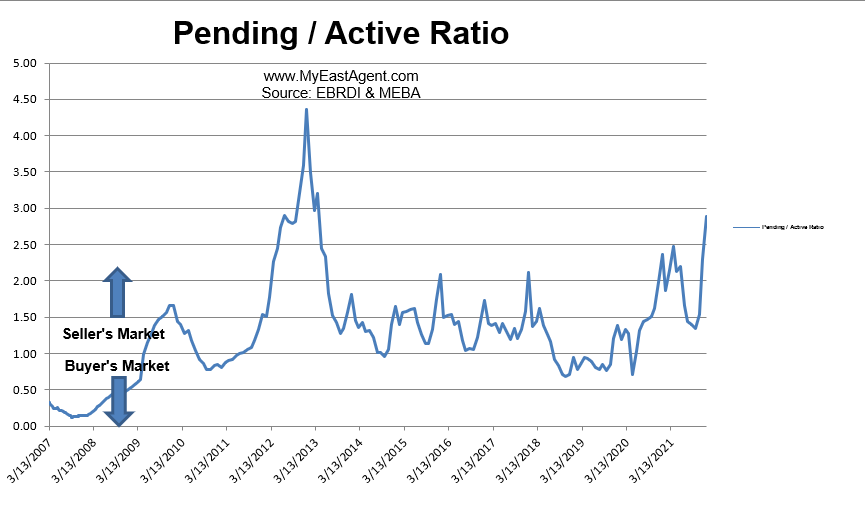 Our Pending/Active Ratio is 2.88. Last year at this time it was 2.36
Sales over the last 3 months, on average, are 9.0% over the asking price for this area, much higher than what we saw last year at this time, of 4.9%.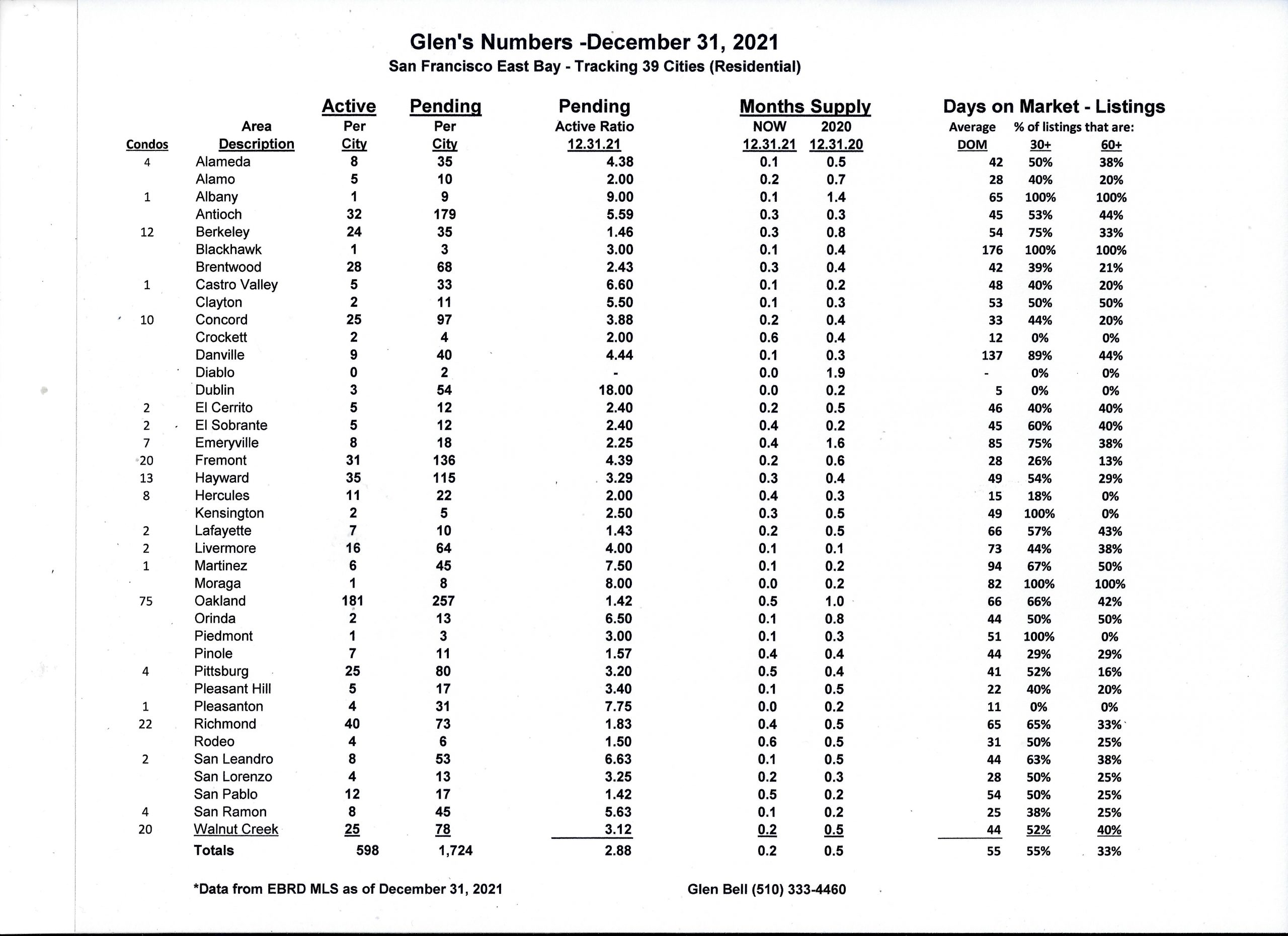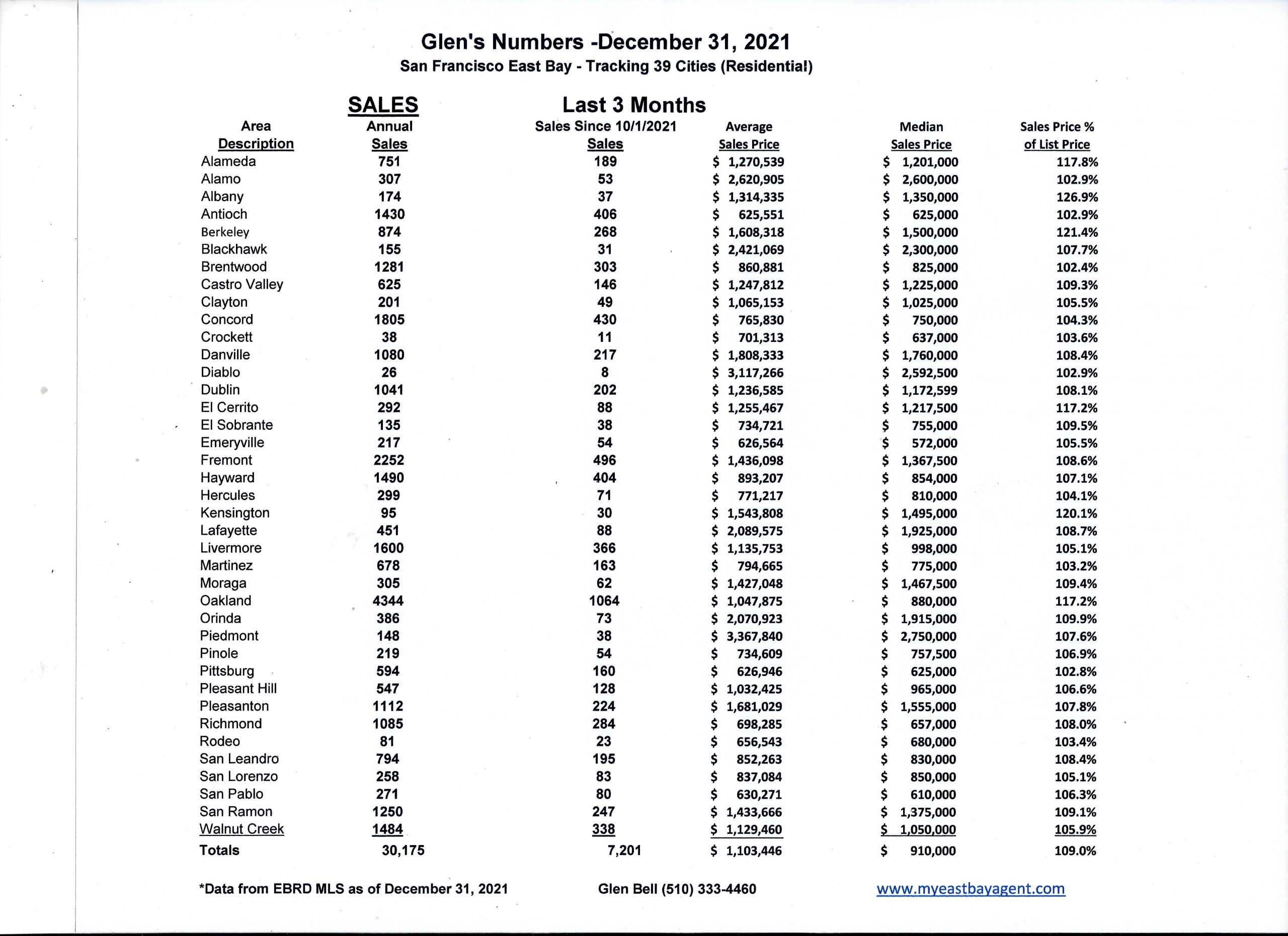 Recent News
By Tessa McLean, SFGATE, December 29, 2021
When the COVID-19 pandemic hit the Bay Area, many expected the real estate market to tank. While it certainly slowed for a bit as open houses were prohibited and residents stayed in their homes, it quickly picked back up, fueling a competitive market with low inventory and a strong set of buyers rethinking their living spaces. That continued into 2021 as the suburbs stayed king, demand outstripped supply, and, at least in the Bay Area, many residents have yet to return to an office. Now, with a still very uncertain future ahead of us, what's next for the Bay Area housing market? We talked with local experts in the home buying and rental market to get their opinions on what's to come.
It's still going to be a seller's market
Every real estate agent we spoke with agreed that 2022 is still likely to be a seller's market in the Bay Area. Even as interest rates are projected to go up, the demand for homes will still be greater than the inventory, especially for single family homes, in the region. "In the history of United States real estate, being a seller in San Francisco right now is the single best opportunity you're ever going to have in your lifetime," said San Francisco real estate agent Aaron Bellings of Compass. "… I think San Francisco is going to have a banner year. If I was thinking about selling in the next 6 to 12 months I wouldn't hesitate to put my house on the market."
He said much of that demand is from buyers that were starting to look in 2021 and still haven't found a place. "I see the spring being absolutely crazy again. I have buyers right now that are chomping at the bit to get in there and there's nothing out there for them," Bellings said. "It's going to be a strong market."
Nina Hatvany, a real estate agent in San Francisco for over 30 years, said the amount of quality, single family homes on the market is usually low in the city, but those houses are now in particularly short supply. Plus, between the continuing pandemic and the inevitable hike in interest rates, now is the time to put a home on the market. "It's definitely a good time to sell," Hatvany said. "… I would definitely take advantage since we don't know what the future will bring."
Khrista Jarvis, an East Bay Compass real estate agent, said the robust seller's market translates into a tough buyer's market — especially in the East Bay. "It's frustrating to be a buyer in this market. There are multiple offers, bidding wars, paying $200,000 over asking is just the norm," she said. "You have to be super competitive and sometimes make offers several times before you get a house."
Jarvis said the region continues to be particularly hot for buyers from San Francisco as many are still looking for more space than they can get in the city.
Seasonality has disappeared
The old adage says that if you're going to put your home on the market, you better wait until after the Super Bowl. And you definitely can't sell a home during the winter. Today, none of that holds true. "We're going to go into a very strong season right away," Jarvis said. "Usually the market waits until spring, but this year it's going to start really early. Seasonality is out the window. I think it's just busy all year round now. Even December. I thought I'd get a break for the holidays and that's just not the case."
Bellings said there is still some seasonality, just not in the way it exists in other major markets. "We really don't have an off-season. It really just comes down to whether people are in town to actually look at and bid on the homes put on the market," he said. "Usually we start to see pick up post-President's Day, but I wouldn't be surprised if things start to pick up mid- to late January this year."
Everyone is watching interest rates
Interest rates are going up, it's just a matter of when. If the Fed sticks to their plans, prospective buyers and sellers are going to have to keep that in mind in 2022. "It is going to create a sense of urgency," Bellings said. "I've already had buyers reach out to me and say we need to make this happen before the Fed starts hiking rates. People are already starting to feel the pressure even though we don't know when this is going to happen and how high the rates will go."
For sellers, that means the time is now. "It would be wise to move quickly if you want to be in the driver's seat when it comes to selling your home," said Daryl Fairweather, Redfin's chief economist. "For the second half of 2022, if mortgage rates increase, that could definitely put the brakes on demand and make it harder to sell a home."
Even if rates creep up to 4%, that's still historically low, especially for an area with as much wealth as the Bay Area has. "In other places I would expect the housing market to slow down significantly, but San Francisco is on a different trajectory," Fairweather said. "There will be more demand for homes than there was this year. … What I think is the Bay Area will look more like the rest of the country in terms of how quickly prices grow, how many homes sell over list price."
Rent will probably go up
As the home buying market reached new heights over the past year and a half, the rental market in San Francisco, Oakland and San Jose did the opposite. These Bay Area cities are some of the only places in the country where rent has yet to creep back up to pre-pandemic levels, even allowing San Francisco to lose its throne as the most expensive rental market in the country to New York, according to Zumper. Experts have speculated that's due to the Bay Area's embracing of remote work amid the pandemic, though many offices won't stay closed forever.
"General inflation will probably push rent up eventually, but if offices keep getting pushed back that will still keep them down relatively," Zumper data journalist Jeff Andrews said. "The fundamentals are all pointing to rent going up again."
He also expects some of the seasonality of the rental market to return this year, after being more volatile since early 2020.
While Zumper found that New York City surpassed SF as the most expensive rental market in 2021, "San Francisco still stands out as the most expensive market on our platform," said Rob Warnock, research associate at Apartment List. "But, the Bay Area is the last remaining place where there is a discount," he said. "… That said, I think prices are going to go up again in the early parts of [2022]."
Warnock said since the Bay Area has been one of the places most amenable to remote and flexible work, it also could affect trends across SF neighborhoods. Prices in areas downtown, like SoMa, may still remain at a deep discount while more western neighborhoods like the Sunset may keep their slightly inflated rates.
Space is still a must
"Zoom rooms" and Peloton bikes became must-haves as the pandemic wore on, and none of the agents we spoke with saw that going away anytime soon. "I'm not seeing the desire for home offices or gyms go away at all," Hatvany said. "It's become a very locked-in thing. It's a complete essential in ways that it never was."
Hatvany has even seen some new "amenities" emerge — like being located near a Slow Street. She said just as parks are great nearby amenities for a home buyer, slow streets now hold the same desirability.
Outdoor space is still crucial for most clients, said Josh Dickinson, the founder of real estate agency Zip Code East Bay, and he's even seeing more sellers get creative to upgrade that outdoor space. There's even been a rise in ADU-like spaces, like upgrading a shed in the backyard that can be used as a multipurpose space.
Even with their confident predictions, there wasn't one person that didn't mention the feeling of uncertainty that still lies ahead as we continue into the next phase of the pandemic. "I think we're all just anxious to see what is it all going to look like when we get back to the point where people are going back to the office and all the COVID numbers are declining," Dickinson said. "It in some ways seems like we're still a long way from there."
By Natalie Campisi, Forbes Advisor, December 28, 2021
The housing market has been breaking new records across multiple fronts throughout 2021, leaving home shoppers wondering if they should buy now or wait in the hope that more homes become available, and at more affordable prices in 2022.
So far, home price appreciation is up year-over-year (YOY) by 18.5% in the third quarter, the highest level in the Federal Housing Finance Agency (FHFA) House Price Index history. Inflation has shot up at the fastest pace since 1982. At the same time, the number of houses for sale has dropped, creating greater pressure on home prices.
Housing supply plunged to its lowest level in history, with just 1.38 million homes on the market in June, down 23% annually. Buyers scooped up homes faster than ever before, shrinking the number of days homes spent on the market to a record-low of just 15 days.
And mortgage rates are holding steady around the 3.1% mark for a 30-year, fixed-rate mortgage–although it's not the lowest on books, it's mighty close.
Here's what this means for 2022, according to housing experts.
Will Home Prices Rise In 2022?
Depending on whether you're the buyer or seller, you might be very happy or very disappointed to learn that home prices are poised to rise in 2022, most experts say. While headwinds like rising mortgage rates and a significant uptick in Covid-19 cases may impede price growth, they won't stop home price appreciation from climbing.
"Much of what drove high price growth this year will follow us into next year," says Nicole Bachaud, an economist at Zillow. "We will expect to see prices rising at extremely high levels for the first few months of 2022 before beginning to taper off towards more normal levels."
Most experts say housing demand will stay strong in 2022 unless inflation continues to outrun wages at the current feverish pace, which could stall buyer appetite. Rising inflation is also putting renters in a pinch who can no longer afford to save as much for a down payment when rental rates are skyrocketing.
The national average rental price for a one-bedroom jumped 21.3% and more than 16.7% for a two-bedroom in October on a YOY basis, according to the latest Apartment Guide and Rent.com report.
"What can affect demand is the affordability challenge," says Danielle Hale, chief economist at Realtor.com. "One thing that can offset that is a more competitive labor market."
A recent survey by the Conference Board suggests a 3.9% in wage costs for companies in 2022, which would be the highest jump in salaries since 2008. But even this bump wouldn't make it easier for most entry-level buyers to access homeownership.
The wild card that could cool home prices is getting Covid under control enough that it would convince people to move back to big cities, says Todd Teta, chief product and technology officer at Attom, a property data firm. He also says that the reverse could happen—a spike in Covid cases, for example—stoking more interest in suburban real estate.
"If the pandemic fades, interest in rental housing in congested urban areas could rekindle, especially if employers start demanding that more workers return to their offices. That could significantly reduce buyer demand and ease the pressure on prices," Teta says. But "all of this will depend on how many more people with the means to buy are worried about where they live now and how the pandemic proceeds."
It's important to note that while these are national trends, real estate is local. So while places like Boise, Idaho had a 37.3% price jump YOY, Philadelphia saw more modest price growth of 9.9% during the same period.
Home Inventory Predictions for 2022
A major determinant of home price trends is how much supply is available relative to demand. One way to gauge this is to look at the months' supply of homes for sale, which estimates how long the existing inventory for sale would last based on the current sales rate if no more new houses were built.
The lowest months' supply for 2021 was in January, with just 3.6 months' supply and the highest was in August with 6.6 months, a considerable jump, according to the Federal Reserve Bank of St. Louis. Although supply gradually picked up in spring through late 2021, some forecasters expect supply to slacken.
For one, new home construction is getting hampered by the rising cost of building materials and a severe shortage of labor. All building materials, from copper to steel, have jumped in cost but lumber prices, in particular, have hit astronomical price increases. The futures price of lumber jumped to an all-time high of $1,670 per thousand board feet in May. It began to cool in the summer, dropping to $454 per thousand board feet in August. However, it shot back up to more than $1,044 as of December 20.
Amid the affordability crisis in housing, the Biden administration is moving to make the costs of lumber even more expensive. The Commerce Department said November 24 that it will nearly double tariffs on softwood lumber imported from Canada from an average of 8.99% to 17.99% on their imports.
Several lawmakers and major trade groups like the National Association of Homebuilders are calling for a reduction in Canadian tariffs as mounting lumber costs can topple the gains new home construction made in the past six months.
"With Biden doubling tariffs on Canadian lumber, it will add a lot of pressure on home costs and how long it takes to build a home," says Robert Dietz, chief economist and senior vice president for economics and housing policy for the National Association of Home Builders. "That's why you see the median price of a new home above $400,000."
The median price of a new house was $407,700 in October, up 17.5% from a year ago, according to the Federal Reserve Bank of St. Louis. New home prices have been climbing at an accelerated rate since the Covid-19 pandemic began. In April 2020, the median new home price was $310,100, the lowest point before jumping nearly $100,000 more during a span of 18 months.
As for existing homes entering the market, much of that will depend on the pandemic, says Selma Hepp, deputy chief economist at CoreLogic, a real estate data analytics company.
"While Baby Boomers preferred to downsize prior to the pandemic, it appears that they are staying put for now," Hepp says. "Up to now, there has not been a notable increase in for-sale inventory as Baby Boomers stayed put, and potentially hosted their children and family."
Should You Buy a Home Now Or Wait?
Buyers with the means to buy a home now may be looking at pricing factors like interest rates when deciding whether to leap. However, first-time buyers face much steeper challenges, like rising down payment requirements.
As home prices escalate, so does the down payment and monthly mortgage costs. This means that some buyers might have to save up more money or look for less expensive housing. As more companies have allowed their employees to work remotely, some buyers have moved to more affordable areas, but that's not the case for everyone.
James McGrath, a licensed real estate broker in New York and co-founder of Yoreevo, a residential brokerage, says demand will begin to cool in 2022, so there might be more availability for those who wait.
"It's very hard for the amount of sales to remain at record levels when there isn't much to sell," McGrath says. "It seems all but certain that the number of transactions will decline. With this, buyers can be more patient. There should be less competition from buyers and more houses to choose from as we normalize on both."
There are unforeseen variables that can alter the course of real estate at any time, so the best strategy is to make sure you can afford the house you buy and still have room to save up for rainy days. For example, if you're buying with a partner or co-signer and they lose their job, make sure you can pay the mortgage with just one income.
You should also plan on living in it for at least five years or enough time to cover your closing costs, so you don't end up losing money when you sell. A mortgage affordability calculator is a great tool for figuring out your budget.
By Mike Simonsen, HousingWire, December 10, 2021
As we approach the end of another hot year for the market, homebuyers and sellers are eagerly looking ahead to the 2022 housing market. Will the market continue its streak of strong growth, or are we finally about to see a slow down?
Here's a high-level forecast for what to expect next year, based on the supply and demand signals we can already see in today's data. I'll also highlight which variables we should be watching for unexpected market shifts.
1. Demand will continue to be strong into 2022.
The first signal we look at to forecast the strength of the housing market is days on market – how fast are homes moving? Right now, we're seeing a median of 49 days on market and climbing, as it normally does this time of year. A typical December would see market time at 85-100 days, so you can see from the chart that demand is staying elevated later in the year, which is a bullish sign for next year.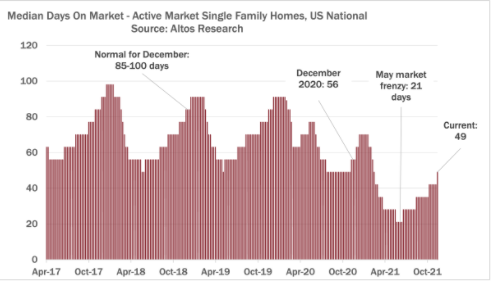 Due to the strong seasonal patterns, I predict days on market will hit a low of 21 days in April, tying the record-fast market times from earlier this year.
With homebuyer demand off the charts earlier this year, Altos Research began tracking the phenomenon we call "immediate sales." You've probably seen this in your local market, where offers happen more or less immediately after the home gets listed for sale. At this moment, about 25% of properties are going into contract essentially immediately every week (around 20,000 of them within hours or days of listing) — even as supply and transaction volume declines through the end of the year.
I actually expected immediate sales to be dropping at this point, but it isn't. Even over the Thanksgiving holiday, total volumes were down, but immediate sales as an indicator of demand were still dominant. The fact that this trend is continuing unabated into the winter indicates continued strong demand into next year.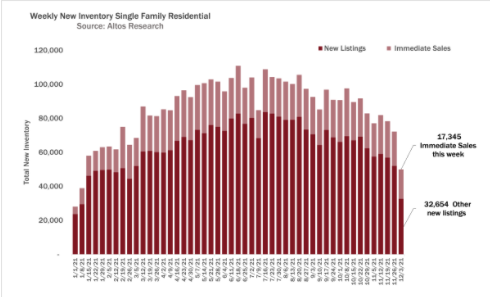 That being said, if the housing market turns, immediate sales will be one of the first places we'll be able to see it. For example, if buyers are cooled by higher interest rates, the first thing that's going to happen is they're not going to make those immediate offers.
Since it will take several months for rates to rise high enough to discourage buyers, we can expect immediate sales and all the related buyer competition characteristics (multiple offers, over-bidding) to remain common well into at least the second quarter of 2022.
Another signal pointing to continued elevated demand is the percent of homes on the market taking price reductions. In a normal market, we tend to see about 30% to 35% of sellers initially over-price their homes and eventually reduce the price to attract buyers.
Right now price reductions are at 27%, and starting to tick down again after the fall peak in September. You can see that it's higher than last year, but still lower than normal. Home sellers with properties on the market now know that the demand is there, and they don't have to cut their prices. This tells us that the transactions for these homes that happen in the first quarter will still be priced very strongly.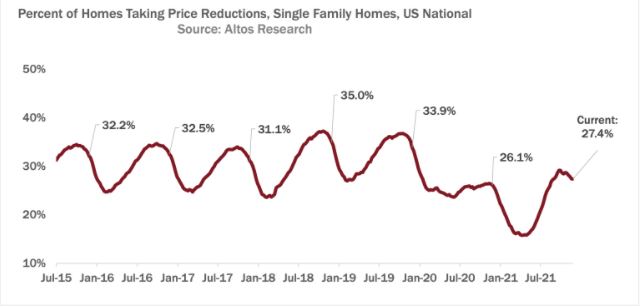 2. Low inventory will continue to be a major issue.
Unfortunately for all these eager homebuyers, inventory continues to be at record low levels. We are currently at just over 350,000 single-family homes on the market. You can see from this chart that inventory has been on a downward trajectory for years, and recent strong demand has only accelerated this trend. You can also see that it's normal for inventory to drop at this time of year, but it's actually declining faster than I expected even a few weeks ago, which indicates that we'll start 2022 with record- low levels of available inventory, even less than in 2021.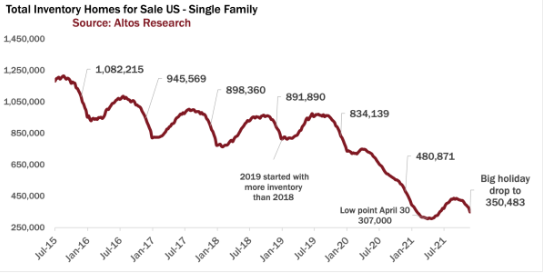 At this point, it looks like we're going to end the year at just under 300,000 single-family homes for sale. If we're lucky, we'll start getting greater inventory in the housing market in February, then it'll start climbing and be at a more normal curve next year, but we're still miles away from a normal level, with no indication that we'll return to our usual million homes anytime soon.
That being said, keep an eye on rising interest rates. If you look at the 2018 line in the inventory chart, you'll see that inventory hadn't yet declined by this time of year in 2018. Why? Because interest rates rose from around 3.9% to 4.9% between April and December, and that cooled the market enough that a little bit of inventory built up during 2018. You can see that 2019 was the only recent year that started with more inventory than the year before.
3. Home prices will remain high into 2022.
With demand showing no signs of cooling and record-low inventory, I expect home prices to remain high into next year. The median home price for single family homes this week is $375,000, which is about 10% higher than last year and where we are likely to end the year.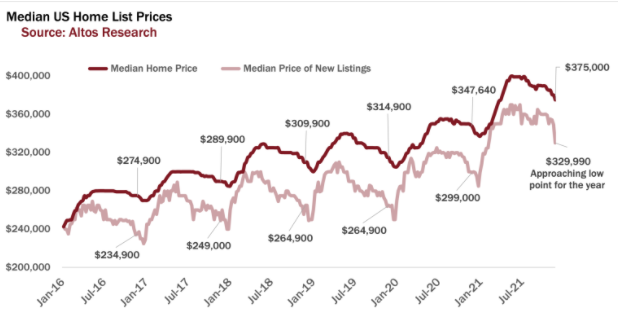 As we look towards 2022, all the leading indicators show tight inventory and strong demand keeping prices high — a strong seller's market. If interest rates start rising, and we're seeing inflation or other economic challenges, this could have a cooling effect on the market. These variables aren't in the data yet, but they're looming. We'll want to keep watching the data closely to spot any major shifts.
By Zillow Research on Dec. 8, 2021
The housing market may not reach the incredible heights of 2021, but we expect it will be anything but slow next year. Expect the strong sellers market to persist, the Sun Belt to maintain its top spot as the most in-demand region, and flexible work options to continue to shape housing decisions in new ways in 2022.
The following are Zillow's bold housing predictions for 2022. Whatever happens, the Zillow Economic Research team wishes you and yours a safe, healthy, prosperous and enjoyable year!
2022 will fall just short of record-breaking
2021 marked the hottest housing market in U.S. history by some measures, including Zillow's Home Value Index. While we may not see those records broken in 2022, Zillow economists expect incredibly strong price growth and sales volume to continue.
Zillow's forecast calls for 11% home value growth in 2022. That's down from a projected 19.5% in 2021, a record year-end pace of home value appreciation, but would rank among the strongest years Zillow has tracked. Existing home sales are predicted to total 6.35 million, compared to an estimated 6.12 million this year. That would be the highest number of home sales in any year since 2006.
Sellers keep the upper hand
The usual seasonal cooldown in the housing market is reappearing this fall after a hiatus in 2020. Fewer homes are selling above list price, homes are staying on the market a few days longer than they did during the summer, and more sellers are cutting their price.
Zillow economists expect these metrics to trend slightly cooler in 2022, but don't mistake that for a buyers market. The market forces that have given sellers the upper hand over the past two years or so — tight supply after years of underbuilding, and elevated demand due to remote work, U.S. demographics and low mortgage rates — will persist next year as well. Expect to see bidding wars on many homes, especially as the market heats up during the spring and summer shopping season.
Large rentals will be in high demand
Rising home values will impact the rental market as well. After a slowdown in the early months of the pandemic, rent prices came roaring back, especially in what were previously some of the most affordable markets. As rising costs make it harder to save for a down payment, expect demand for larger rentals to increase, including for single-family homes, as families stay in the rental market longer.
The 'Sun Belt surge' will extend to secondary markets
2021 was in many ways the year of the Sun Belt. Zillow predicted Austin would be the hottest market of 2021 as part of a "Sun Belt surge," which proved to be the case — no metro has seen home values grow more than Austin so far this year, and all of the top destinations for long-distance movers were in the Sun Belt.
Zillow predicts this surge will extend to smaller Sun Belt cities in 2022 as price hikes in this year's star markets make more-affordable nearby markets more attractive. From April to August, Austin held the top spot in quarter-over-quarter home value growth, which is a good indicator of current housing demand. As of October, the smaller Florida metros of Fort Myers and Sarasota held the top spots, and 24 of the top 25 markets were in sunny states – a sign of things to come in 2022.
More Gen Zers and millennials will buy a 'second home' before a primary residence
Americans are taking advantage of remote work flexibility to move to larger homes in more-affordable markets, but many will not want to commit to a new location full-time. This is often true for younger people who are attracted to the amenities of living in a city, where expensive housing is more likely to put homeownership out of reach.
With these factors in play,  there may be more people buying what's traditionally a second home — either a part-time vacation home or an investment property — before they buy a home as a primary residence.
Young people today are savvy watchers of the housing market, in part because of time spent Zillow surfing. Purchasing a "second" home in a market more affordable than the one they live in is a way to break into the market and start building equity while mortgage rates are low, possibly teaming up with friends or family to lessen the financial burden. Virtual home shopping tools available today, such as Zillow 3D Home tours, make buying a home in a far-flung location easier.
No end in sight for the renovation boom
In the race to buy a home in the ultracompetitive pandemic housing market, many buyers have had to make one or more compromises (81%). As prices and mortgage rates rise, expect many homeowners to upgrade their existing home rather than try to wade back into the market to trade up.
A Zillow survey of homeowners found nearly three-quarters would consider at least one home improvement project in the next year. The top projects on their to-do list are renovating a bathroom (52%) or kitchen (46%), adding or improving a home office space (31%), finishing a basement or attic (23%), adding a room (23%) or adding a separate dwelling unit (21%).
Work will play a key role in moving decisions
The rise of flexible work options has changed how heavily a short commute factors into where Americans live. Home buyers used to pay handsomely to live near downtown and reap the benefits of a quick trip to and from the workplace each day, but that dynamic flipped in much of the country last year as buyers prioritized affordability and extra space. In 2022, hybrid and fully remote work will continue to reshape which areas are most in demand as the pandemic winds down and more workers receive permanent guidance on their flexible work options.
Zillow economists expect fully remote workers to continue to seek affordable markets, like those in the Sun Belt and other nontraditional housing hot spots where they can afford to buy their first home or trade up for a bigger one. And amid the "Great Resignation" and a generally aging population, traditional retirement markets are likely to see elevated demand.
New construction gains will only be a drop in the bucket, despite best efforts of builders
The reason home prices are rising so quickly is economics 101: high demand and low supply. Zillow research shows that in the 35 largest housing markets alone, there has been a shortfall of 1.35 million new homes since 2008 because of a construction slowdown following the housing crash. Home builder confidence is sky-high, and builders are doing all they can to get houses up, but supply chain snags and labor shortages are limiting progress. The gap shrunk in 2021 and will likely shrink again in 2022, but the housing shortage will be a defining feature of the market once again next year.
Glen Bell – (510) 333-4460   jazzlines@sbcglobal.net